18 Free Marketing Ideas for Businesses on a Budget
If cash is tight in your small business, you may think that marketing isn't something you can afford. This couldn't be further from the truth. Marketing is only out of your reach if you think that Facebook and Google ads are the only marketing techniques available. In fact, many contemporary marketing methods cost nothing except your time and creativity.
To show you just how many free, effective marketing solutions are available, we've put together a list of free marketing ideas that any business can implement. Some require more time than others, but all are within reach of the business owner with a website and social media presence.
Since your time is the most valuable resource, I won't spend any more time introducing the topic: let's get to the marketing tips you've been waiting for.
1. Follow for Follow on Instagram and Twitter
With the decline of engagement on Facebook (and the rise of paying to reach followers), your best bets to build an engaged social media following are Instagram and Twitter. But how do you get followers? You could go out and buy followers -- except that's expensive and unethical. A better option is to practice what's called "follow for follow". You go through Instagram or Twitter, find people that would be interested in your brand, and follow them.
Much of the time, these people will follow you back. Provided you follow enough people to whom your business is relevant, follow for follow is a free technique to build a base social media following. Once you've built this base, you'll have an audience to whom you can promote your business using some of the other ideas in this article.
To make it easier to track your efforts, you can use a tool such as Crowdfire. It lets you see which people follow other brands in your industry, and makes it easy to unfollow people who don't follow you back. Furthermore, the app walks you through a social media growth plan depending on your business goals. Crowdfire is free for up to two social media profiles and supports Instagram, Facebook, and Twitter.
2. Post to Social Media Regularly
To build an audience, and to engage with the said audience, you need to engage with them in a way that will convert them to customers. But not so fast: you can't just post ads for your business and expect the sales to roll in. No one wants to follow someone who always talks about themselves. People want quality content, and that's what you must give them.
Once again, Crowdfire can help you out here, finding relevant content that you can repost or tweet. But you should also create original content, which should take whatever form works best for your brand. We suggest focusing on things that will inspire your followers or help them.
Here are some ideas for original content:
Relevant quotes from thought leaders in your industry.

Tutorials related to your product or service.

Images of customers using your product.

Life at your company.

Announcements of discounts, updates, or new features.
If you don't want to sit around posting to social media all day, then we recommend using a tool such as Buffer to schedule your social media posts in advance. Buffer also helps you maximize engagement by calculating the best time of day to post your content, and it's free for all popular platforms except Pinterest.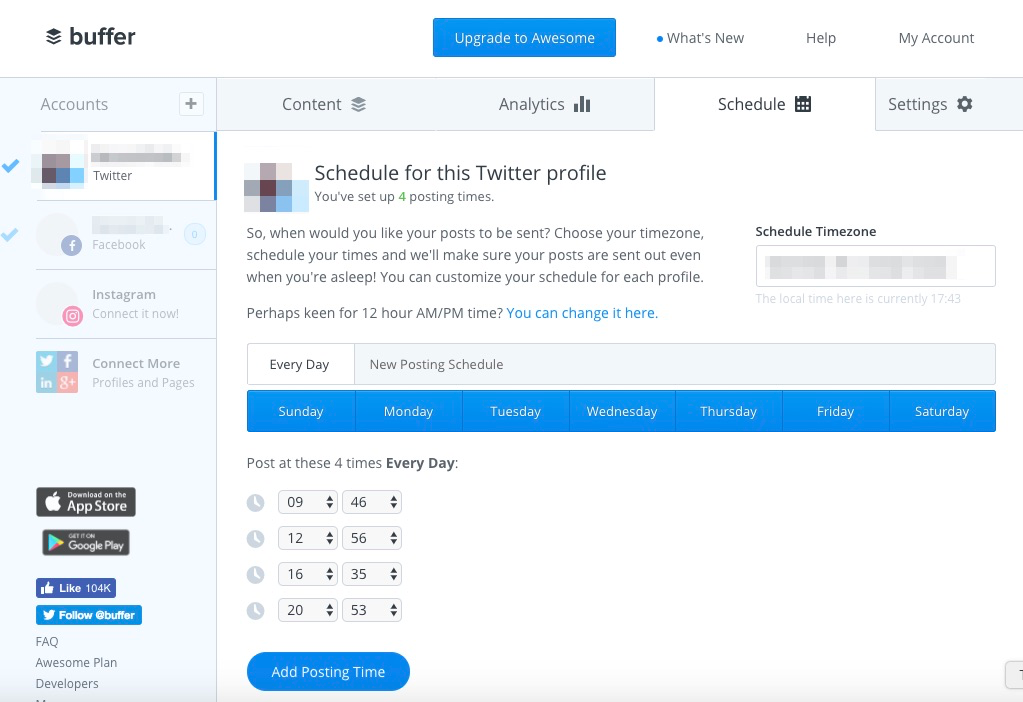 3. Curate Pinterest Boards
Continuing with social media, let's talk about Pinterest. While not as high profile as the Facebook-Twitter-Instagram trifecta, 200 million people use the platform each month. This is such a significant number that the platform is worth a look. What's more, it's free.
One of the most effective Pinterest marketing strategies is to curate Pinterest boards full of content related to your business or industry. This is a value add for your followers, and it requires less work on your part than creating original content (though we recommend this as well).
To see this in action, check out outdoor brand REI. As part of their REI 1440 Project, they created a Pinterest board to celebrate the ways people find to spend time outside.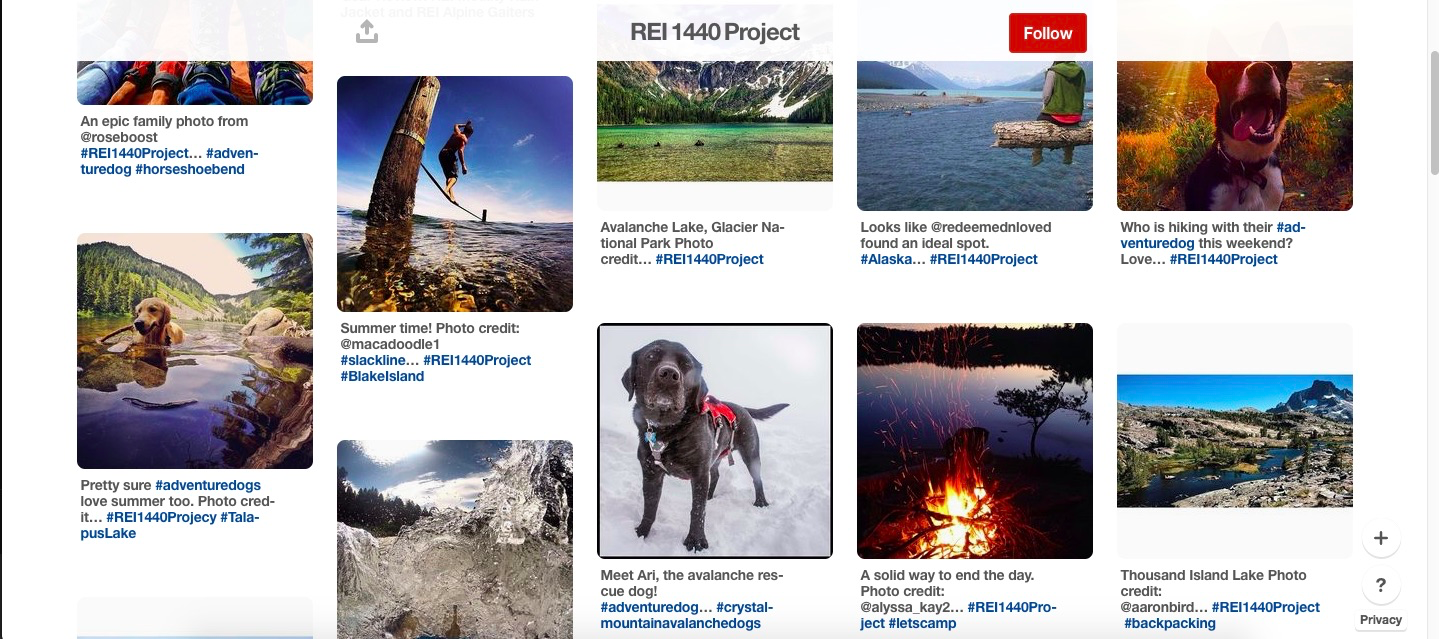 As you can see, this board is all about showcasing the REI brand. The pins are taken from Instagram and other fan-generated sources, and while some showcase REI products, that's not the focus. This is how to do social media content the right way, both for Pinterest and beyond.
4. Collect Emails on Your Website
Social media follows are a good start, but email subscribers have a much greater value. Compared to the barrage of content on social media, email is a tranquil oasis.
But to get to the inbox, you need to get people to give you their emails. And as the saying goes, "If you don't ask, the answer is always no." So you need to set up a system for collecting site visitor emails. This is a multi-step process, but it isn't difficult.
First, you need to give visitors a reason to subscribe. It could be to receive your latest blog posts or get product updates. We recommend creating a lead magnet, some kind of free content that users receive when they subscribe. The most popular example is an eBook related to your business or industry, but it could also be a tutorial video, a template, an exclusive interview, or any other valuable content. You could also use another incentive such as a discount on your product.
Once you've created the reason, you need to make the subscription happen. The specifics will vary depending on your email marketing software, but you'll need to create a form where users can enter their name and email. For a free, simple option, you can use Mailchimp's Form Builder. Once you've created your form, all you have to do is paste the code into the relevant page on your site, and voila!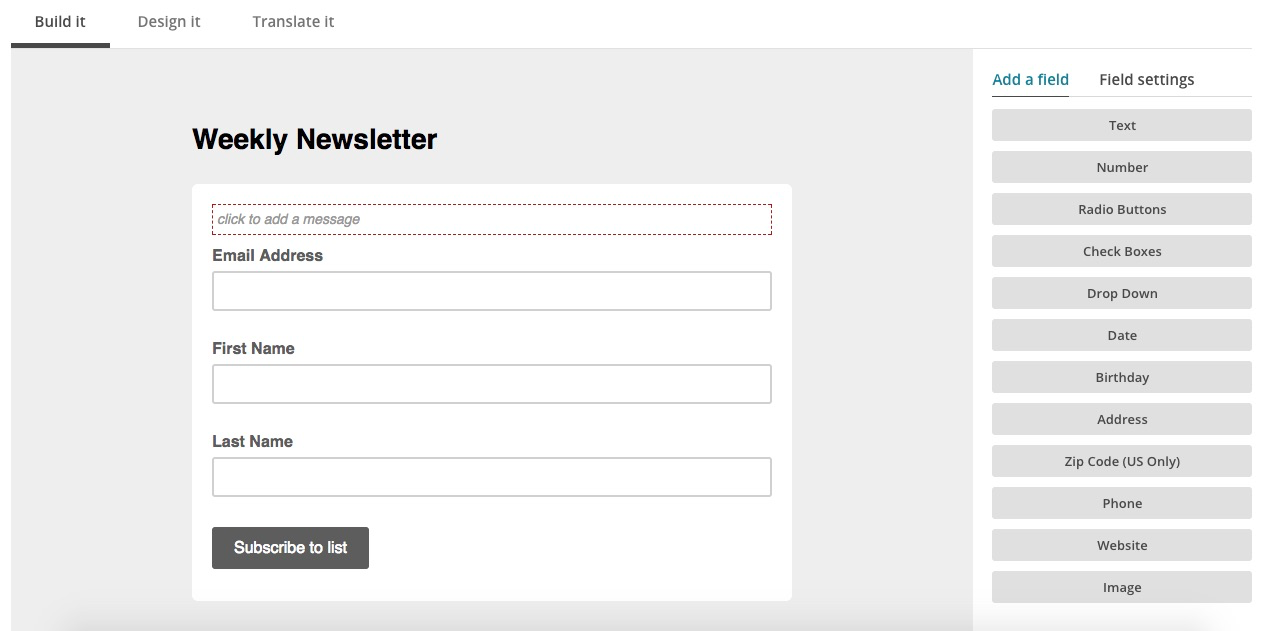 For email capture popups, you can use Sumo's List Builder. The suite of Sumo tools is free for less than 500 subscribers. And of course, you can also code your own solutions for the email capture process if you're tech savvy.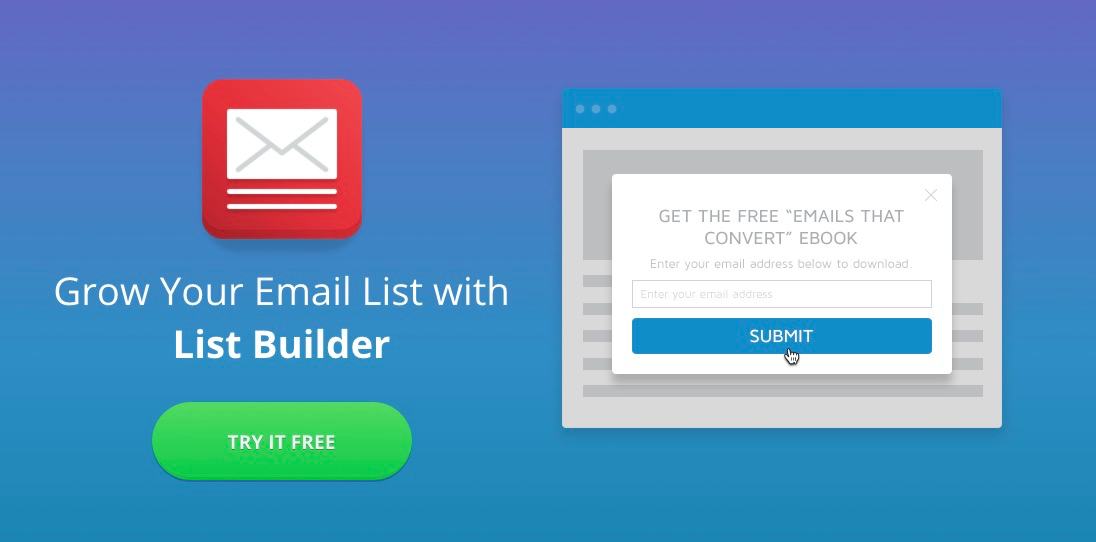 5. Send Email Updates
Once you've captured some emails, you need to start sending them content. Like with social media, the key is not to go overboard with the promotion. If you have a company blog, then sending subscribers each new post is an easy way to add value while also getting them to visit your site. You can also offer subscriber discounts to members of your mailing list, and send updates about new product features, bug fixes, and other company news.
Also, don't overwhelm your subscribers with the number of emails. We recommend sending one email a week to start. Some types of brands can get away with more frequent emails. In eCommerce, for example, you can send brief updates on limited time deals or flash sales. But for the most part, less is more when it comes to email marketing.
6. Host a Webinar
Webinars can sound intimidating, but current technology makes them easy enough to pull off. Like all forms of content marketing, webinars should offer users genuine value. They work well in tandem with an existing email list, but you can also promote them on your social media or website.
So what should your webinar be about? Anything that your potential customers would find useful. Shopify, for example, offers a free webinar on how to start a dropshipping store. This webinar is a win-win: it teaches users about an in-demand skill while also encouraging them to sign up for a premium plan and add products to their store.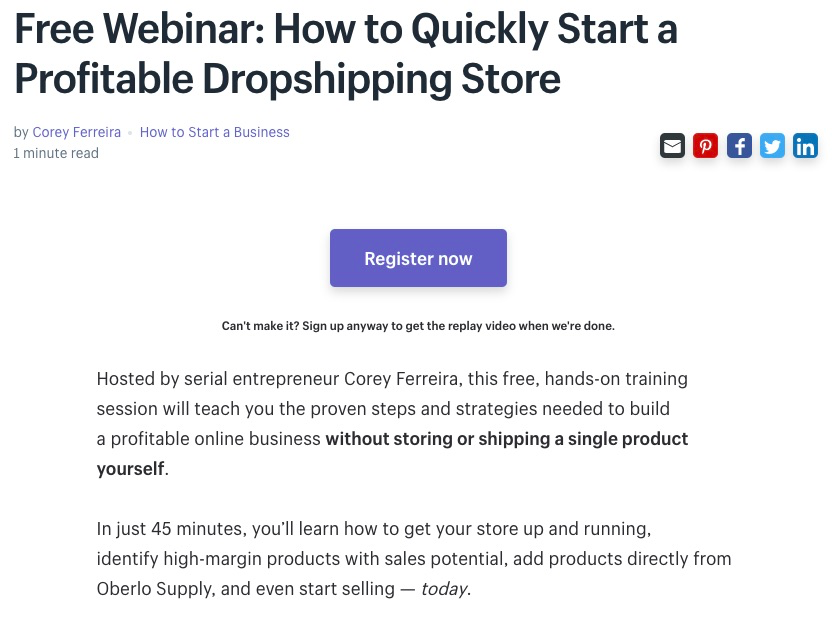 In your own webinars, you should apply the same principles. What can you teach your users that's relevant to your business? How can you help them while also encouraging them to try your product or upgrade to a premium offering?
For free webinar software, we recommend either Join.me or Free Conference Call.
7. Content Marketing
Content marketing is one of the most powerful forms of free marketing. The most common form of content marketing is a company blog. As with social media, you need to create blog content that can stand on its own. The point of content marketing is to create shareable media relevant to your business, but not talking only about your business.
What kinds of blog content should you create? Here are some ideas:
Tutorials. Does your product have a cool, obscure feature? Create a blog post explaining how to use it.

Case Studies. Showing how your business helps real customers is a persuasive form of social proof.

Interviews. An interview with an expert in your industry is both interesting and boosts your brand's credibility.

Expert Guest Posts. Interviews are useful, but an original article from an industry expert is even better since they will often promote them to their followers and reuse them on their blogs.

Company Updates. You want to keep these to a minimum, but the occasional update can help your readers feel involved in your company. Update ideas include looks at your company's daily life, financial milestones, or growth reports. To see a company doing this well, have a look at the Buffer Open Blog.

Media Mentions. If a media outlet profiles your company, you can include a link to it on your blog. Once more, this provides social proof.
A blog isn't the only form of content marketing to explore, however. You should also consider starting a podcast, publishing infographics, or creating videos. These take more work and technical tools than blogging, but you can get started with basic equipment that you already have. For podcasts, you can use Audacity for editing and Soundcloud for hosting. Canva will help you create infographics for free. And YouTube plus your smartphone will get you started with video creation.
8. Create a Content Upgrade
As part of your email capture and content marketing, you can offer visitors a content upgrade. A content upgrade takes a piece of your site content (usually blog post) and gives readers a relevant resource related to the content in exchange for an email subscription. Possible upgrades include a version of the blog post as a PDF, a spreadsheet to help implement the article content, or even a discount on a product mentioned in the article.
For example, language learning software FluentU offers each of their blog posts as a downloadable PDF for visitors to read offline.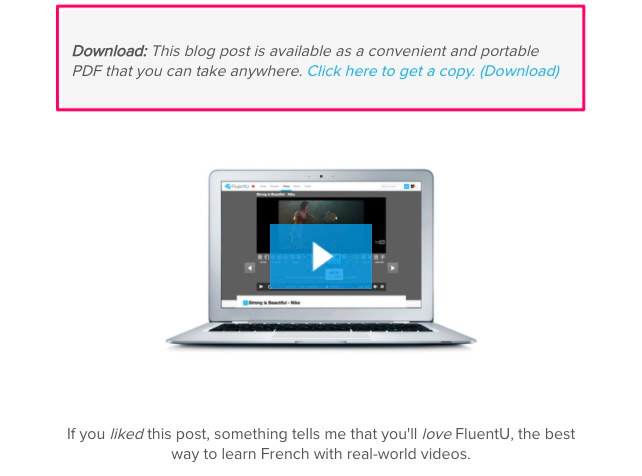 When you click the Download button, a popup appears asking for your email address.

9. Get Press
Getting featured on a news site or popular blog can be a huge boost to your site traffic. As it turns out, you can do this for free. The fact is, media outlets need a constant stream of content to drive views and advertiser dollars. Therefore, any newsworthy info you can give them is a candidate for publication.
The key is to start small. Sign up to be a source Help a Reporter Out, a site that connects journalists with sources for potential stories. This will get you on reporters' radar.
When your company reaches a newsworthy milestone (such as user growth, funding raised, or revolutionary feature), write a press release discussing it. Then, pitch this press release to smaller media outlets. Make sure to be genuine and don't use an obvious template. Tailor your pitch to the specific publication and mention the reporter or editor by name if possible. For more info on how to craft a press release, check out this guide from Hubspot.
10. Guest Post
Guest posting takes the strategies from the press coverage idea and applies it to your blog content. Guest posting is a lot of work, but it can pay big dividends on the right blog. The keys to successful guest posting are:
Offer valuable, original content. No one wants a post that their site has already covered or information that's common knowledge. Do your homework on the site you're pitching to make sure that your post fits.

Read the guidelines. Sites that accept guest posts usually have guidelines. Always read these, since a pitch that doesn't account for them is a red flag for site owners or editors.

Make it personal. Editors aren't stupid. They can tell when you're using a template, and it's a big turn off. You don't have to be their best friend, but you should write a pitch that shows you understand their audience and have read their content.

Keep your pitch email short. Popular sites are overwhelmed with requests for guest posts. Stand out by keeping it short and focused. Identify who you are, why you like the site, what you're offering, and why it's valuable. Close with a polite sign-off.

Start small. If you're just beginning your guest posting journey, you can build experience and credibility on smaller sites. Then, you can move on to pitching larger players.
11. Attend Local Events
If you run an online business, it's easy to overlook local marketing opportunities. But they can be just as effective as online outreach, and they let you connect with potential customers in person. One of the best local marketing opportunities is to attend local events. The best place to find this is Meetup.com. The site allows you to find groups based on your interests and RSVP for events that the group hosts.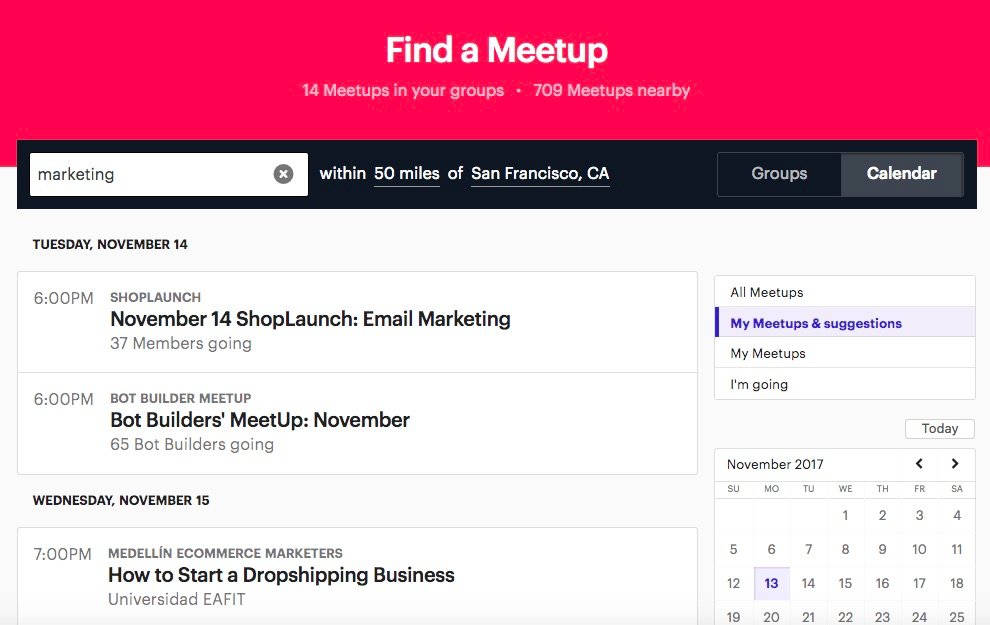 Once you've found a group related to your interests, join it and attend an event. Don't be that person who talks only about their business. Provide value to the group, make connections, and have fun. That's the point of Meetup, after all. You'll have plenty of chances to bring up your business, particularly if it's a business-focused event. Make sure to bring along a few business cards.
12. Give a Local Class
Taking the events strategy one step further, you can offer to give a class to a local Meetup group on a topic relevant to your industry. This should be a real class, not a pitch for your company. At the same time, however, it's fine to mention your business at the end of the presentation. Provided it's relevant, people will appreciate a place where they can get further help with the topic you're discussing.
To make sure your class is useful, ask other members of your group for suggestions of what to cover. Say something like, "Hey there, fellow members of [GROUP]. I'm putting together a class about [GENERAL RELEVANT TOPIC]. What would you like to see me cover?"
13. Free Trials
A free trial is better than the best sales page since it lets your customer experience the product and all its benefits firsthand. It doesn't cost you anything to implement a free trial, so it makes sense to offer free trials for almost any kind of SaaS or subscription business.
For inspiration, look to one of the most successful free trial programs of all time: Amazon Prime. For 30 days, trial users get access to all the platform's premium features, and the subscription automatically kicks in after the trial period ends.

You may also choose to offer a free trial with limited functionality (similar to the idea of video game demos). In this case, users will have to choose to upgrade to a paid subscription at the end of the trial.
Finally, you can take the free trial model to its extreme and offer a freemium product. Many SaaS companies take this approach. Indeed, we've mentioned several in this article. With the freemium model, you offer most of your product for free, with premium features available to paid subscribers. The freemium model isn't appropriate for all businesses, but it can be a way to get potential customers to sign up, after which you can employ other marketing techniques from this article to turn them into paying customers.
14. Offer Discounts
Everybody loves getting a good deal and offering discounts lets you tap into that tendency. You can offer a discount in return for subscribing to your email list, and then you can continue to send offers to someone after they've subscribed. You can also offer flash sales to create urgency for potential buyers, and you can run sales to correspond with holidays or business anniversaries.
Beyond these tactics, another lesser-known discount approach is to offer a discount before raising your prices. For an example of this tactic, have a look at this email from marketing automation software Autopilot. Note how the email includes links to justify the pricing increase, making sure the recipient doesn't think it's just a cash grab.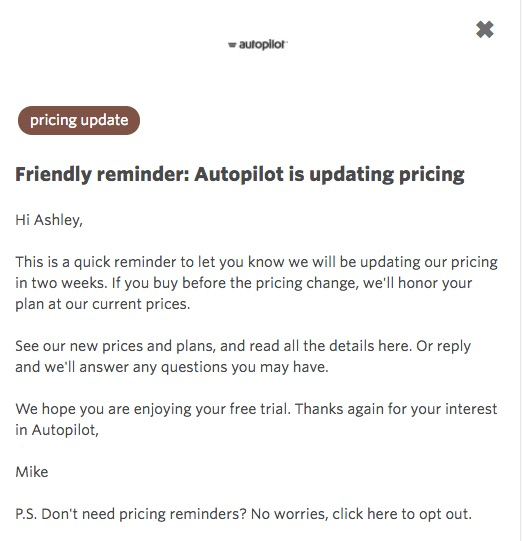 Image via Good Email Copy
15. Host a Reddit AMA
For the uninitiated, a Reddit AMA is a live Q&A on the social media platform Reddit. "AMA" stands for "Ask Me Anything", and it's a chance for Reddit users to ask celebrities, influencers, artists, founders, or whoever...anything.
To do an AMA, just post on the r/IAmA Subreddit. To succeed here, you need to follow the guidelines. Your AMA can be related to your company, but it shouldn't be blatant self-promotion (Reddit is hostile towards this for the most part). As the official guidelines explain, the AMA must cover either "Something uncommon that plays a central role in your life" or "A truly interesting and unique event."
You can apply some of the principles of press coverage here. For example, if your company just raised a bunch of money, you could do an AMA taking questions about how you pulled it off. Did you achieve crazy user growth? Do an AMA about the tactics you employed.
To get a sense of what AMAs look like, here's a screenshot of the current page.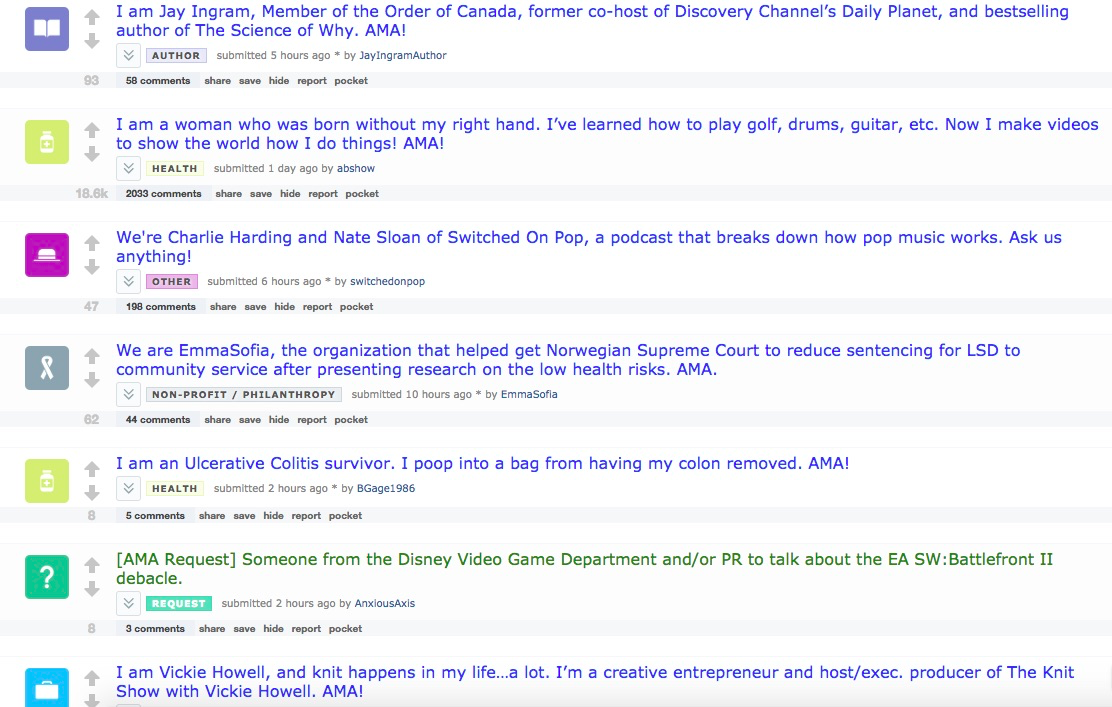 16. Contribute to Q&A Sites
Hosting a Reddit AMA isn't the only way to get your company name out there while answering questions. You can also go directly to a popular Q&A site such as Quora, Stack Exchange, a relevant subreddit, or another industry-specific forum.
Quora is especially good for this purpose, as it allows you to add a brief text blurb that appears next to your name (the Quora term for this is a "credential"). The purpose of this text is to explain what qualifies you to answer the question, but there's no reason you can't mention your business in it (assuming it's relevant to the question, of course).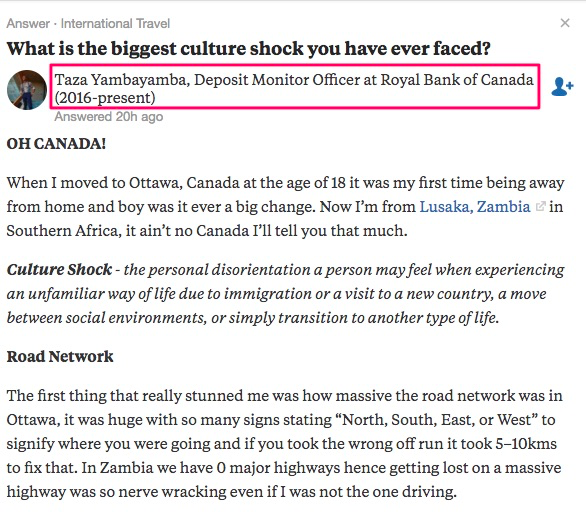 You can also include links to your site in your Quora profile, which can drive traffic from people who are interested.

Remember: always add value. Since all these sites work on a voting system, the best content will rise to the top. Half-assed answers are a waste of everyone's time, especially your own.
17. Join Relevant Facebook Groups
You can think of this as a more niche version of joining a Q&A site. You can search Facebook to find a group that's related to your business, join it, and add value.
Many business-related Facebook groups allow self-promotion on certain days or provided that you do it in a way that also offers value to the group. Given that the number of users in a given Facebook group is smaller than a Q&A site, you have a better chance of people seeing your message.
To find a Facebook group related to your industry, type your keyword into the search field into the top of the site and then click the "Groups" tab in the search results. Below, you can see an example search for groups related to "marketing".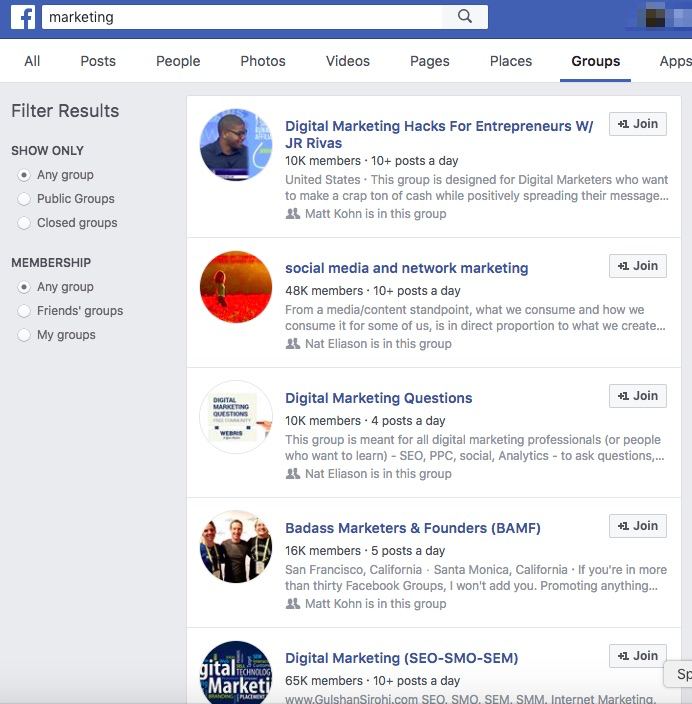 18. Give Podcast Interviews
Consider giving interviews as a podcast guest. This is a good marketing strategy at any time, but it's especially helpful if you're about to launch a new product, raise funding, or release a major update. Most podcasts will give a link to your site in their show notes, so you can be sure that a guest appearance will drive traffic.
The pitching strategy for podcasts is much the same as for guest posting or press coverage. You need to read the guest guidelines, have listened to some of the existing podcast episodes, and explain why you would be an interesting guest.
You Can Market Without Breaking the Bank
As you can now see, effective marketing doesn't have to cost money. Using the free marketing ideas in this article, you can create a marketing strategy that fits your small business's budget. The key is to pick a couple of the ideas, focus on them, and then expand to other techniques as these yield fruit. Pretty soon, you'll have built an unstoppable marketing machine.
Before we go, we want to mention a marketing tool that, while not free, does offer a free trial. FOMO is the best way to use social proof in your marketing, showing site visitors site activity in real time. We're confident you'll love it.