$3.5k in Sales Through Fomo This Year
OrthoTape is an orthopedic cast and brace medical supply company based in Bluffton, South Carolina. OrthoTape is an e-commerce store, only taking and shipping orders from their online storefront.
"We specialize in sending Durable Medical Equipment directly to our customers and strive to give the best deals."
"We also specialize in importing medical supplies and have developed our own private label products such as; fiberglass cast tape, cast kits, waterproof cast materials, cam walker medical fracture boots, and plaster bandages."

OrthoTape has received attention from doctors, schools, government offices, artists, and hobbyists who enjoy using their products. For customer convenience, OrthoTape has multiple warehouses for their many products and the best customer service you could ask for.
Tell us about your brand! When did you launch, what moved you to start your business?
"Our brand name is OrthoTape, and we sell a variety of orthopedic medical supplies under that brand name."
"We started our business in 2005 online as we saw a need for consumers to purchase items that their local doctor may not have and offer a more affordable health care option for medical DME."
What are some of your other favorite apps/tools for increasing conversions?
"Abandoned cart emails seem to work pretty well along with letting customers know that other shoppers are at our site as well. It lends to our online site's credibility to be a trusted resource for these types of medical supplies."
OrthoTape runs its store on 3dcart, a fully-featured all-inclusive e-commerce platform that shines for its SEO rankings for its stores. 3dcart integrates with many apps and platforms, such as Stripe, Amazon, and Fomo.

What are a couple of specific conversion-related problems you're experiencing?
"We seem to see high bounce rates as customers seem intrigued by our product offers, but are often perhaps just window shopping or did not realize that these products are also available online at a cheaper option."
What other methods/strategies did you try to address those issues before using Fomo?
"We mostly use Google advertising product shopping for our advertising and also regular organic SEO."
How did you learn about Fomo?
"I saw it on other websites and thought it was neat to see others who were purchasing the same items or how many people are on the site actually shopping live."
OrthoTape is using Fomo to display the number of current visitors and who's purchasing in real-time.

What prompted you to move forward with Fomo?
"Again, I feel it lends to the credibility of the site. When other customers see that other people are also shopping on your site and making purchases, customers feel the site to be more credible and trustworthy. I think that is the most compelling reason to use Fomo."
Have you tried any of our competitors? If so, why did you choose Fomo instead?
"Honestly, I have not tried other competitors. I found Fomo easy to use and I received good support that helped me get started with it fast. So I saw no reason to try a competitor."
"Additionally, using Fomo was a cost-effective choice considering how much credibility and trustworthiness it created for our website."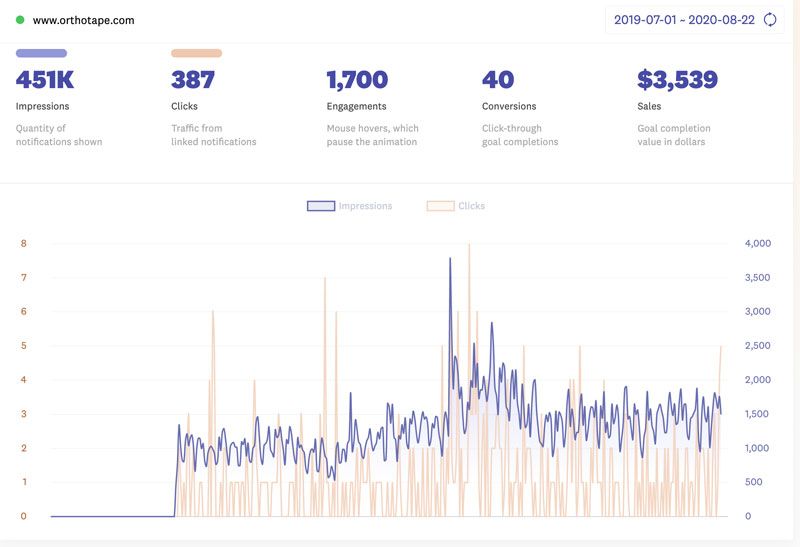 How long have you been using Fomo?
"One year now."
Please share some of the quantifiable ROI results that demonstrate how using Fomo has benefited your business.
"I saw a reduction in bounce rate from a customer only staying for a few seconds to customers actually shopping longer on our site and actually checking out with items."
OrthoTape has seen $3,539 in sales over this year directly from Fomo notification clickthroughs.
What are any changes you'd like to see made with Fomo?
"I can't think of any at this moment. However, I like how Fomo creates that feeling of others shopping around you. Maybe in the future, there will be a way for other customers to somehow interact with each other or share more experience on the products they like."

Do you have any advice for other Fomo users?
"Less is more would be the best advice I have. You don't want to have too many notifications on a site, and you don't want customers to have to remove them with a click."
"So only show some to create the feeling of credibility and do not let a notification dwell too long in the way. Just a quick pop up and pop down works the best."
Any other stats you're proud to share with us?
"I feel Fomo has increased our conversion rates and made other customers feel more comfortable with completing their purchase."
Can you tell us about your experience working with 3dcart?
"We've been with 3dcart now for about six years and have found it to be one of the best online eCommerce platforms. There are many features that come standard with even the most basic of plans."
"It was very easy to transition from our old website to the 3dcart platform. Additionally, we saved a ton of money in the process of switching. The user interface is perfect as they have thought of everything when it comes to e-commerce, and they are always improving the system."
What has made you stick with 3dcart?
"Over the years, we have seen many improvements in the 3dcart platform, and they have kept up with many of the new Google requirements. 3dcart has helped us continue to grow our other stores because of their easy integration with eBay, Amazon, and their ability to integrate ShipStation into the process."
"All of these reasons make it very robust software that any small or large eCommerce business can utilize. Additionally, it has tons of plugins available to add even more features and integrations to the store. I'm not an expert in HTML or any coding, but I find myself even doing the slightest coding with ease on their platform."
Anything else you'd like to share about using 3dcart?
"I'm always checking out other eCommerce software platforms and even recently tried out Shopify. But I can not see changing from 3dcart as they are the perfect solution at a great price for our business. Customer and technical support are always easy to reach and help solve any problems we may run into."
"As far as uptime, we never have any downtime glitches that result in missed sales. 3dcart has been very consistent over the years, and we hope they continue to grow in the eCommerce market as other businesses should give their platform a try. Once you try 3dcart, you will not want to go to another platform again."
What is one thing you want customers to take away from your business? What are you genuinely selling?
"We are not only selling great products but great customer service and trust to our customers. I feel it is important that they realize there are people behind the scene here to help them get the right products they need."
"Often, stores like Amazon and eBay do not have that customer-friendly feel as Amazon and eBay restrict the ability to interact more with the customer on their sites. We find that customers see our brand and our site as a trusted place to buy their medical DME supplies."
Thanks to OrthoTape for sharing their story with us on the Fomo blog. If you're in need of affordable DME, take a visit to their store.
If you have a Fomo success story to share, please fill out this form.
If you've been kicking the bucket on installing Fomo on your store, try our risk free 14-day free trial and see your results today!