Turn boring admin emails into social proof in 7 steps
every day our development team cranks to integrate more popular services to feed user-interaction 'proof' to your visitors. this social proof has real conversion rate impact.
shopping carts, email lists, video plays, shares... when your visitors take action, we believe it encourages others to do the same.
not every tool out there integrates with Fomo (we're working on it). but that's not stopping people from using Fomo to improve website experience and conversion rates.
if your site is using technology not yet supported by Fomo integrations, consider this easy Zapier Email Parser hack.
pre-reqs: join us at Fomo
if you haven't tried Fomo, learn more about us here.
need help with integration or just have questions? great customer support is core to our mission and we're here for you.
step 1: make sure this will work for you
ask yourself these three questions:
in the interest of improved visitor experience and conversion rates, do i want my site visitors to get Fomo-style notifications as other users take action? ← the answer is 'yes'

are we sure Fomo doesn't already directly integrate with the service i want to show alerts from? check here >>

do i currently receive emails, or can we receive emails, about the thing we want to display on-site user alerts for? examples include contact-form submission notification emails, checkout-completion notifications, and more.
protip, if you aren't sure about this, ask our team directly. we're happy to help.
step 2: sign up for Zapier & Email Parser
if you don't already use Zapier, sign up for it here.
next, set up Zapier Email Parser. the Zapier Email Parser is a simple tool that allows you to:
forward emails from your own inbox to a Zapier email
use Zapier to automate parsing of those emails to cut out important parts -- and do something with them. In our case, this is to create Fomo style notifications.
if you want a quick understanding of how Zapier Email Parser works, there's a lot of info here.
when you're ready, go to this page and sign up for your unique Zapier email address. we'll need this to make Fomo work.

you'll then be asked to forward an email to Zapier.
step 3: you know those alert emails you get when things happen on your site? forward one of them.
you might have something in mind already, but here are some example admin emails that could be turned into social proof with Fomo:
sales call calendar invites
gym or spa appointment confirmations
quote requests for your car dealership
etc.
find the automated admin emails you're receiving when users take action on your site and forward one of them to the Zapier email address you were just given.
step 4: highlight the important stuff.
return to your Zapier Email Parser page (screenshot above) and hit the "Refresh page and look for new email" button.
consider what you'll want to show in your Fomo alerts. usually this is something like the customer's first name, what they bought/signed up for, the location of their scheduled visit, etc. for your business, what kind of alert makes sense?
now that your email is loaded into Zapier Email Parser, simply highlight the important pieces in the email and give them appropriate names.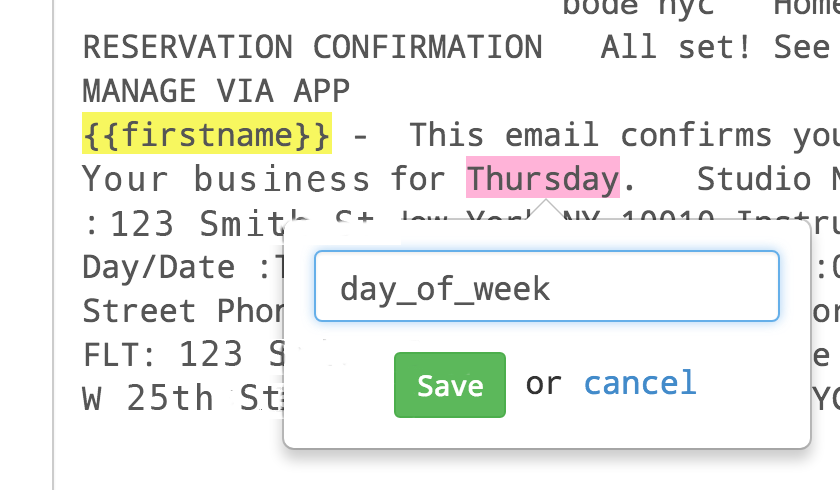 when finished, select "Save Address and Template" from the Zapier page and you're all set.
step 5: save it and set up Fomo.
back on Fomo, go to your dashboard and select "Integrations". if Zapier is not already set up as a Fomo integration, follow the steps to set it up here.
still in your dashboard, select the "Templates" tab and then click "ADD TEMPLATE".
name the template something appropriate (it will help to add " - Zapier" to the end of the name) and then set up your Fomo message. Hint: use the Fomo variables listed or create your own custom variables.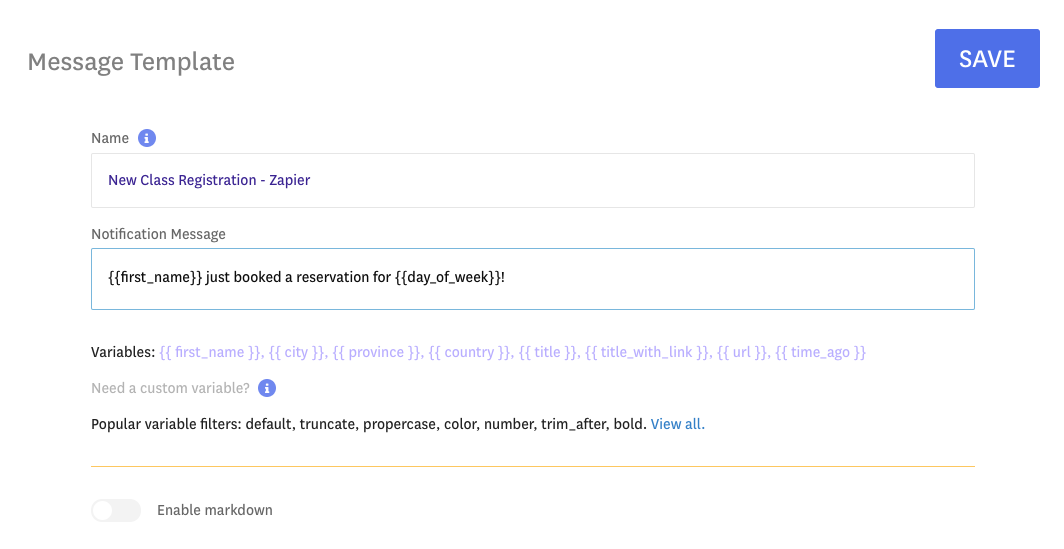 step 6: now map your Zapier Zap to Fomo.
go back to your Zapier account and set up a new Zap. you'll use Zapier Email Parser as your trigger (Zap Step 1) and Fomo as the action (Zap Step 2).
you'll need to go through a couple of Zapier steps to connect the Zapier Email Parser account you created in Step 2 (confusing as it is, they're not automatically connected) and then you'll be ready to go.
once you've selected Fomo as your Action, simply map the variables you highlighted (Email Parser) with Fomo (your chosen template) and save.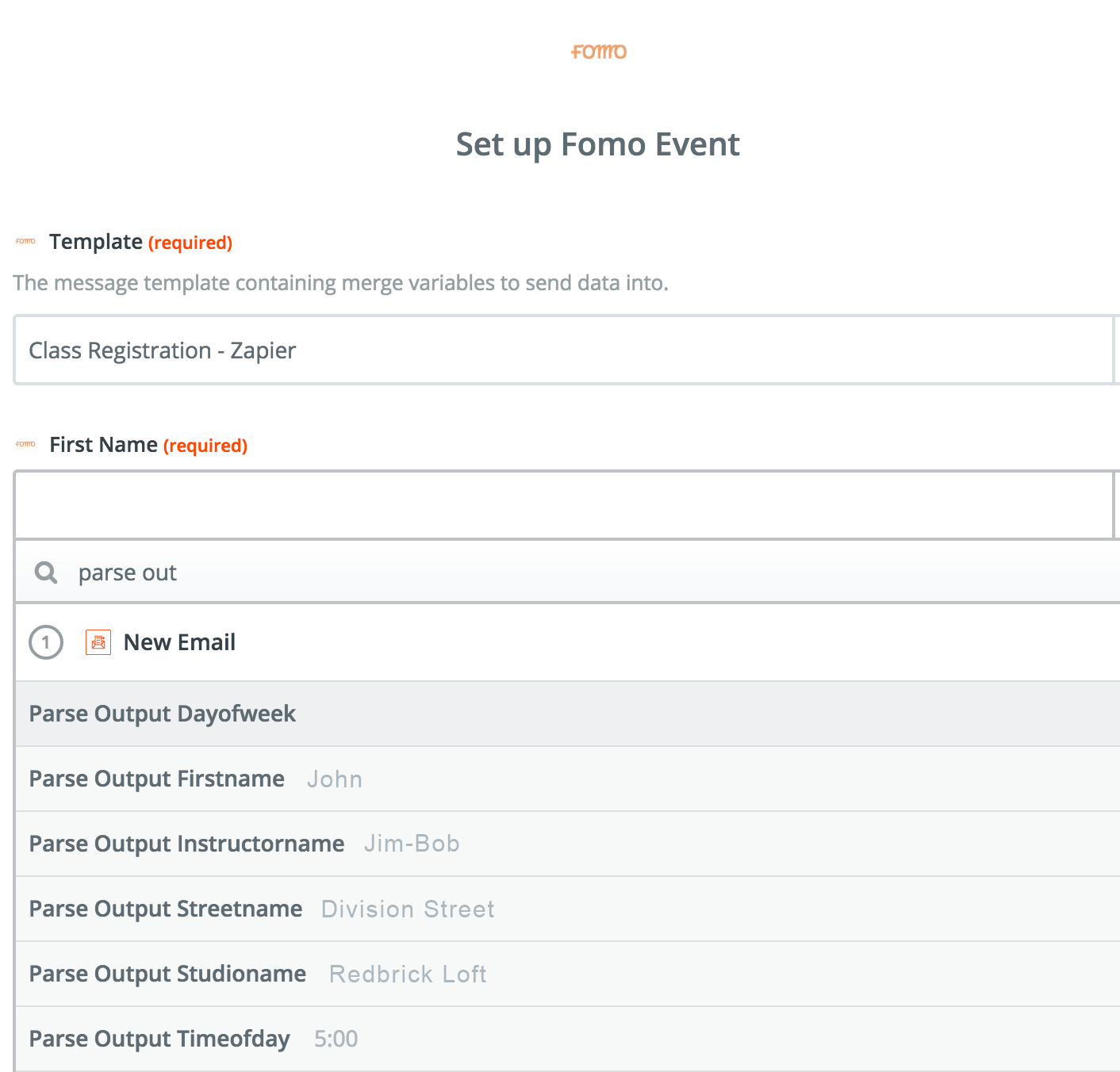 Protip, log into Fomo in another tab and arrange your template message the way you want. Then click "refresh to bring in new values" in this Zap step, and the relevant variable fields will populate for you automatically.
step 7: go live, be awesome.
turn on your new Zap, then visit the Events tab inside Fomo to see new admin email alerts being turned into notifications.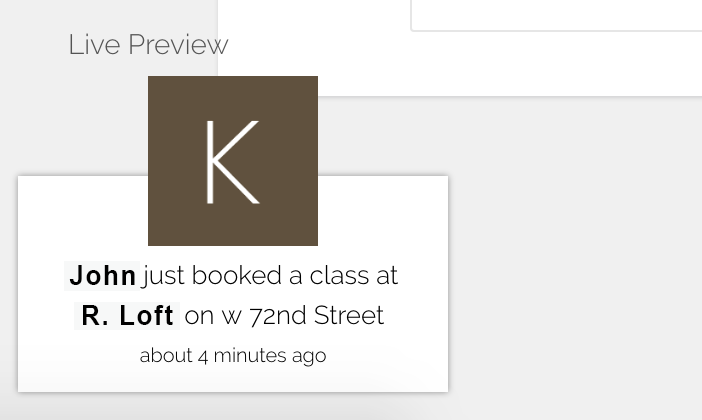 if you've embedded your Fomo snippet, notifications will be live on your site immediately.
reach out to us on live chat or email us at hello@usefomo.com if you have questions about this guide.