Fomo Boosted Click To Checkout 44%
Proximo teaches the Microsoft Office suite based out of Copenhagen, Denmark.
They offer 15 courses for a monthly subscription for individuals or companies.
"The courses are 100% online and can easily be completed in small chunks. Therefore, students can take the course exactly when it suits them."
Each course is between 3-10 hours long each and each class consists of a series of lessons, lasting from 5-10 minutes each.
Proximo offers a 30-day satisfaction guarantee and a 7-day free trial.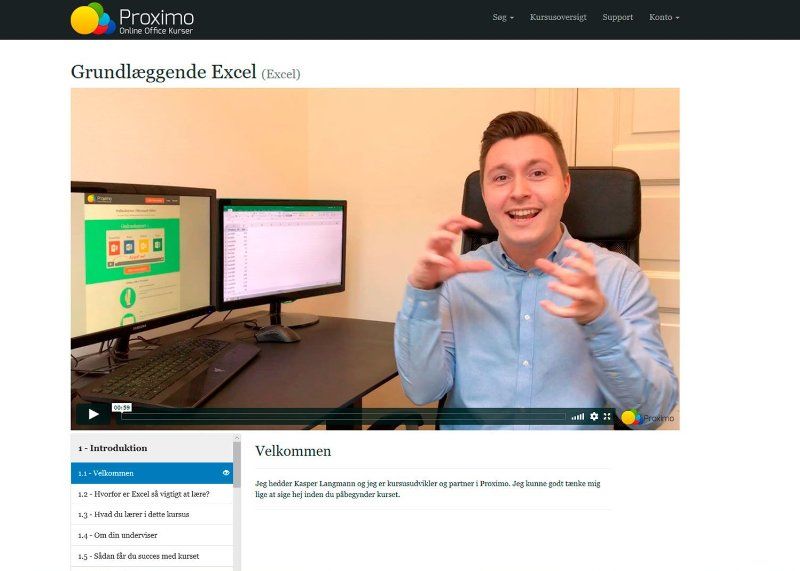 Tell us about your brand! When did you launch, where are you headquartered, what moved you to start your business?
"Proximo.dk launched in 2013 (under the name Excelkursus.com), meaning' Excel Course'. We're a 100% bootstrapped business located in Copenhagen, Denmark."
"We're two best friends who combined our skill sets to create a course business. Kasper Langmann is the instructor and Microsoft Office 'geek,' and Mikkel is the marketing person.
What are some of your other favorite tools for increasing conversions?
"VWO, a powerful A/B testing tool."
Can you outline a specific conversion-related problem you're experiencing?
"We get a lot of long-tail keyword traffic. Converting that traffic into customers is our bottleneck."
What other strategies did you try to address those issues before using Fomo?
"When we started A/B split testing, our whole understanding of our business changed. To successfully split test, you need to be aware of what parts of your page drive conversion."
"Split testing has been a great tool and mental model for increasing conversions."

How did you learn about Fomo?
"I enrolled in Ryan Kulp's course 'Micro Acquisitions.'"
What prompted you to move forward with Fomo?
"It looked like something that could be implemented fairly quickly and have a significant effect on our conversions."
Have you tried any of our competitors? If so, why did you choose Fomo instead?
"Nope."

How are you tracking Fomo conversions?
"VWO."
Can you share some of the results of how using Fomo has benefited your business?
"We tested our page pitching our most popular product with and without Fomo. With Fomo enabled, clicks to our checkout page increased 44.79% (96% probability of beating our baseline)! :)"
Do you have any changes you'd like to see made with Fomo? Any ideas for the team?
"Perhaps more designs to choose from and an easy way to split test the performance of each could be cool."

Do you have any advice for other Fomo users?
"We don't get hundreds of sales every day (far from it), but we get a lot of visitors. So, we've set up two actions. One for purchases and one for visitors. That way, we can always show fresh, new information to the visitor."
Any other stats you're proud of?
"40,000 monthly visitors :)."
What is one thing you want customers to take away from your business? What are you truly selling?
"The skills and confidence to use Microsoft Office's tools to have a better workday. With these skills and newfound confidence, we want them to get promoted or land their dream job."
How long have you been using Fomo?
"About six months."
Thanks to Mikkel from Proximo for sharing their story on the Fomo blog. Make sure to give their site a visit to show support to other Fomo users.
If you have a Fomo story to share, share it with us here.
If you haven't signed up for Fomo yet to see what social proof can do for your store, be sure to try our 14-day free trial here.