The Proven Guide On How To Get Google Reviews
Sales relies on trust. Trust relies on reputation.
Your online reputation matters.
The reviews and star ratings that other customers have left for your business mean a lot to potential buyers. And one of the biggest players in the online review game is undoubtedly Google Reviews.
By the end of this article you will know why getting Google Reviews should form an integral part of your marketing strategy. You'll also know everything you need to start getting Google reviews today.
Getting Google Reviews
Ready?
Let's learn how to get Google Reviews. But first:
If you already have a marketing system which delivers you a steady stream of Google Reviews then you should skip this article. You might find our guide on how to respond to Google Reviews helpful instead.
Now lets get into this tried, tested and true Google Review guide: from us to you with love.
What Are Google Reviews
Google Reviews are a feature in Google My Business and Google Maps. It allows customers to post (publicly) a review about their experience with a business.
Oh, and it shows on Google to potential customers searching for your business. In fact, 86% of consumers read reviews for local businesses according to studies. So the better the review, the better your traffic will be.
Google reviews have been around since 2011 and have gone through a few changes in that time. Big G had seen that customer star ratings and reviews were going to be influential in the future of online commerce.
What we have today is a simple experience for users to find local products and services on Google, and the ability for business owners to manage their business profile on Google.
Why the history lesson?
To show you that Google Reviews are important. Google have heavily invested in customer reviews as part of their user experience over the years. This means they aren't to be ignored in your digital marketing strategy.
How To Get Google Reviews
Here's how to get reviews in 5 quick steps:
Search for your company in Google
Hit the button "Write a review".
When the Google review box appears, copy the URL.
Shorten that review URL.
Now send to your clients to start getting Google reviews.
Sounds simple, right?
But did you know only 23% of customers have ever written and submitted an online review?
And there is no guarantee that these special 2 out of 10 customers will write a review for your business. Therefore you might need to give a gentle nudge grab those precious reviews up.
How?
Ask for them.
Three things to consider when asking customers to review your business:
When you ask them for a review

How you ask them for a review (use our email template)

Make it painless to leave a review (generate a direct link)
Ask too early and your customers will feel like you don't care about them, ask too late and they'll have forgotten you.
Make a misstep in how you ask them for a review, and you'll ruin your relationship. Here's how to approach this sticky situation.
When to ask for a review
The best time to ask for a review depends on your business, but most of the time it's best to ask for a review shortly after they've experienced your product or service.
But not too soon.
You don't ask for a restaurant review while the customer is eating, or just after they've finished. Instead, ask them just after the bill, or in a follow up message after they get home, when they're still basking in the afterglow of the meal.
How to ask for a review (hint: use this template)
Google has strict policies against incentivising reviews, or setting up review stations at your point of business.
But that doesn't mean you can't gently ask or remind your customers to leave you a review.
The best way is to ask is via written communication. Maybe via email shortly after they've received your product or as part of a thank-you email after you've finished working with them as a client.
You can include a call to action in your email signature for customers to leave feedback. This can take them straight to Google Reviews.
But to get them to follow through, we have to make it painless:
Google Review Email Template
And there's nothing as painless as a sending an email template like this:
Hi [FIRST NAME],
I'm writing to ask if you'd be willing to leave a quick online review for the recent [SPECIFIC] services from us?
It will only take a moment. You can click here to leave a review:
[GOOGLE REVIEW LINK]
Thanks, and let me know if you have questions,
[YOUR NAME]
Make it easy to leave a review.
Make something complicated to use and no-one will use it. Make it simple to use, and even your grandma will use it.
If you want to increase the chances of your customers writing Google Reviews for your small business, then you have to make it easy and painless for them.
You can do this by including a direct link in your email requesting a review to Google which lets the customer write their review right away.
Unfortunately, this isn't straightforward.
Getting a direct link to write a Google Review isn't like logging into Gmail. Don't fret, we'll show you how to do this right here, right now.
A cautionary note - your customers will need to have a Google profile to write reviews. This allows them to be authenticated so that reviews aren't fake.
If you're worried about your customers not having a Google account don't despair! If they have a Youtube account, Gmail account, or even an Android phone, then the chances are that they have a Google account.
How to generate a direct link to your reviews
Before you get started, don't forget to claim your MyBusiness page here, and then verify your business as detailed here.
Step 1
Go to the Google Places API. Link is here.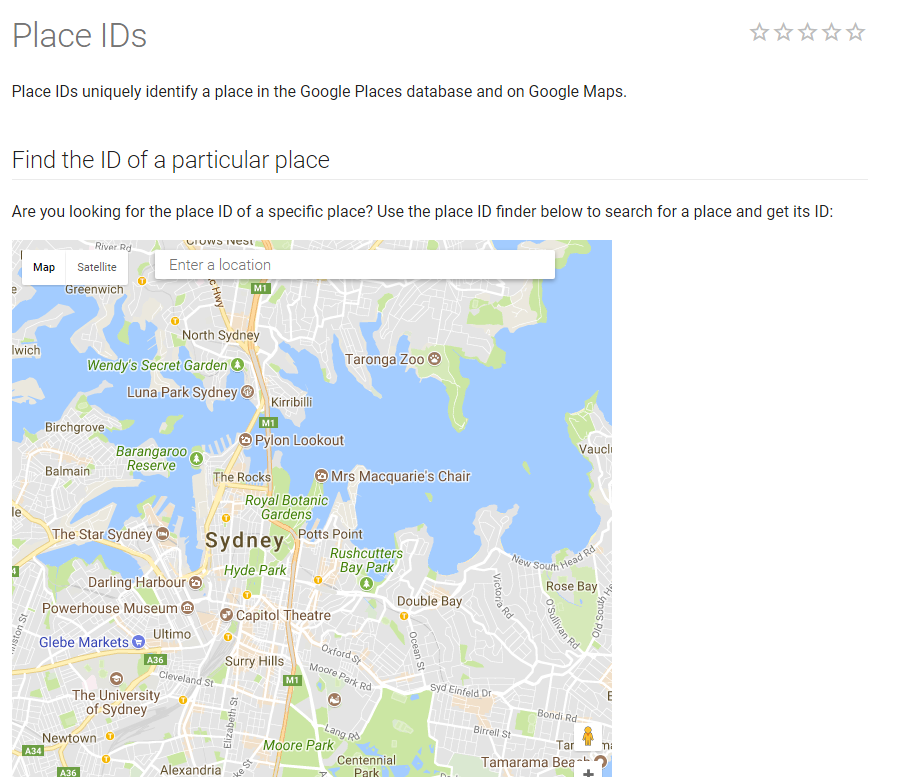 Step 2
Enter your information in the "Enter a location" field. If your business is Tailoring Services, write that in.
Step 3
Then click your business name that appears in the dropdown list.
Step 4
Your Place ID, a unique alphanumeric code, will appear on the map beneath your business name.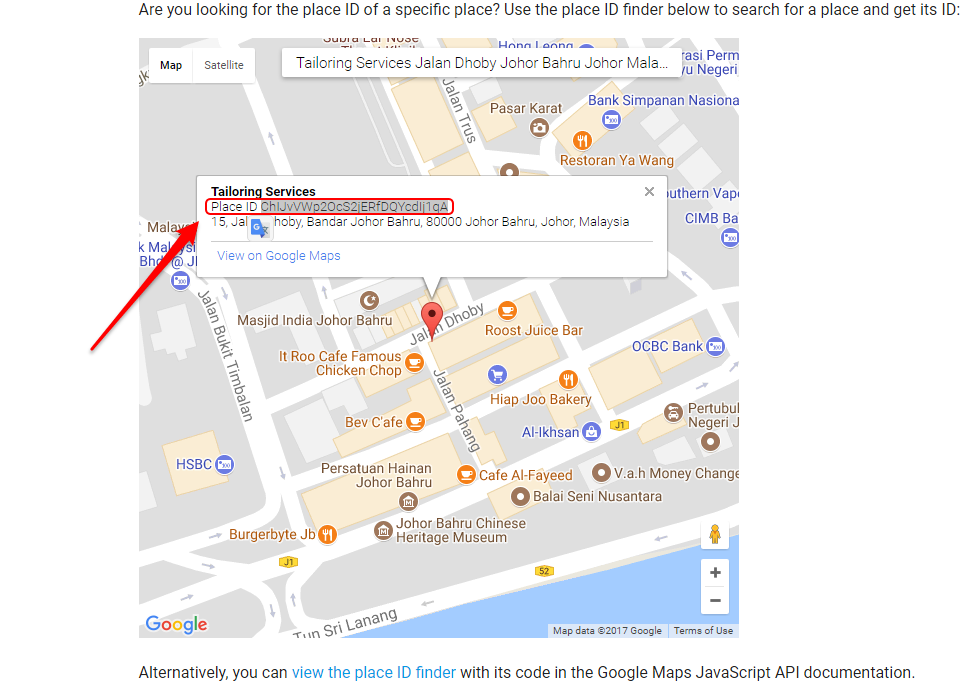 Keep this ID to hand, we'll be using it in the next step.
Step 5
Next up, you'll use this Place ID in the following URL to create your link:
https://search.google.com/local/writereview?placeid=<place_id>
So using our above example:
https://search.google.com/local/writereview?placeid=ChIJvVWp2OcS2jERfDQYcdIj1qA
We now have a link we can share.
Ready for the next level?
There are 2 more optional steps you can use to make it easier for your customer.
There's a nifty little hack we can do so we can encourage our customers to leave positive reviews.
At the moment when you share the link with your customer it'll look like this: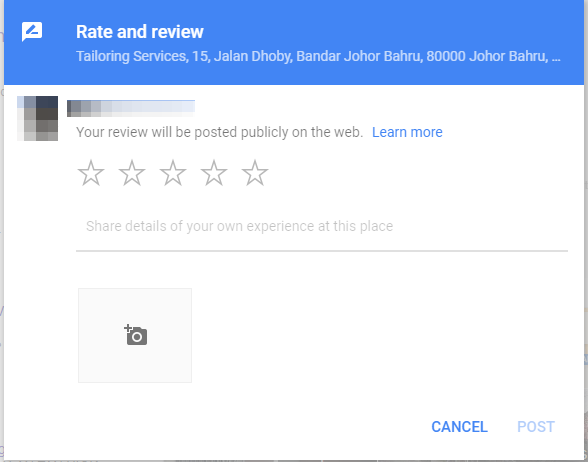 Step 1
Copy and paste the link you just made into your browser in incognito mode (Chrome) or Private Browsing mode (Safari) and wait for the page to load up.
Step 2
Then go into the URL field at the top of your browser. Notice how the URL is longer than the link you created? This is the full URL for your business review page.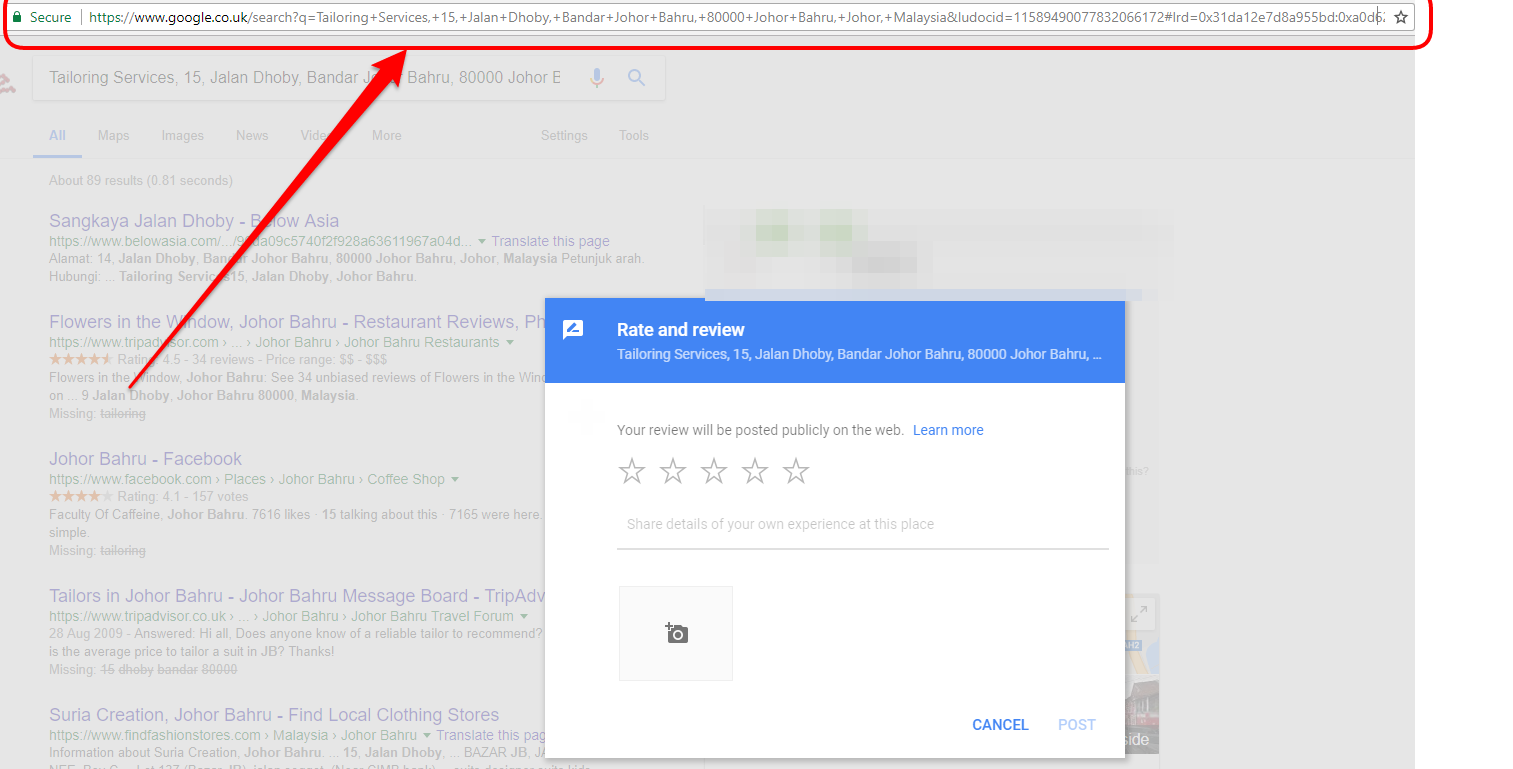 Step 3
We can hack it by adding a comma and a 5 to the end <,5> to the end of the URL as so.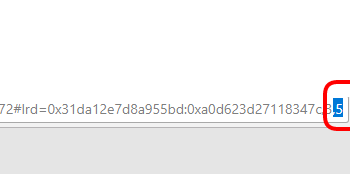 Step 4
When we enter this full URL into our browser we get the same page asking us to write a review, but now it's defaulted to 5 stars!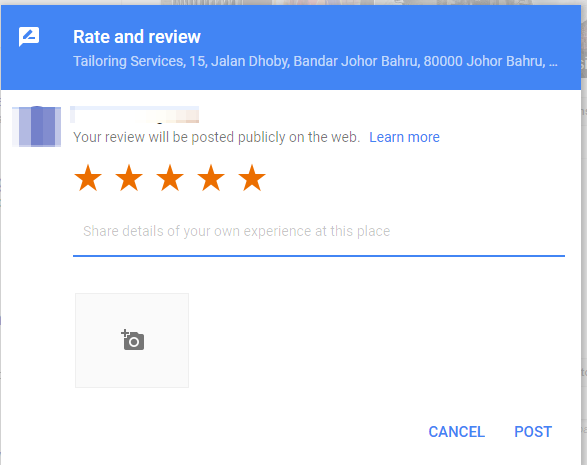 This is a little psychological trick which encourages your customer to leave more positive reviews.
---
Once you've done this, use a URL shortener to share this link, so that it doesn't confuse your customer. It's best to use Google's own URL shortener to make things nicer.
This will give you a very slick and clean direct link you can share with your customers that won't scare them away.
Too fiddly? Try this Google Review Link Generator
If you want, you can use this Google Review Link Generator. It's a free tool that easily finds your business details and spits out a unique Google Review link to share with your customers. Nice.
How Do Google Reviews Affect My Business
Think about the last time you made a new major purchase. For instance a laptop, or a new car.
We're willing to bet that you would ask around for advice on your purchase. You would ask that family member who's good with computers for advice, or you would pay attention when your friend starts complaining about their current car, and why that make and model is a bad choice.
This is an important part of the consumer decision making process. Personal recommendations play a heavy role when we're evaluating alternatives or when we're researching the problem. We trust what our friends have to say as they have our best interests at heart.
Google Reviews Statistics
Your potential customers are increasingly relying on online reviews just as much as personal recommendations when it comes to their purchases. Just consider these stats:
In 2017 88% of customers said they trust online reviews as much as a personal recommendation, up from 83% in 2014, and 40% of consumers form an opinion by reading up to three online reviews, up from 29% in 2014.
That 80% includes searching for your product or even your business. Your average star rating, as well as your Google Reviews, come alongside your business in the search results, underneath your business listing and information.
Customer reviews affect your local SEO and rankings. Anecdotal evidence suggests that the top ranked local business for a keyword has, on average, 33% more reviews than the #7 in local search.
Having reviews and ratings for your business can increase your website's click-through-rate by as much as 20% meaning more website visitors to your business.
Finally you may ask: Why invest in Google reviews and not Yelp? Why not Facebook, TripAdvisor or Yahoo Local?
At the risk of sounding repetitive, it's pretty simple:
80% of all internet searches are done through Google.
You may have invested all your marketing efforts into having a ton of positive social media feedback, but when your prospective customers search for you, it won't be the first thing they see.
The first thing they'll see are your Google Reviews and your average star rating.
Even if you have dozens of positive Yelp ratings but no Google reviews, it'll look like your business doesn't have an active online presence.
Seeing as Google is probably going to be around as long as the internet exists, it pays to invest in your Google Reviews now, so that your business can live off of it's online reputation for years to come.
Closing Thoughts
Investing into Google Reviews can feel like a chore, but it's an essential ingredient in your digital marketing strategy. A whopping 92% of consumers read online reviews, and it forms an important part of their buying process.
With what you've learned in this article you have enough to get started with your Google Review strategy. Claim and verify your Google MyBusiness page, setup your Google link, and start asking your customers for reviews. Experiment to find the right time to ask for a review and watch your business prosper.