How to Sell Products on Instagram With Instagram Influencer Marketing
Imagine this scenario.
You open the Instagram app on your phone.
As you scroll through the latest photos posted by the accounts you follow, you notice something:
An ad from a company that sells tea.
You've never heard of them before but they sure are talking their product up in the ad copy!
You're not quite interested enough to buy yet, so you keep scrolling.
Then, you notice something else:
An influencer who you follow and trust has just posted a picture of herself drinking a different brand of tea.
She even uses her photo caption to talk about how amazing the tea is.
Now, I want you to answer this question:
Which would you find more attractive as a buyer, the tea in the advertisement or the tea in the post from the influencer?
I'd be willing to bet that you'd pick the tea posted by the influencer.
Because she's someone you admire and trust, you'd consider her recommendations more reliable than a company talking about their own product.
And you know what?
Your potential customers think the same way. They want you to build trust with them before you go in for the hard sell.
Instagram influencer marketing is perfect for building trust – that's why it works so well for helping eCommerce businesses sell more.
What is Instagram Influencer Marketing?
When you use Instagram influencer marketing for your eCommerce business, it means you partner with an influencer (someone who has a strong online presence and good-sized following) whose followers align with your target audience.
During the partnership, the influencer posts a picture of a product on their Instagram account to show that they endorse it.
For example, if you were selling fitness supplements, you might choose a fitness guru for your Instagram influencer marketing campaign. Then, that influencer would share a photo of your supplements with their Instagram following.
Now, you may be wondering:
Is Instagram influencer marketing really worth my time? Why not just create some traditional ads instead?
Nielsen research shows that consumer trust and confidence in paid advertising has declined by over 20% since 2007.
On the other hand, consumer confidence in word-of-mouth advertising (which includes influencer marketing) is growing: 92% of consumers trust recommendations from peers or trusted authorities.
On top of that, customers acquired through word of mouth have a 37% higher retention rate.
Don't get me wrong – traditional advertising can be great for building brand awareness.
But if you want to build long-term relationships and trust with potential customers in a way that makes them want to buy your products, you need to use Instagram influencer marketing.
Take a look at this Tomoson influencer marketing study: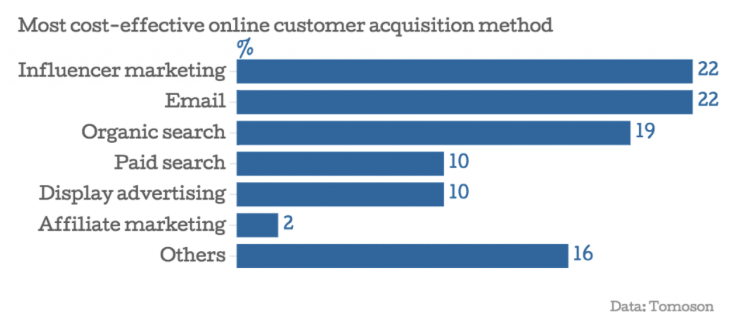 That's right – businesses rated influencer marketing as their fastest growing online conversion channel (even ranking higher than email marketing and search engines!).
Ready to learn how you can boost your eCommerce business growth with this stellar strategy?
Let's go over the steps.
Along the way, we'll take a look at plenty of examples you can draw inspiration from.
How to Use Instagram Influencer Marketing to Boost Your eCommerce Sales
Outline your Instagram influencer marketing goals.
Before you start your campaign, you need to get clear on what you're trying to accomplish. Think about why you're running the campaign and what outcome you'd like to achieve.
For example, you may want to boost sales for one product in your eCommerce store by 20%.
Or, you may want to drive 5,000 new, relevant visitors to your website so you can build brand awareness and improve your overall sales.
Whatever the case, create a plan that outlines your goals. Also, keep in mind that your goals should be specific.
Once you have your goals in mind, you'll be better-prepared to create an Instagram influencer marketing campaign that helps you achieve it.
Create posting guidelines.
You should create these guidelines based on the goals you outlined in the previous step.
For example, if you're trying to drive product sales for one product in your eCommerce store, make sure your guidelines describe how you'd like the product to be shown.
You'd also want to include guidelines about:
The call to action that should go in the Instagram post caption
Brand messaging
Any other requirements for the photo or caption
Take a look at this Instagram influencer who is promoting Triwa watches on her feed: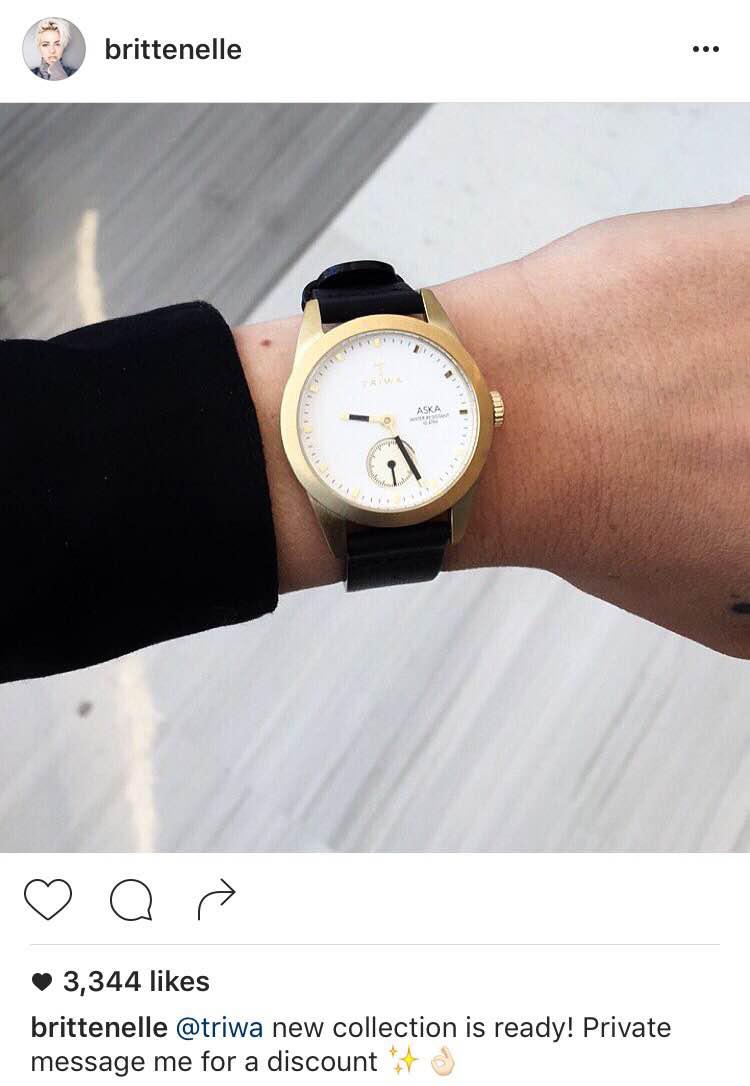 When you read the caption, you can tell that Triwa gave her a special discount to share with her following. Chances are, they also told her to tag the Triwa Instagram account in her post.
Here's what their account looks like: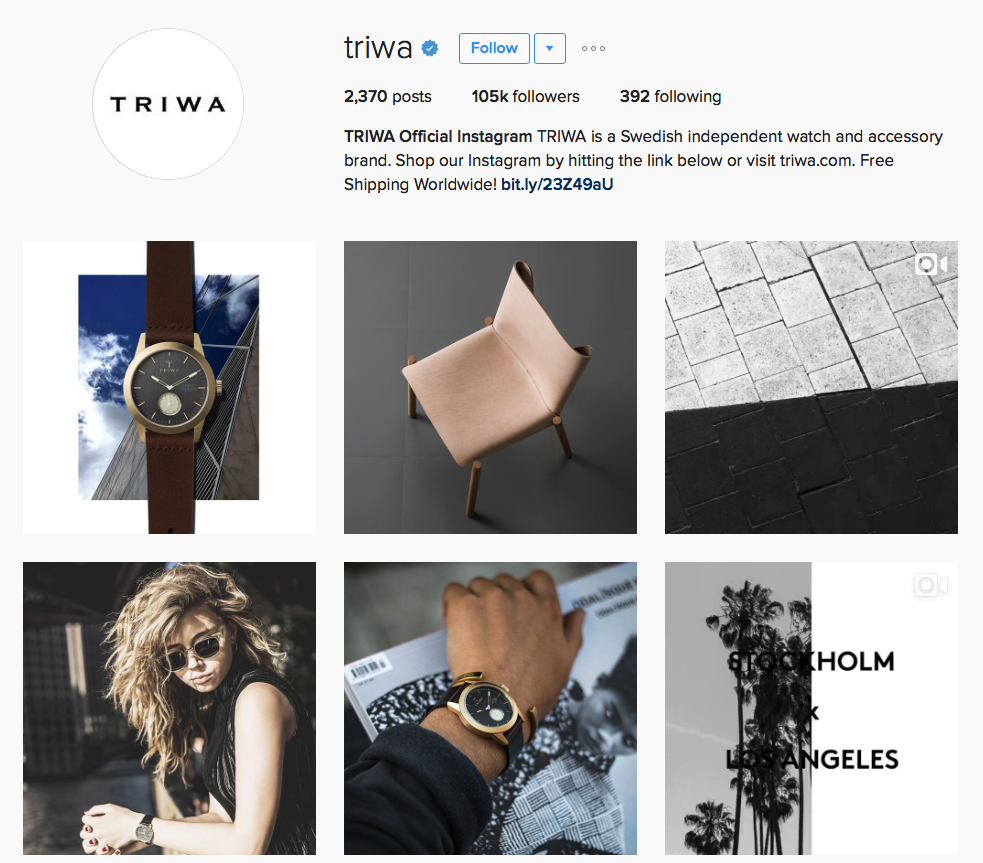 In their bio, you can see that a simple click allows you to shop their feed.
That's why they wanted their Instagram account tagged in the influencer post – anyone who visits their profile is just one click away from shopping! It's clear that their goal with this campaign is to drive more product sales.
When you use this approach, keep in mind that you should allow the influencer to have some creative freedom.
You want their post to come across as a genuine and trustworthy product recommendation. That probably won't happen if you micromanage the process!
Identify the right influencers.
The last thing you want is to pour time and money into influencer marketing, only to find that your campaign produces lackluster results.
That's why you need to approach your influencer selection process strategically.
Now, you may be thinking:
Shouldn't I just pick the most popular influencers I can afford?
Not necessarily.
An influencer with a small but relevant following will often produce better results for your business than a popular influencer with a huge but irrelevant following.
You want to pinpoint an influencer with an audience that's likely to be interested in what your selling – even if that audience is on the smaller side.
Let's break it down further. Here are 3 things to look for when you choose an influencer:
A following that includes your target audience. For example, if you sell makeup in your eCommerce store, you might choose to partner with popular makeup artists. Their following would include your target audience – people interested in makeup.
Good post engagement rates. Let's face it – an influencer who has 1 million followers but only gets a couple of likes per post probably isn't going to be able to help your business much. Look for good engagement rates on past posts.
High-quality posts. Remember, the influencers you choose to work with say a lot about your brand. Identify influencers with high-quality photos and well-written captions that align with your brand messaging.
For example, say you want to partner with an influencer who is a well-known makeup artist.
You could start by searching the hashtag "#mua" (a popular abbreviation for "makeup artist") on Instagram.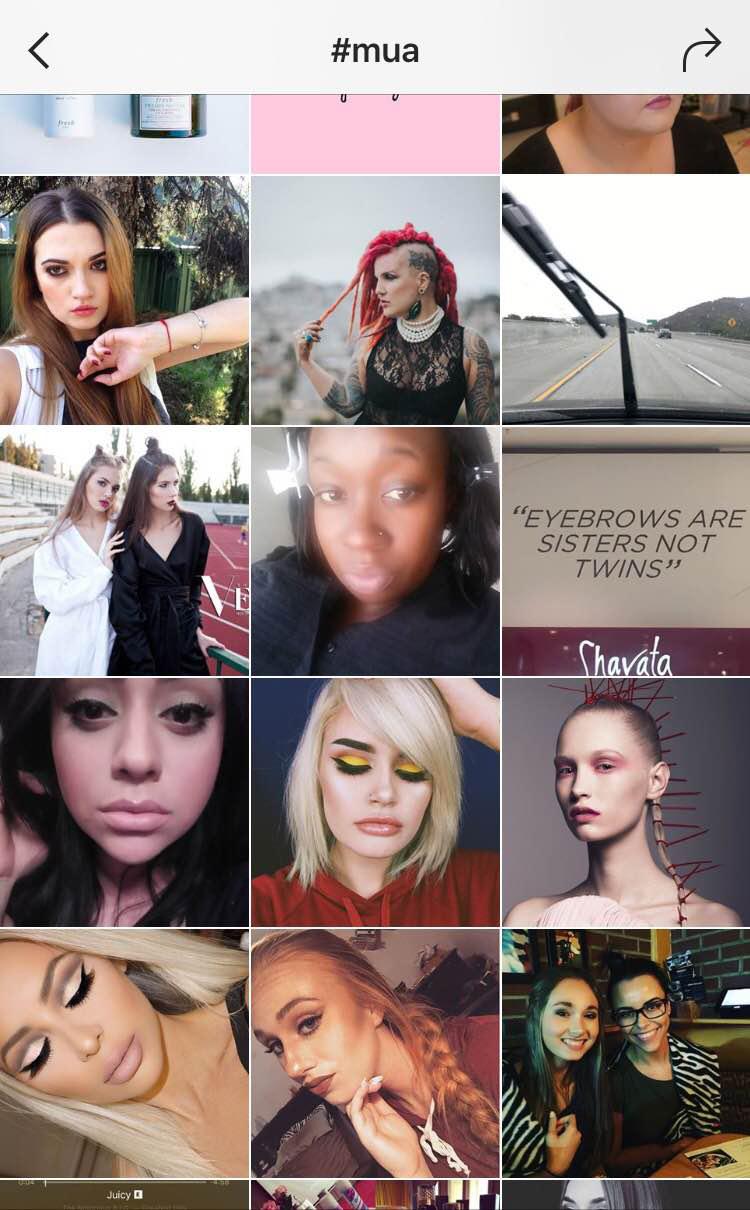 Then you could scroll through these posts until you see one that interests you.
Let's say you specialize in selling colorful makeup, so you click on the picture of the girl with the yellow eyeshadow.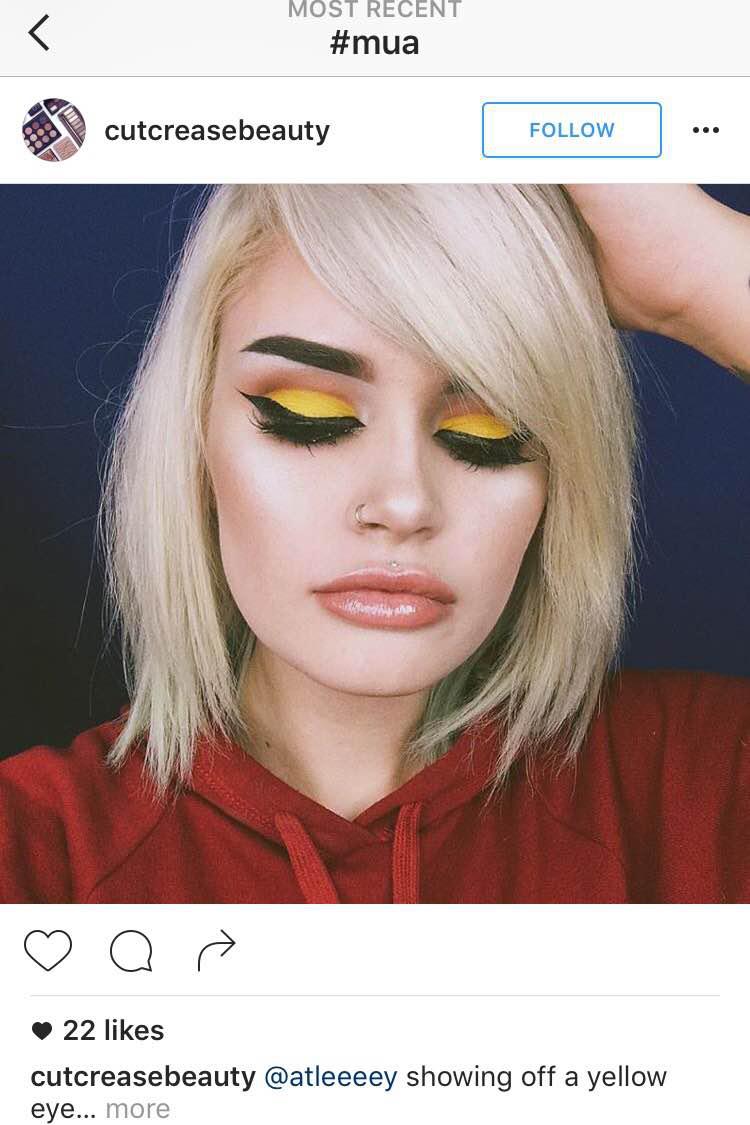 You see that this beauty company has tagged the influencer in the post, so you click her name to visit her profile.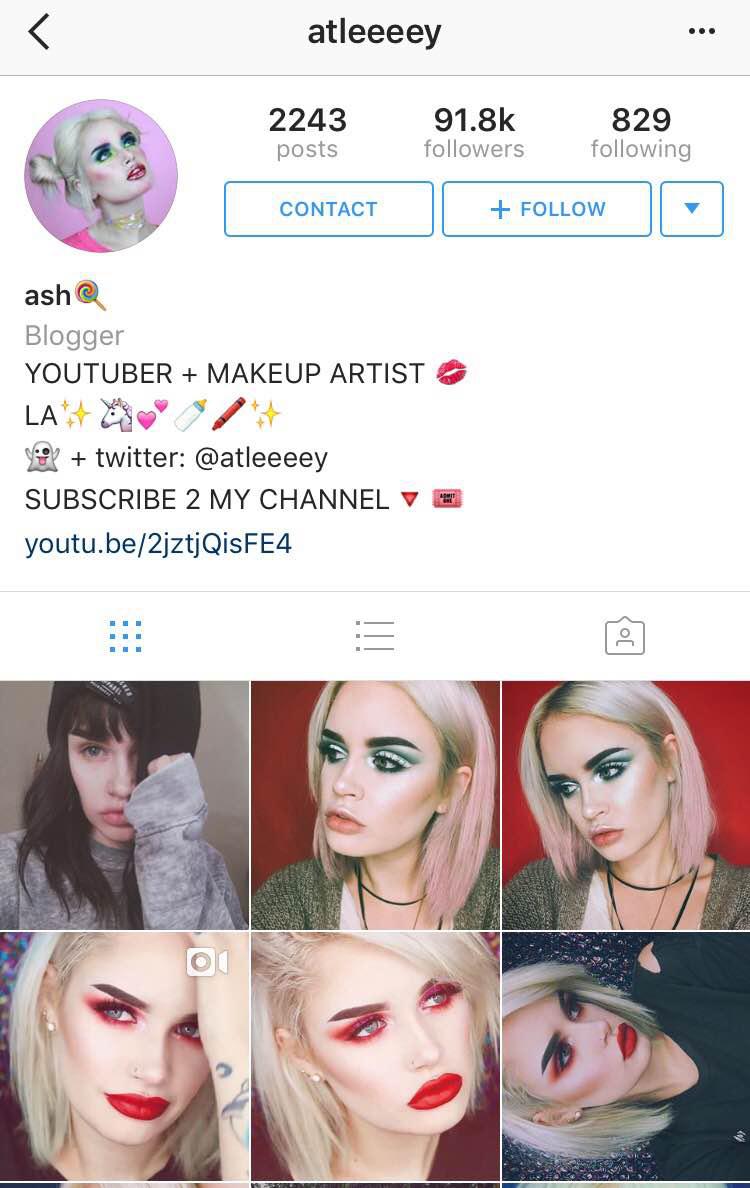 Awesome – she has a huge following! On top of that, you can tell that she uses lots of colorful makeup, so her following is likely to be interested in your products.
And she gets pretty good post engagement too – her 3 most recent posts each received over 5,000 likes.
All of this signals that the influencer would be a good fit to partner with your colorful makeup brand.
And you can use this research method to identify Instagram influencers for your brand – regardless of what you sell.
Start with a hashtag search like in the example above, and do some digging until you find the right influencers for your eCommerce business.
Then, create a spreadsheet that includes each influencer's information.
Don't forget to include their email address – you can often find it in their Instagram profile or another one of their social media profiles. If not, look for a link to the influencer's website in their bio – you should be able to find a contact form or email address on the site.
Tip: Want a faster way to identify the right influencers? If so, consider using TapInfluence, Trendspottr, or a similar tool!
Reach out to the influencers.
Once you've got a spreadsheet that includes relevant Instagram influencers, it's time to start making a personal connection with them.
For example, you can follow them on Instagram and leave comments on some of their posts to build that connection. Just make sure you're being genuine and tailoring your comments to their posts – no one appreciates a copied-and-pasted comment like "Great!"
Once you're on the influencer's radar, you can pitch them to see if they're open to collaborating with your brand.
Avoid the temptation to write a huge wall of text about your business in your pitch email. Instead, you should:
Make a personal connection. For example, mention something you liked about one of their recent Instagram posts (be specific!).
Let them know who you are and what you're looking for. State your name and the name of your company, explain the product you want to promote, and let the influencer know why they'd be a great fit.
Ask them if they accept sponsored Instagram posts. Then, you can include a call-to-action where you ask them to contact you.
Once you've found influencers who want to collaborate with you, you'll want to work out certain details of your campaign, like:
Payment. How much will you pay the influencer, and when will you pay them? Keep in mind that you may want to stick to smaller influencers if you don't have a large budget!
Timing. When should the influencer create your post? Make your timing expectations clear.
Usage rights. How and where do you want to be able to use the content? Let the influencer know if you want to feature them on your website or other social media accounts.
Also, make sure each influencer knows your guidelines. They should be clear on what kind of post you're expecting from them. For example:
Should they tag your business in the caption?
Should they advertise a discount code in the caption?
Should the photo include a picture the influencer using the product, or should it just be a photo of the product?
Making your expectations clear from the start will set you up for a successful and positive business relationship with the influencer. So, make sure you don't skip this step!
Make the most of the influencer's content.
When your influencer posts their photo, monitor the engagement.
If people are asking questions about your product or brand, don't be afraid to jump in and interact.
Also, consider using the influencer's post:
On your own Instagram feed – You can use a tool like Hootsuite to re-post an Instagram photo or you can do it manually. Consider sharing the photo on your other social networks too!
On your website – Brands see a 25% increase in conversions when user-generated photos are used instead of professionally-made product shots by brands. So, think about putting your influencer's photo on your product pages, along with other UGC you've collected from Instagram.
In your ads – Companies using consumer-generated photos in their Facebook and Instagram ad campaigns have seen up to a 50% increase in click-through rate over brand-created images, leading to a 5X return on ad spending.
No matter what, make sure to get the influencer's permission before you share their content anywhere.
Also, avoid making any edits to the content, and tag the influencer anywhere you post the image so you can give them proper credit.
Measure your results, and keep experimenting!
You'll definitely want to track conversions, brand mentions, photo engagement, photo impressions, and sales.
Analyze the data, and ask yourself:
Did I reach my goals with this campaign?
If so, congratulations! You've executed an Instagram influencer marketing campaign successfully.
If not – that's okay too.
Look over your results, determine where the campaign went wrong, and learn from it. Figure out how you can make improvements next time you partner with an Instagram influencer.
Because there's no doubt that influencer marketing is powerful for eCommerce stores.
And once you know how to best utilize it for your brand, you should be able to sell many more of your products.