How we prioritize new integrations
Fomo does integrations really well. it's basically our business model.
but while building them is easy, prioritizing "what" and "when" remains more art than science.
art
here's our integration tracker. it's a fancy (jokes) Trello board.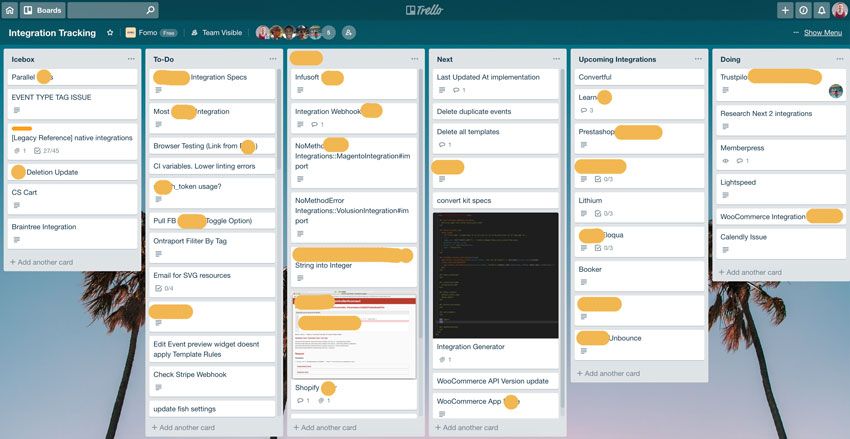 if this isn't overwhelming enough, that "[Legacy Reference] native integrations" card on the far left contains 45 integration requests in a checklist.
of course, we've tried codifying our qualification process and roadmap.
here's an excerpt from our master research tracker.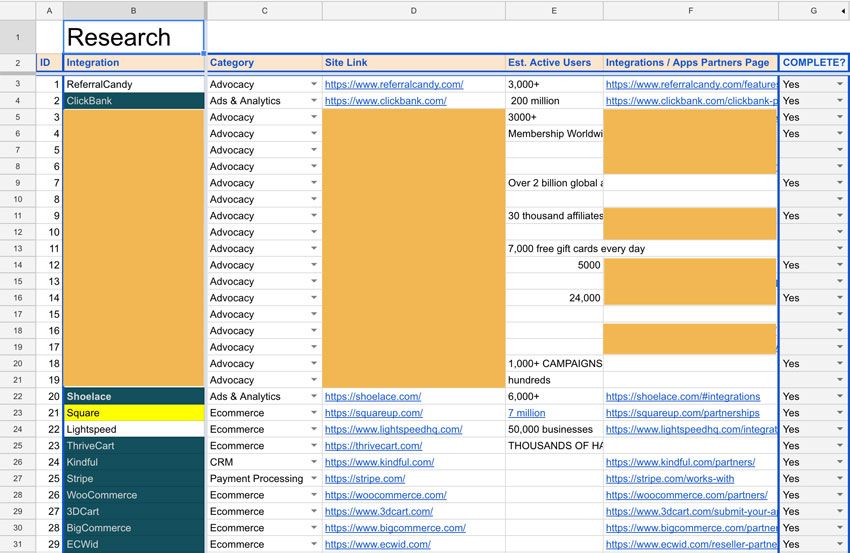 not depicted: 127 more researched, annotated integration prospects with a rating score for resonance with our audience.
yet even with these strategies in place and a 24 hour build turnaround, still i wonder:
are we doing this right?
science
there are a few ways to figure out which integrations to build next:
instincts
research (current solution)
ask customers
instincts
i confess: on Day 1 and Day 90 and maybe even Day 180, this is what we did.
we'd browse API docs, build as many integrations as we could, quickly, and announce on our blog to attract new customer cohorts.
research
the work to build an integration is the ~same whether 1 or 100 customers turns it on.
by qualifying a prospective integration pre-build, we're able to better allocate limited developer resources.
for example, does the tool have 1,000 customers, or 10,000? is there a partner directory? will building an integration be self-service or does it require approval?
figuring this out takes < 10 mins per integration, and helps estimate the opportunity.
ask customers
this sounds obvious, and we've sent many newsletters with "reply to this email to let us know what to build next" at the bottom.
but customers aren't always aware of what's possible.
for example, a "YouTube integration" sounds cool, but how would it work? show off new uploads? what if you get 20 orders /day but only upload 1 video /week... would anyone see it?
this challenge can only be met with creativity, not customer feedback, thus our YouTube integration works like this:

would a customer have provided this use case? maybe. but 3.5 years' experience and 60 integrations since launch says "probably not."
art and science
it seems "gut" and "data" are necessary, but not sufficient, baselines for integration success.
so today i queried some customer websites to see what tools they already use, to look for patterns and revenue generating opportunities.
the following analysis puts all our strategies together:
strategy #3 (ask, with code vs explicitly)
strategy #2 (research, through structured data and qualification)
strategy #1 (gut, applying in-house expertise to the results)
here are the results.
sample size: 1,998 websites
unique technologies found: 233
first i created 6 cohorts, which articulate tool popularity by the number of websites on which they're used:
1-10x websites => 105 tools
11-20x websites => 25 tools
21-30x websites => 10 tools
31-40x websites => 14 tools
41-50x websites => 10 tools
51+ websites => 69 tools
this means 105 fringe tools should potentially be excluded from our integration tracker and research documents, as the demand is too low.
note: given Fomo has 5,800 paying customers, this sample size (1,998) implies up to ~30 websites uses tools from this collection of 105 (vs 1-10 websites), but we'd need 100% adoption to achieve 1% utility of our Shopify connection (3,000+ paying customers).
outliers accounted for, next i analyzed just the 69 tools used on at least 50 Fomo websites.
here's the raw data in screenshot format so you don't lose your taste for bullets. it satisfies Strategy #3 from our toolbelt, to "ask customers" what they want.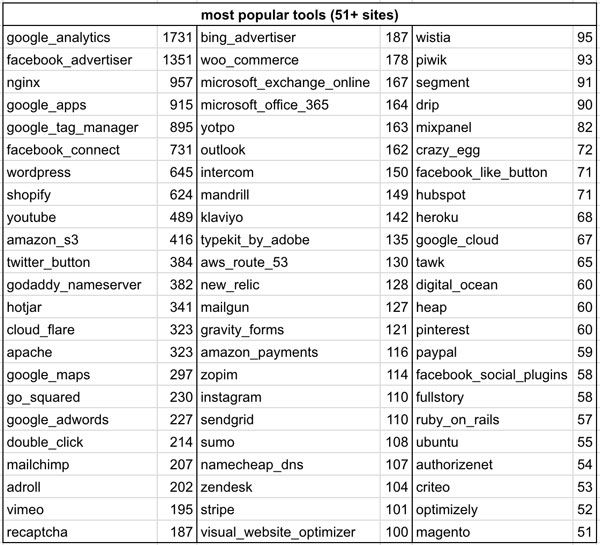 you'll notice several of these tools are IaaS / PaaS / frameworks, thus "integrating" is irrelevant:
Ruby on Rails
Ubuntu
Apache
Godaddy Nameservers
Nginx
here's that data again, irrelevant tools excluded and tools we already integrate with, in bold: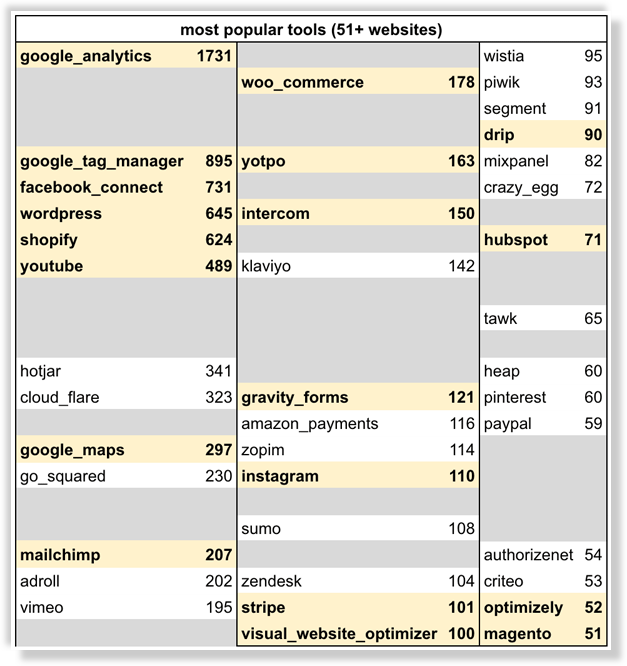 relevant tools: 40 (vs 69)

Fomo coverage:
19 / 40 =>  48% by tool
6,806 / 9,465 => 72% by site usage
i did preserve some infrastructure-ish solutions like Cloudflare, as they have a 1-click API that Fomo could leverage to improve the snippet embed step of our onboarding.
this massaging of the data satisfies Strategy #2 (research) by applying a layer of qualification in regards to our product and target audience.
taking a step back
we could stop here, content with majority coverage. but let's go 1 step further and review the data once more through the lens of Strategy #1 (gut).
going by the numbers, it would make the most sense to integrate next with Hotjar (341 websites), and it would make the least sense to integrate with PayPal (59 websites).
yet i've never received a Hotjar integration request, and at least 1,000 Fomo customers either sell to customers with PayPal or use it themselves to pay vendors.
so what's happening?
you can never rely solely on data, gut, or research.
each of these strategies attempts to tell the same story, but they do so with a different perspective. as Malcolm Gladwell says:
"there is no such thing as perfect pasta, only perfect pastas."
to make the best decisions for our integration roadmap, let's now categorize each tool by its use case instead of its popularity, then look for meta trends.
for example, AdRoll and Criteo are both retargeting platforms. Vimeo and Wistia host videos. Zopim, Tawk, and GoSquared are live chat tools.
tools we don't integrate with, by category:
live chat - 3 tools
retargeting - 2 tools
video - 2 tools
analytics - 5 tools (Heap, Piwik, Segment, Mixpanel, Hotjar)
we're again hit in the face with numbers... 5 analytics tools vs 2 retargeting tools, and we already integrate with the world's most popular one, Google Analytics.
while this is true, it's also true that we had 200+ connections to an experimental integration with Shoelace, a retargeting app for Shopify stores.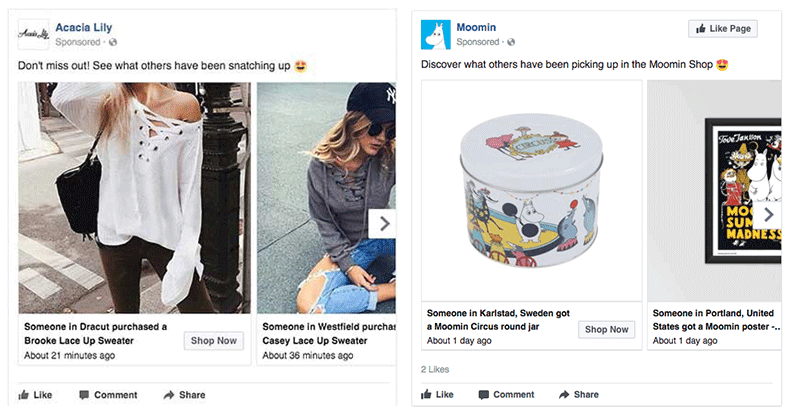 this proof-of-concept could lead to even stronger and more widely distributed integrations with retargeting giants AdRoll and Criteo. are we speaking with them about this? i can't say.
or should we abandon this "hunch" to prioritize by the numbers?
even deeper
another filter we can apply to data is the viability of a use case in terms of product-market fit.
at Fomo, ecommerce is our #1 use case. we didn't manufacture this, it kind of happened. i call it physics. Fomo + ecommerce = gravity. don't fight gravity.
we have simply not witnessed great experiences by folks who connect a live chat tool, so even with 3 popular players (Tawk, GoSquared, Zopim) in use by our customers, i'm not convinced showing off recent chats would move the needle.
what's next
hopefully this analysis encourages you to add human filters to otherwise data-driven decisions at your company.
Fomo will continue to exercise all 3 of our muscles – data, research, and instincts – to choose the best features and integrations to build for our customers.
if you're curious how we ship product, go here. to be part of that process, get in touch.