Longer Memberships When Others Can See Them Too
Shades Club is the world's first monthly subscription service to ship designer sunglasses right to your door. For far under retail price, they provide quality designs and durability that is unmatched.
Customers receive 12 different sunglasses per year without having to wait in lines and pay high prices from middleman stores that have significant overhead expenses.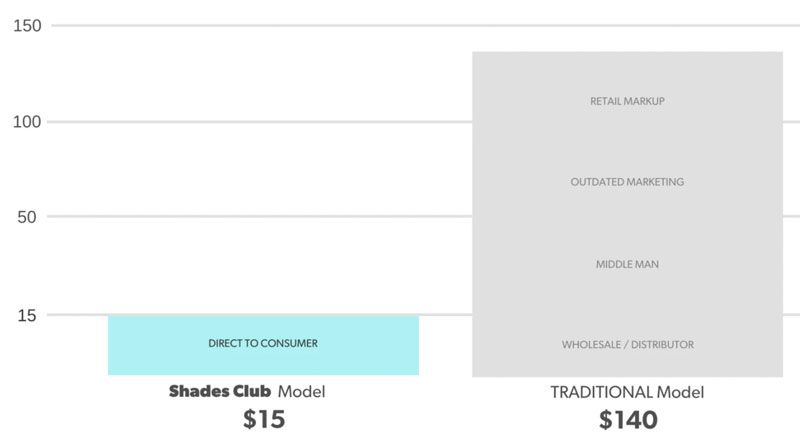 Regular sunglasses are marked up over 20 times what they cost to make.
"Make no mistake – there was a lot of work that was done here! If you were to go out today and buy 12 designer pairs elsewhere, you'd easily spend well over $1,500.00!"
Rich and TJ are the founders of Shades Club. They design the sunglasses themselves and produce them in the same factories as the big leagues.
They've even created folding carrying cases that are slim and sleek instead of the regular huge clunky cases that we're all used to.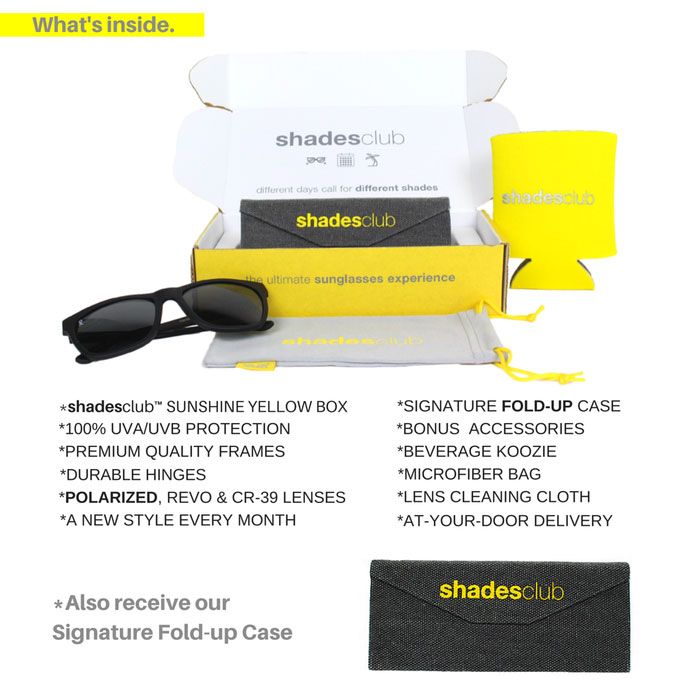 "Our sunglasses have traveled 90 million miles, are worn in over 65+ countries & all 50 states. They've been proudly chosen by over 100 celebrities and influencers over any other brand, sold 100% online - all with a less than 1% return rate."
"Our direct-to-consumer approach made increasing quality for a fraction of the price a reality, and it shows. Overhead is way lower, our members are happier, and our value is guaranteed."

Shades Club launched on Kickstarter in 2015. They met their initial funding goal in one day and raised over $400,000 in total.
"What began almost eight years ago as a quest to create high-quality, well-priced shades for friends (for summers, celebrations, and vacations) evolved into an off the beaten path vibe, complimented by an extremely well-thought-out, premium sunglasses collection and lifestyle."
The sunglasses industry as it stands has only made them cost more and more over the years. Shades Club is trying to disrupt an industry giant.
Luxottica is an Italian company that you've probably never heard of, but they create, design, and manufacture glasses throughout the world for brands like Chanel, Versace, Prada, etc.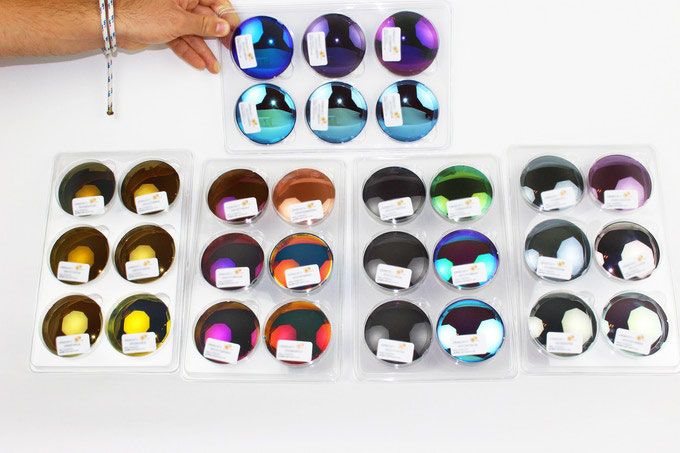 Luxottica controls 80% of the sunglasses industry.
Their glasses end up for sale in Lenscrafters, which Luxottica owns as well. Oakley tried to compete with Luxottica's glasses brand Rayban so they can be sold in Lenscrafters too, but they got dropped from Lenscrafters. Luxottica then bought Oakley in 2007.
You could also shop at Sunglasses Hut, but Luxottica owns them too, as well of tons of smaller boutique brands and the optical shops inside Sears and other stores.
All of this self-ownership creates an illusion of choice in the market and allows Luxottica to control the prices entirely and set them sky-high. Glasses that cost $30 to make are sold for $200-$400+.
You might think insurance companies would complain, but they're not. Because Luxottica also owns EyeMed, the second-largest vision insurance company in the US.
The only other brands that can compete to even the playing field for the consumer's wallets are Walmart, Costco, and independent online retailers like Shades Club.
Tell us about your business!
"Shades Club is the world's first and top-rated Premium Sunglasses Subscription. We launched in 2015 on Kickstarter and raised over $400,000. We are based in the Sunshine State (Florida!) so we can enjoy the sunshine and palm trees."
Why did you launch your business?
"We were inspired to start our business to provide a better solution to the millions of sunglass wearers who are sick of paying high prices along with losing and breaking them so easily."
"We're still a sunglasses company... We're just not going to act like one."
What are your favorite apps?
"Fomo is one of our top choices, along with Klaviyo, Recharge, Spin-a-Wheel, and Apple Pay."

What challenges have you faced throughout your business?
"One specific problem we face is that we are the first to offer a product of this kind, we are lacking the trust and knowledge of potential customers having tried it before and knowing what to expect."
How does Fomo help with that?
"Luckily, Fomo helps out in a major way with social proof and showing that others are buying memberships, so it helps new visitors along the purchasing journey."
What else did you try?
"We tried using explainer videos, text, images, and reviews on our site, but nothing has achieved the level of success that Fomo has provided us."
How did you find Fomo?
"I learned about Fomo from studying other top-performing websites that we wanted to emulate and found its use to be compelling to us, so we wanted to try it."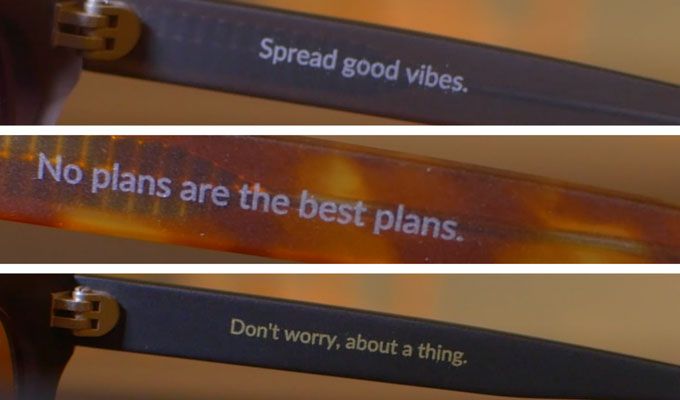 How long have you been using Fomo?
"We have been using Fomo for about one year now."
Have you tried any Fomo competitors?
"We have not tried any competitors."
How are you tracking Fomo's results?
"We are using the data provided by Fomo and surveys to our customers about their purchasing experience. We are super proud that our average order value is up 40% in the past year!"
"I believe it is partly because Fomo makes people feel more confident in our product, and they are purchasing longer memberships due to seeing the other customers purchasing longer memberships. So the results compound upon past successes!"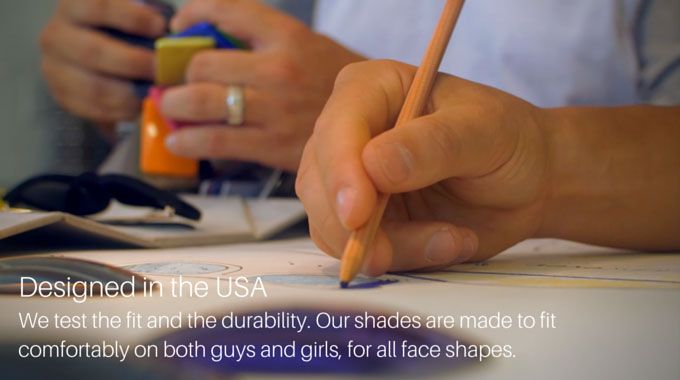 Do you have any ideas for the Fomo team?
"The only minor thing I can think of is I'd like to see more of a call to action on the notification. Perhaps a "shop this product" or "shop this look" button to make it easier for customers to know it is clickable and able to be shopped easily."
Do you have any advice for other Fomo users?
"Definitely go in and customize your notifications' look and feel, so it matches your brand. That's one of the great options that Fomo offers, and we appreciate the ability to have it appear how we like."
"Fomo is a cost-effective way to boost conversions on your website using actual data to provide trust and feedback to consumers on what products are being purchased."
Any other Fomo results you're proud to report?
"We are super proud that Fomo also helps build community. People like seeing where other people are purchasing from and when they see someone in the same city or state, it creates a sense of belonging."
"That is not necessarily quantifiable, but we do hear this from customers, so we know it is working."
What is one thing you want customers to take away from your business? What are you truly selling?
"We are truly selling the freedom of time and saving money for more adventures. So you can do more of what you love, and enjoy it more freely."
"We've attracted and cultivated a community of sun-seekers, jet-setters, style mavens, newcomers, movers, and shakers alike. At Shades Club, "If it feels good, do it." Relax and unwind, spend time looking and feeling good, or simply share inspiration gained and pass through."
Thanks to Rich from Shades Club for taking the time to speak about their experiences with using Fomo on their store! Check them out here in time for summer!
If you've been enjoying using Fomo as well, feel free to reach out and share your experience here.
If you're still kicking the bucket and you're thinking about signing up for Fomo, try out our 14-day free trial here.