the new face of social proof
this week our team is in Split, Croatia.
we're here to:
finally meet in person (see: remote)
migrate 1,000s of users to a new codebase
plan for the future
relax
underscoring our agenda is the power and importance of brand.
as a young team in a fun place, do we...
tip generously?
work hard, play hard?
sleep in?
ignore customers for the beach?
to answer these questions, let's take a walk down memory lane.
genesis of Fomo
in March 2016, i acquired Notify with my friend Justin.
we assembled a team whose purpose was to rebuild the product from a Shopify-only plugin to a standalone platform.
fast forward a few months, we launched Fomo in August 2016.
at this stage of a business, a junior brand strategist might ask, "if your brand were an animal, what would it be?", or "what colors represent your emotions?"
we chose blue and got to work.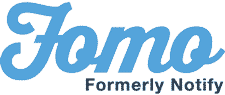 within weeks, the color felt over-used (twitter, facebook) and we scrapped it:

but enough about curvy lines.
personifying Fomo
in November 2016 we wrote about our first 90 days as a company.
highlights:
~1 billion notifications displayed (300mm /month)
2,000+ installs of our ecom plugins
3.1 daily deploys to production
721,046 lines of code from 13 contributors
1,000+ SDK downloads
all of these numbers have since multiplied, but their side effects remain the same:
communication through numbers, strategy, support, and content is our point of view.
we also value transparency, resourcefulness, metrics, late night hacking, fitness, and family.
dat new new
today, i'm proud to roll out the manifestation of Fomo's first year in the marketplace.
Fomo is the online equivalent of a busy store, the World's First Social Proof API, and The Original Social Proof App.
thank you.