Over $100k In Sales Directly From Using Fomo
SinglesSwag is a Florida-based service offering monthly subscription boxes. These boxes feature women's lifestyle products in various categories, such as beauty and cosmetics, fashion accessories, jewelry, books, snacks, food, and more. SinglesSwag is the first and largest monthly subscription box that is designed specifically for singles.
20.53M
199.47K
71.91K
$114.24K
These boxes include products from both emerging and premium brands. The components of SinglesSwag's box are designed to be inspirational and rewarding, helping singles feel empowered and motivated.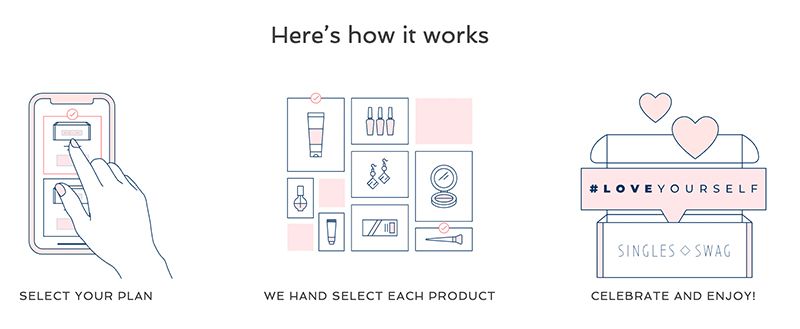 The company's business grew rapidly and went from inception to making more than $1 million in revenue a month in less than three years. SinglesSwag initially started with small adverts on social media platforms, such as Facebook and Instagram, spending around $20 per day. Now, SinglesSwag spends more than $20,000 daily on social media advertising.
Within its first four months, the company landed about 400 customers. However, SinglesSwag really took off when its CEO, Jonathan Beskin, a self-taught digital marketing and advertising whiz, began advertising on Facebook. And after some trial and error, Beskin hit on a formula that worked.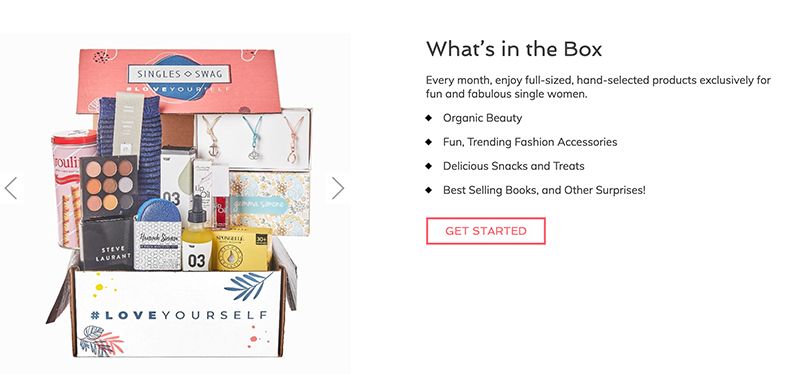 SinglesSwag believes women and singles should embrace what makes them unique. It supports this with unmatched personalization so singles can discover the products and accessories that will delight and empower them.
SinglesSwag also donates a specific portion of all proceeds to the Breast Cancer Research Foundation, a noble initiative. Besides contributing a portion of its monthly proceeds to breast cancer research, SinglesSwag has donated over 500 subscription boxes, each valued at more than $200, to frontline health workers during the COVID-19 pandemic.
SinglesSwag loves to make single women look and feel beautiful while inspiring and empowering them to be their best. The company hopes that its monthly package, created with care and love and delivered right to its customers' doorstep, will contribute to their happiness and well-being.

Tell us about your brand! When did you launch, where are you headquartered, and what moved you to start your business?
"SinglesSwag is the first and largest monthly subscription service designed for single women. Boxes feature hand-selected, full-sized items from categories like organic beauty, cosmetics, jewelry and fashion accessories, books, treats, and a lot more."
"In May 2016, SinglesSwag sent its first shipment of fewer than fifty boxes to various subscribers in the US. And after three years, SinglesSwag ships more than 40,000 boxes per month to over 30 countries."
"While marketing to single women has paid off, I think that you do not have to be a singleton in order to enjoy our products. Some of our customers aren't even single; they simply love the high retail value of the boxes as well as the product mix, including many SinglesSwag in-house brands, such as cosmetics line Mollie Jacob."
"SinglesSwag has been ranked three times on the Inc. 5000 list of the fastest growing companies in America, including #181 in 2020. Headquartered in Boca Raton, FL, we have shipped more than 2.5 million boxes to 300,000+ subscribers in over 30 countries."
What are some of your other favorite tools for increasing conversions?
"At SinglesSwag, we use several tools and apps, such as Fomo, Sumo, and Mailchimp, to increase conversion rates. For example, we use Sumo and Fomo to spark new content ideas and gain important insights, such as whether images are too large, slowing down our page's speed or load time."
What are a couple of specific conversion-related problems you're experiencing?
"While SinglesSwag sales revenue has increased during the pandemic, abandoned carts are still one of the biggest issues facing the company. Shopping cart abandonment is costly as it points to missed opportunities for SinglesSwag."
"This is where Fomo has come to our rescue. It has helped us build social proof really quickly, enabling SinglesSwag to improve conversion rates and our bottom line."

What other strategies did you try to address those issues before using Fomo?
"We did not use any other method."
How did you learn about Fomo?
"We learned about Fomo through our web developer."

What prompted you to move forward with Fomo?
"The eagerness to increase conversion rate prompted us to try Fomo, and since then, we have never looked back."
Have you tried any of our competitors? If so, why did you choose Fomo instead?
"Nope."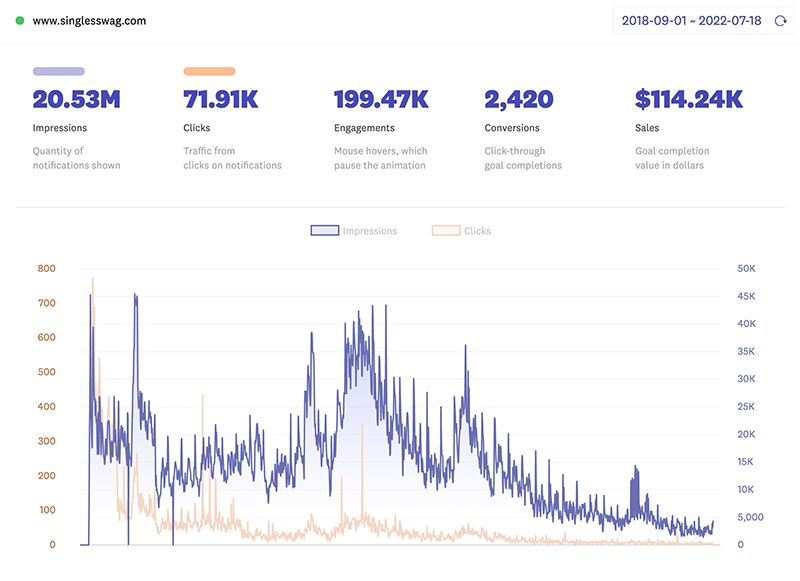 Do you have any changes you'd like to see made with Fomo? Do you have any ideas for the team?
"Not at the moment."
Do you have any advice for other Fomo users?
"Sign up for a trial and expand and streamline your business with better data analytics and insights that lead to more informed decision making."
If you're interested in checking out SinglesSwag's monthly subscription boxes, make sure to visit their website.
If you're a business owner and haven't tried Fomo yet, what are you waiting for? Give our 14-day free trial a go here. If you're a Fomo user and want to share your story with us, share it with us here.