The Painless Guide On How To Respond To Google Reviews
Business relies on sales. Sales relies on trust. Trust relies on reputation.
This truth is as old as commerce itself. A business lives and dies by its reputation.
In the past, the reputation of a business relied on word of mouth marketing. Today, word of mouth marketing is still very important, but many people will get to know your store's reputation by a different medium: Google Reviews.
As an e-commerce store, or even a local store, one of the first ways your customers will find you is through Google. In the process, they'll also take a look or be presented with your "Google reviews."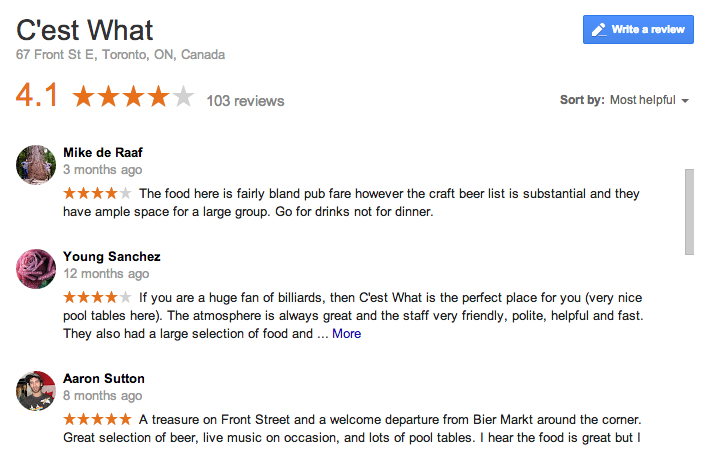 It's a feedback system, like Yelp, that comes right up in the search results. These ratings also turn up when someone is searching for you on Google Maps.
For example, let's say you just remembered it's your wedding anniversary (oops!). You quickly search for florists to place an order to pick up on the way back from work. You go into Google Maps to search for florists on your commute route. This is what turns up.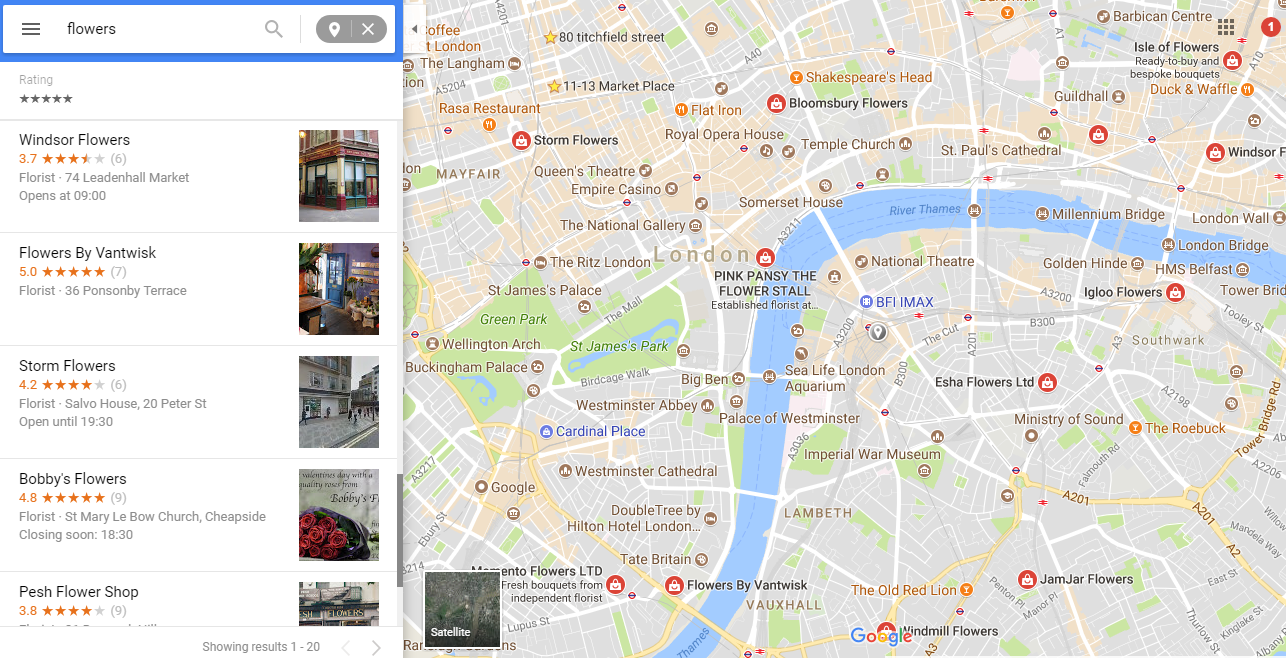 Which florists will you go with? Windsor Flowers with their average 3.7 star rating and 6 reviews? Or Bobby's Flowers with average of 4.8 stars and 9 reviews?
Of course Bobby's Flowers.
If you don't have a basic Google review strategy, you put your store's credibility at risk. More importantly, your local search ranking and your ability to attract and convert customers are also threatened.
And the simplest way you can mess up your Google review strategy?
Not responding to them.
If you have a wall of positive reviews on your store's Google profile, congratulations! However, if you don't reply to any of those reviews, your brand can come across as aloof not caring about customers. This may give the impression that you have bad customer service.
Leaving some simple responses makes your business look like a business that cares. Does this really matter? Are reviews all that important? Is this another social media hype? Read on to find out.
Everyone Uses Online Reviews
How many consumers do you think read online reviews?
50%?
60%?
What about if we told you that a whopping **90% of consumers say their buying decision**s are influenced by online reviews.
That's practically everyone.
For every ten people who are searching for your store, nine of them will decide whether to buy from you or not based on online reviews.
The data goes one step further.
90% of consumers said that seeing positive reviews influenced their buying decision, while 86% responded that seeing negative reviews affected their decision.
Both positive and negative reviews influence the majority of buyers.
Good Google Reviews Help With Local SEO
Moz's Local Search Ranking Factors Survey concludes that online reviews make up about 10% of how Google and other Search Engines decide to rank your website.
Work on your reviews and you'll bump up your rankings.
It Shows You Care
We know we mentioned this earlier, but it bears repeating. When you respond to an online review, especially if it's negative, it shows you care.
You took the time to respond to the thoughts, desires, and criticisms of a customer, and it tells the customer, "Hey, thanks for taking the time to get in touch. We don't just value you as someone who spends money with us, we value you as a human being."
78% of customers say that seeing management reply to their online reviews makes them believe that the business cares about them.
And as we said before, responding to Google reviews also makes you look like a credible business that cares about its online presence.
It also helps to increase conversions and attract new customers. Businesses with positive reviews already convert up to 183% more new business, but businesses which respond to reviews? Tripadvisor says they make 50% or more in revenue compared to their peers that don't respond and grew at twice the rate of the competition.
How To Respond to Google Reviews
The majority of people expect a prompt response from businesses, notably if they leave a public review.
Within 7 days of writing an online review, 52% of customers expect to hear back from a business. Of those who expect a response, 25% expect a response within 3 days, and 21% expect a response within 24 hours.
So when you get a Google Review your customers expect you to reply fast
But how do you do it? Easy peasy.
First, login to Google My Business. If your store has more than one location, then make sure to use "Manage Locations" to go to the right store.
Then click "Reviews" from the menu.
You can then go ahead and respond to any of them by clicking "Respond" and then writing your reply.
Then hit submit.
If you find that you can't respond to reviews, make sure that your business is verified with Google.
How Not How To Respond
Responding to reviews is a matter of personal taste, good business and downright common sense. But a few general rules apply to everyone.
First, if you get a criticism, never ever get emotional and don't take it personally. Here's an example of how not to respond to reviews: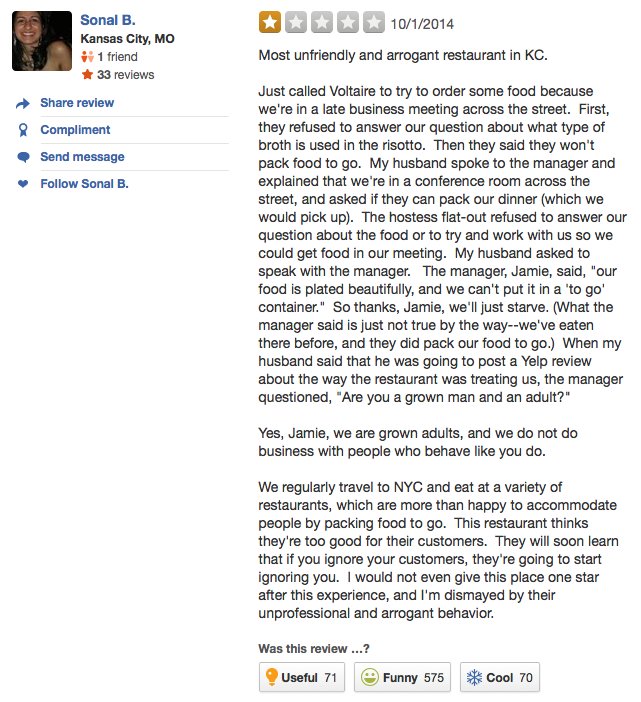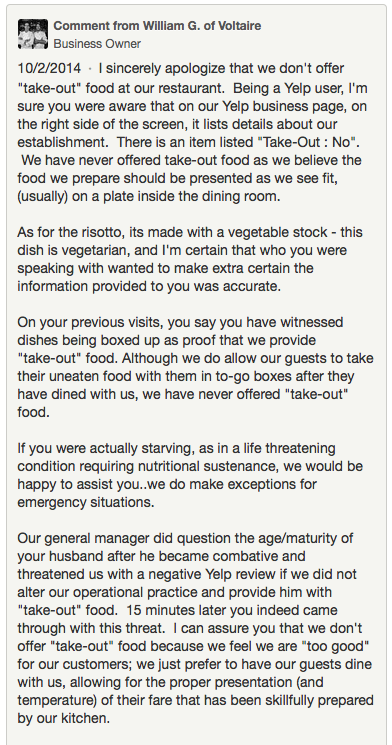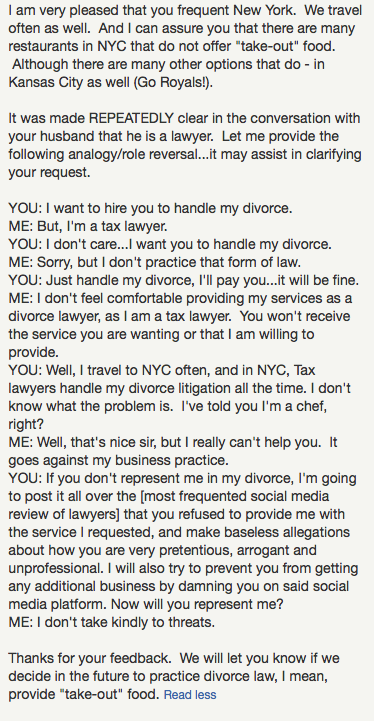 Even though the example is from Yelp and not Google reviews, the same principles apply.
Look how personally the owner took the negative review. They argued their own side in the most condescendingly snarky manner, and then they went ahead and attacked the customer. Ouch.
This is not a strategy that will resolve conflict. The owner is shooting themselves in the foot with that response. A potential customer who sees that response is probably going to choose a different restaurant.
We'd like to add that this response went viral, and actually ended up doing well for the business, as fellow restaurateurs liked the no-nonsense response. However it takes a certain style, brand, and a little bit of luck to succeed with this strategy. Our advice? Stay away unless you're confident in your brand voice.
How to respond to negative reviews
You will get some negative reviews: it's a fact of life and business. You might not have done anything wrong, and you can still get negative reviews.
But maybe you screwed up somewhere. Maybe your customer was having a bad day, and the smallest of mistakes made them get annoyed and angry.
Whatever it is, it doesn't matter. What matters now is that you have an annoyed customer. A customer so annoyed that they've left a negative review.
Don't get emotional.
Take a moment. Breathe. Slow down.
This is an opportunity to turn an angry customer into an enthusiastic supporter of your business.
Martial arts teach you not to exert your own energy on your opponent, but to redirect the energy they use against you.
Just like a martial artist, you're going to redirect the passion that that fueled your customer 's negative feedback and redirect it into loving your business.
2. Don't leave the review alone.
We get it. It can be tempting to just bury your head in the sand and not respond to negative reviews.
But guess what? Responding to negative reviews makes you appear authentic.
Customers are, most of the time, reasonable human beings. They understand that no one is perfect. What a customer is looking for isn't a business that's perfect and defends how perfect it is, but a business owns up to mistakes, and goes out of its way to resolve the situation.
Like these guys for example: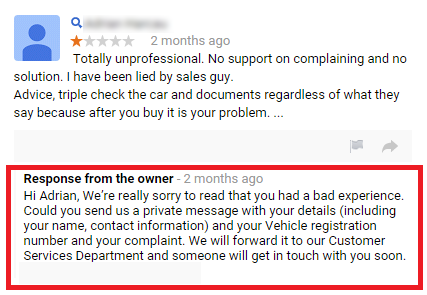 What these responses had in common:
They acknowledged the mistake

They offered to personally resolve the situation

They struck a conciliatory tone.
The results speak for themselves: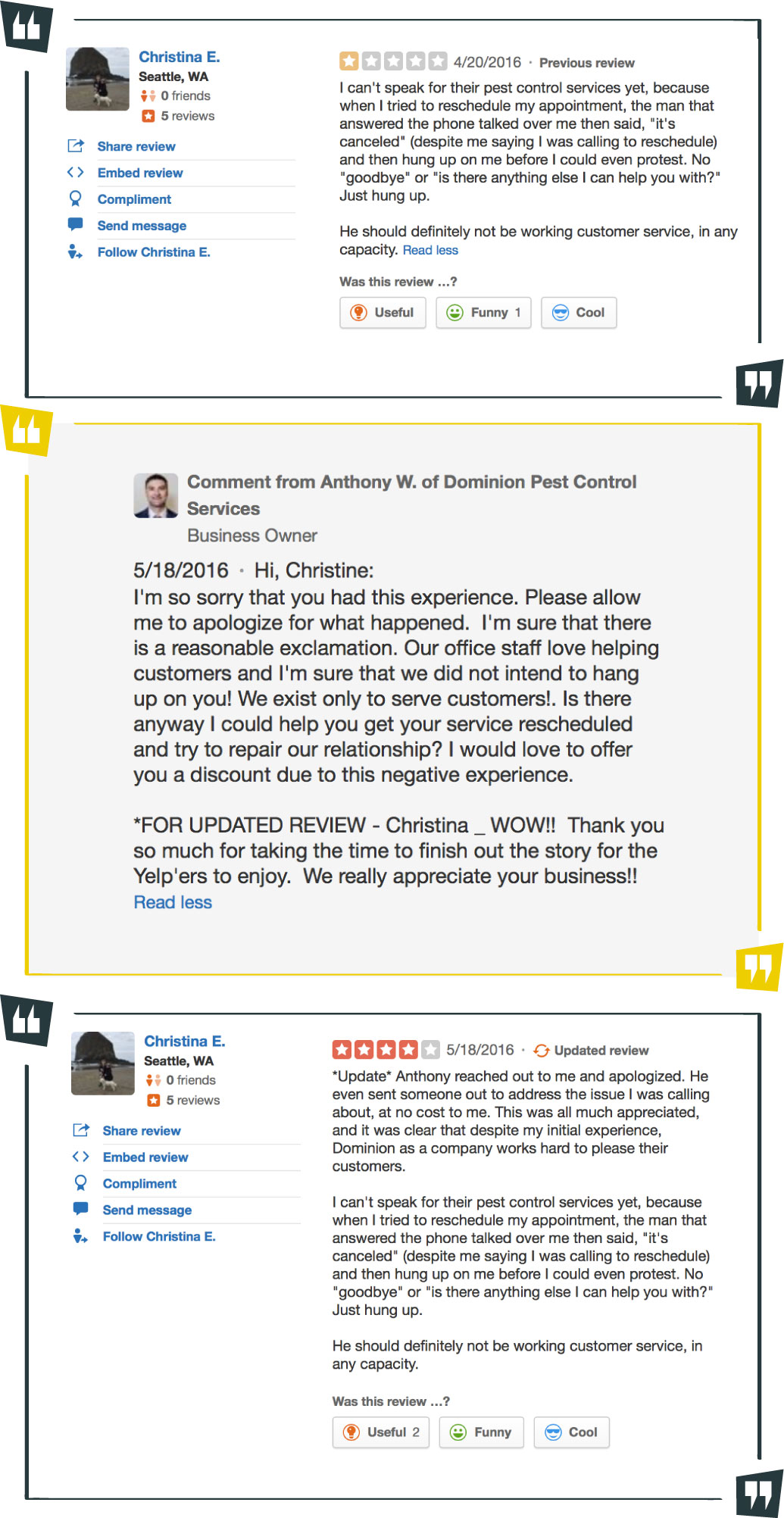 A well timed response can turn a detractor into a lifelong customer.
How To Respond To Positive Reviews
Hopefully, if you're doing things right, most of your reviews should be positive. But you shouldn't rest on your laurels. It's best to still reply and respond to positive reviews.
Need some ideas to respond to positive responses?
Just thank them genuinely.
It's that simple. Thank them for the positive feedback and go into detail when possible.
For example if you're a restaurant and you get some positive feedback on your steak dish, you can thank them for that, and maybe leave a little story or talk about the care you go into when choosing your steak provider, or how you went above and beyond the call of duty in finding a chef who loves making steaks.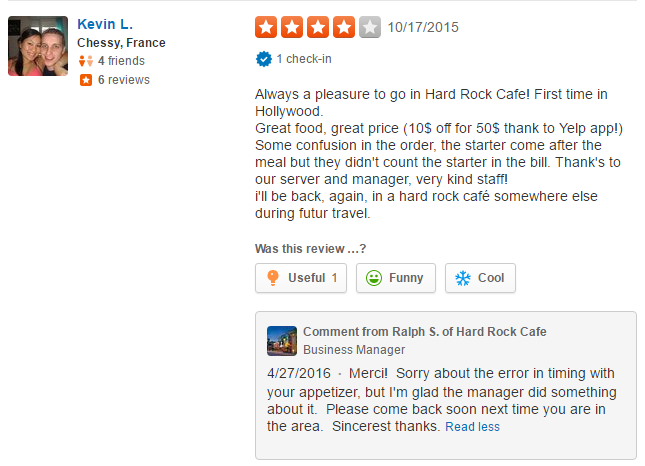 Both of these responses are nice, genuine and sincere. They come off great. Do that.
Conclusion
Which business will you be? The type that ignores negative feedback and tries to delete and get rid of it? Or the type that goes out of its way to resolve a situation and turn an annoyed customer customer into a lifelong fan?
One may be easier, but the other may will open the door to attracting, converting, and keeping more customers. Nothing worth having in business comes easy.
To respond or not to respond? The choice is yours.