The Top 15 eCommerce Blogs You Need to Read in 2017
If you're an eCommerce store owner who spends a lot of time trying to grow your business, you know one thing to be true:
Even the smallest piece of knowledge gained from research can change how you run your business for the better.
But it's easy to get overwhelmed online, and you don't want to waste a bunch of time searching for the best information.
That's why we've created this comprehensive round-up featuring the best eCommerce marketing blogs of 2017.
Keep reading, and you're sure to find several new sites you'll want to bookmark!
English eCommerce Blogs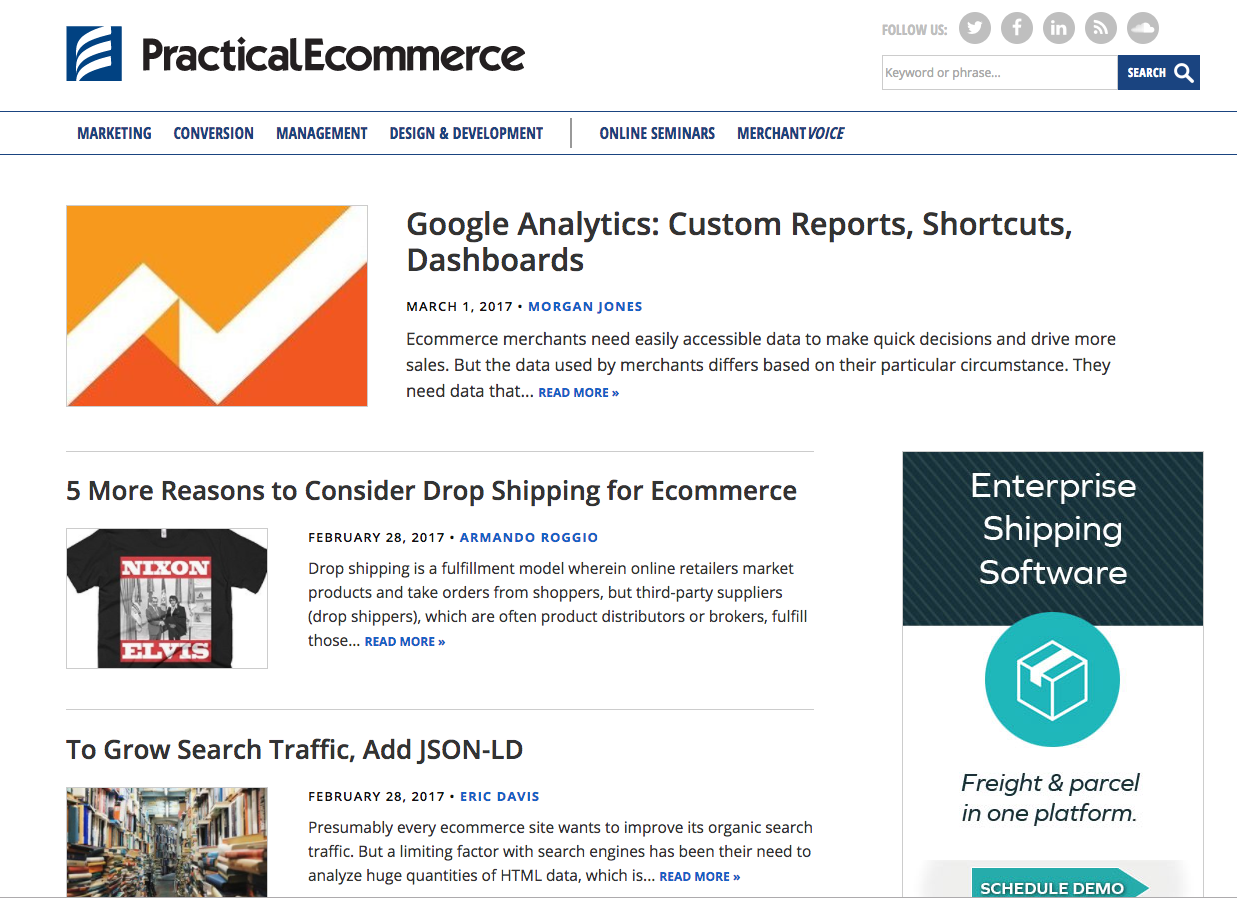 Not only will you find tips for designing/developing your website on this blog – you'll also find in-depth posts that cover marketing, conversion, and store management.
And everything is organized neatly in the navigation bar so you can find what you need fast.
There's a lot to like about this blog – like how long it's been around and how reliable the information is, for instance. It was started back in 2001, and its posts are written by leading eCommerce practitioners, consultants, and journalists who have been there.
On top of that, Practical Ecommerce offers regular online seminars like this one:



So whether you're an eCommerce business owner or an employee who helps out with marketing/management, you're sure to find some useful tips on this blog!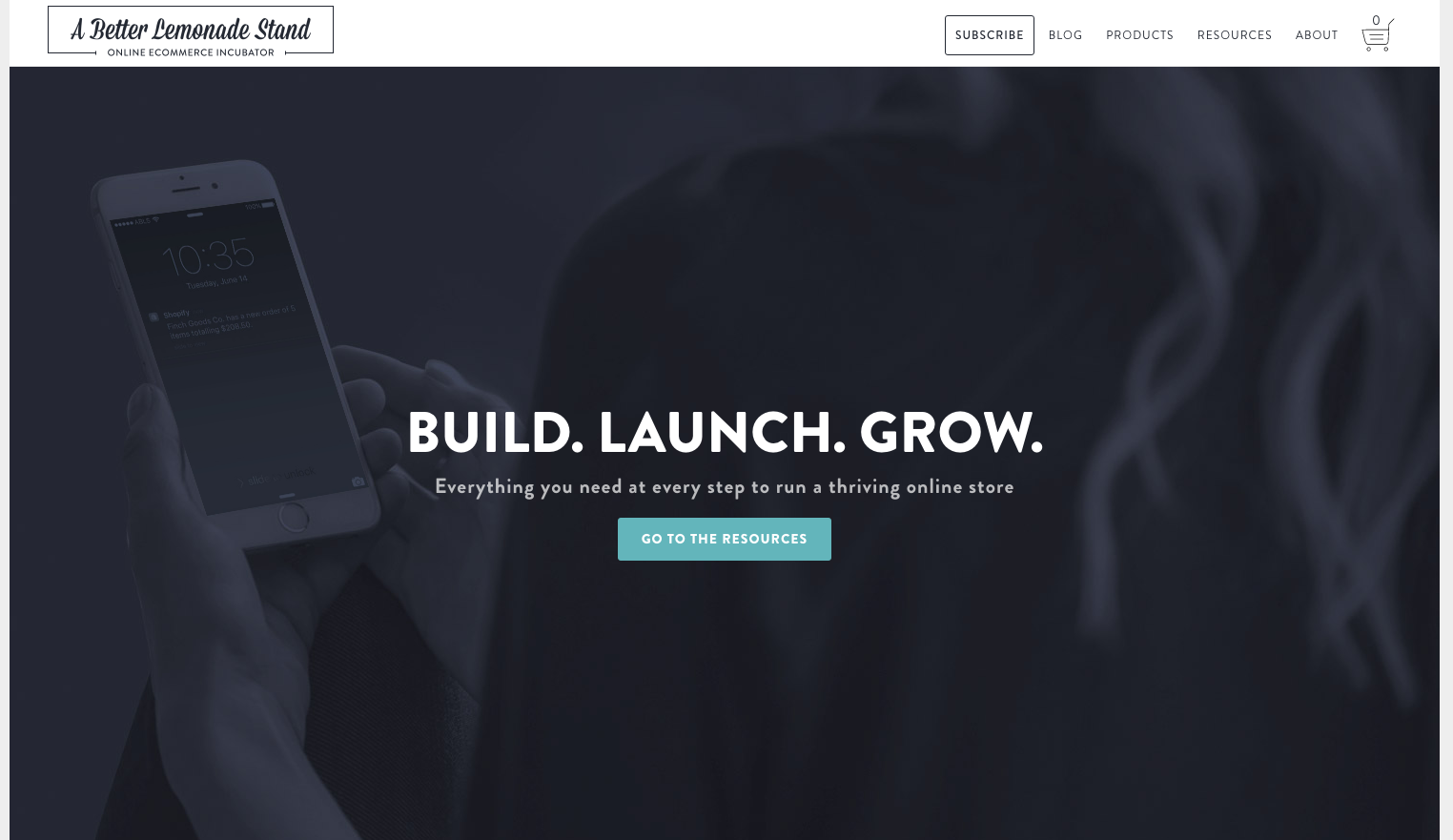 If you're in the beginning stages of starting or growing an eCommerce business, you need to check out the A Better Lemonade Stand (or ABLS) blog.
Because their blog posts cover a little bit of everything, you can use the built-in filter feature to look at posts by topic or that match your current phase of business.

Created by successful eCommerce entrepreneur Richard Lazazzera, ABLS is unique because it offers a ton of resources for new eCommerce business owners, like:
So if you're new to the world of eCommerce and not sure where to start, definitely check out this blog. You'll have no trouble finding tons of advice you can use to make your business dreams a reality!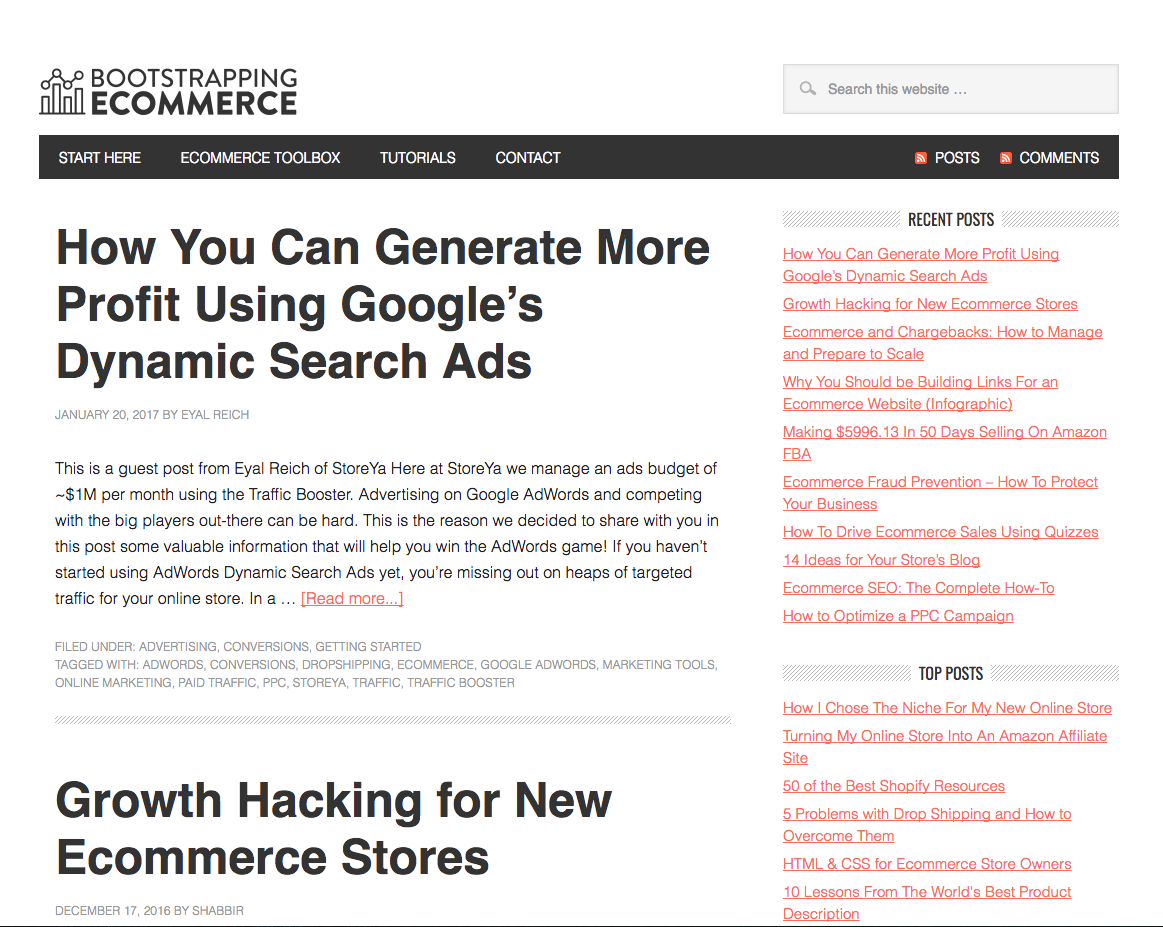 For some tips on growing your eCommerce business on a budget, Bootstrapping eCommerce is a great place to start.
On this site, you'll find all kinds of advice from founder Shabbir Mooruddin. Topics range from link building to blogging and beyond, so he's got something for anyone focused on growth.
One thing that stands out about this blog?
Not only does founder Shabbir share helpful advice – he walks you through his personal experience growing an eCommerce business (like in his popular How I Chose the Niche for My New Online Store post).
Bottom line:
This blog is full of actionable advice for anyone looking to grow an eCommerce business without spending a ton of money.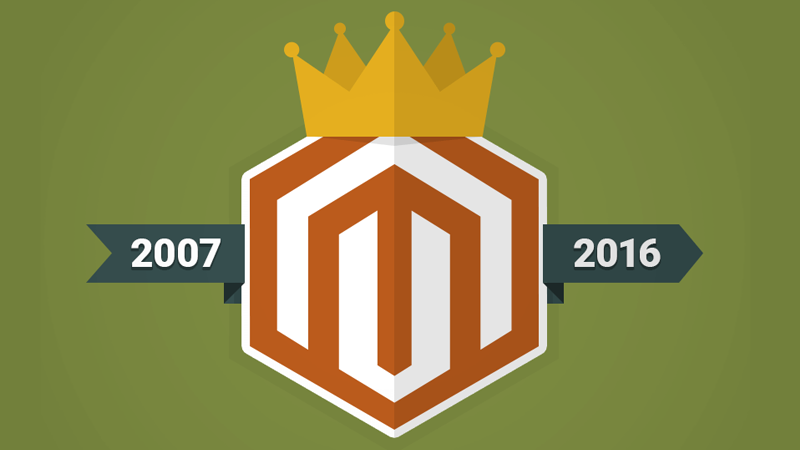 Are you running an enterprise store, or have a full team of marketers?
Aion Hill started in early 2016, but already has nearly 100 comprehensive essays.
From a trio of writer personalities, Aion is a great place to learn about selling on Magento, advanced social media marketing techniques, and in-depth reviews of various cart platforms.
For starters, if you're bored with your existing email sequence, this post is an exhaustive collection of 17 new things you can try to increase cart recoveries.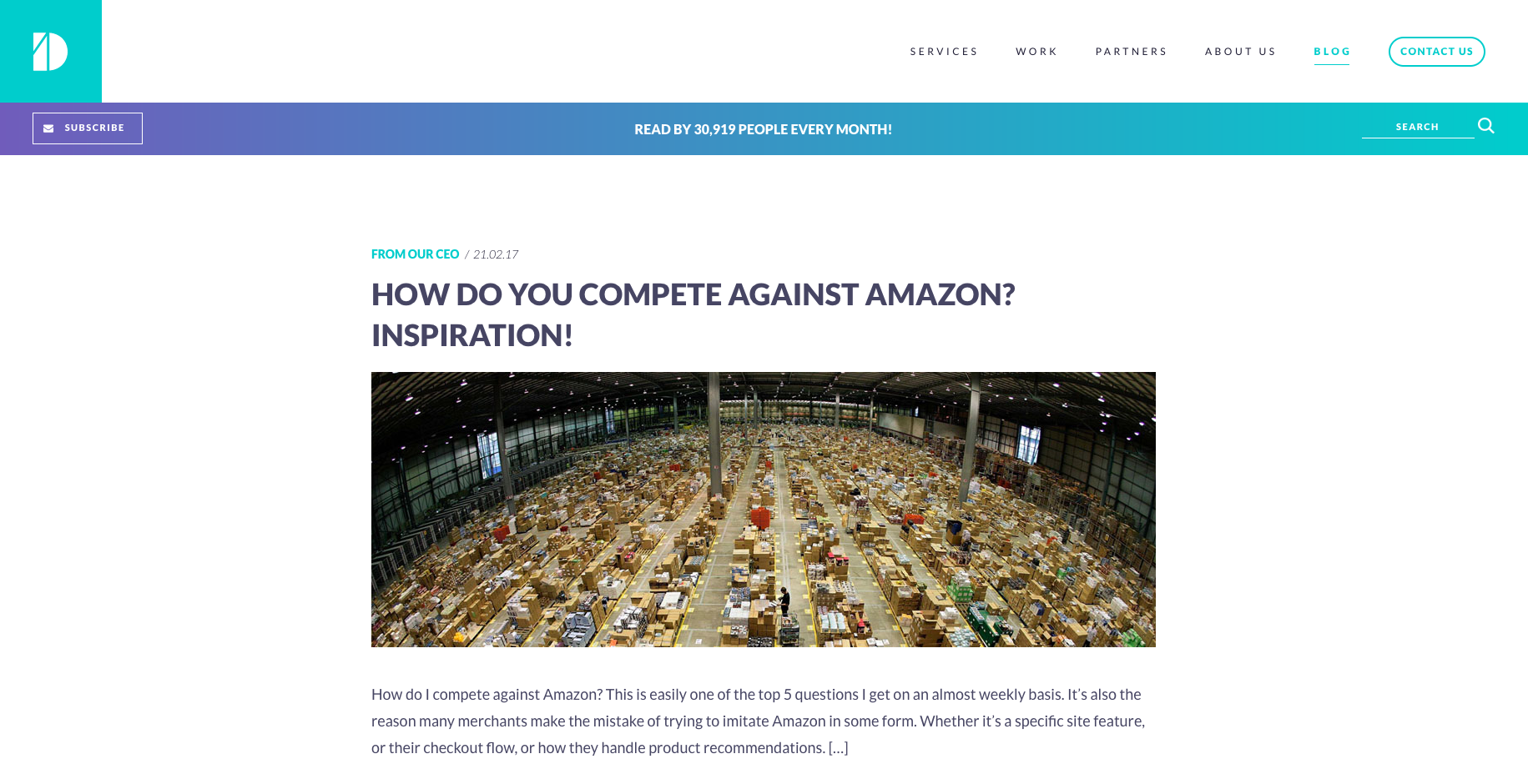 Let's face it – designing an eCommerce website that sells is no simple task.
You have to think about everything from conversion optimization to the shopper's experience and beyond.
If you're new to design/development, that might sound intimidating.
That's where Demac Media can help. While their blog covers a variety of topics, they have a strong focus on eCommerce store design tips.
And that's understandable – after all, they're an agency that specializes in building eCommerce websites from the ground up.
The reason you'll want to visit this blog is simple:
Their team does user testing and experience crafting on a regular basis, so they have a deep understanding of what really works and what doesn't.
In other words, you don't have to worry about the expertise level of the blog writer – you're going to learn from people with firsthand experience improving eCommerce businesses.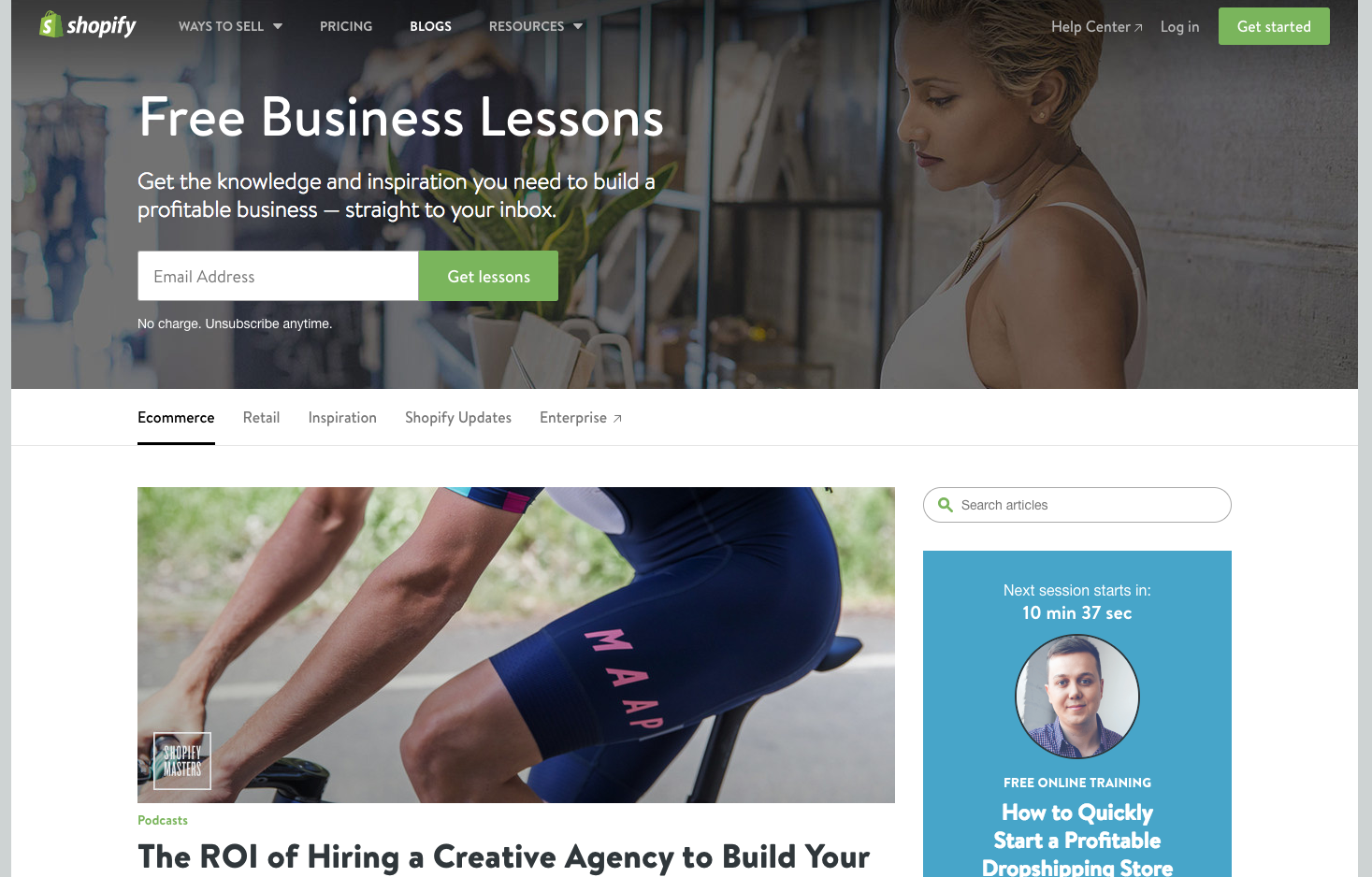 Regardless of the stage your business is in or what you want to learn about, there's a good chance that the Shopify blog can help.
Seriously – they cover everything from eCommerce trends to brand identity and beyond. Take a look at their topic list: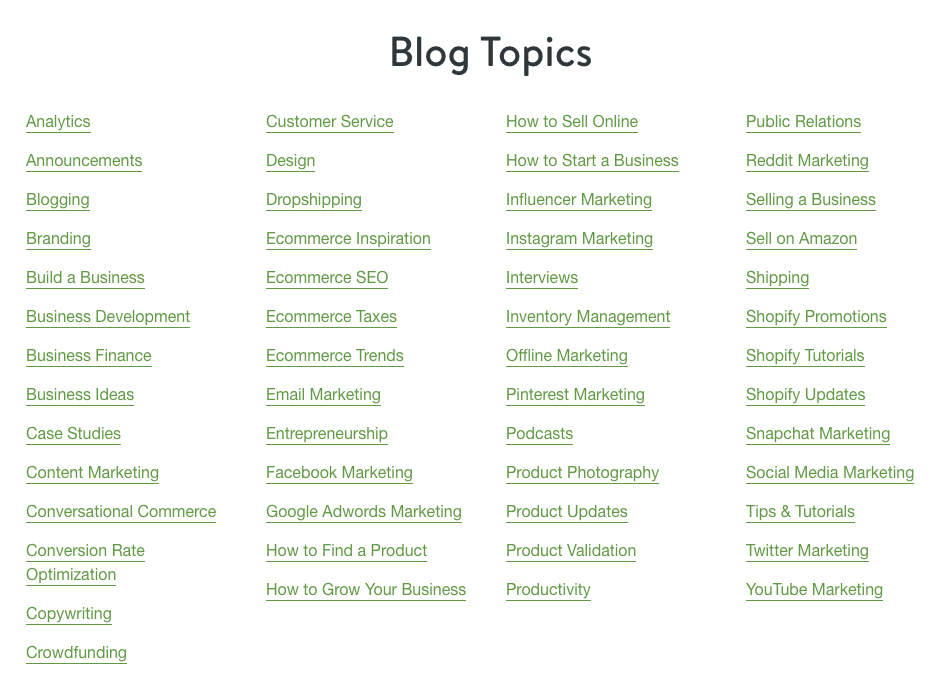 Pretty vast, right?
But they don't stop there – the Shopify blog offers a lot more than text-based articles.
In their "Resources" section, you'll find videos, podcasts, and even a business encyclopedia – lots of helpful stuff you won't see elsewhere.
Plus, Shopify itself serves as a platform for newbies to the technical side of eCommerce website development. That means if you're still planning and shopping around for the best way to build your new site, you should definitely check them out.
But even if you're not shopping for a website builder, you'll want to regularly visit the Shopify blog for actionable information about starting and growing an eCommerce business.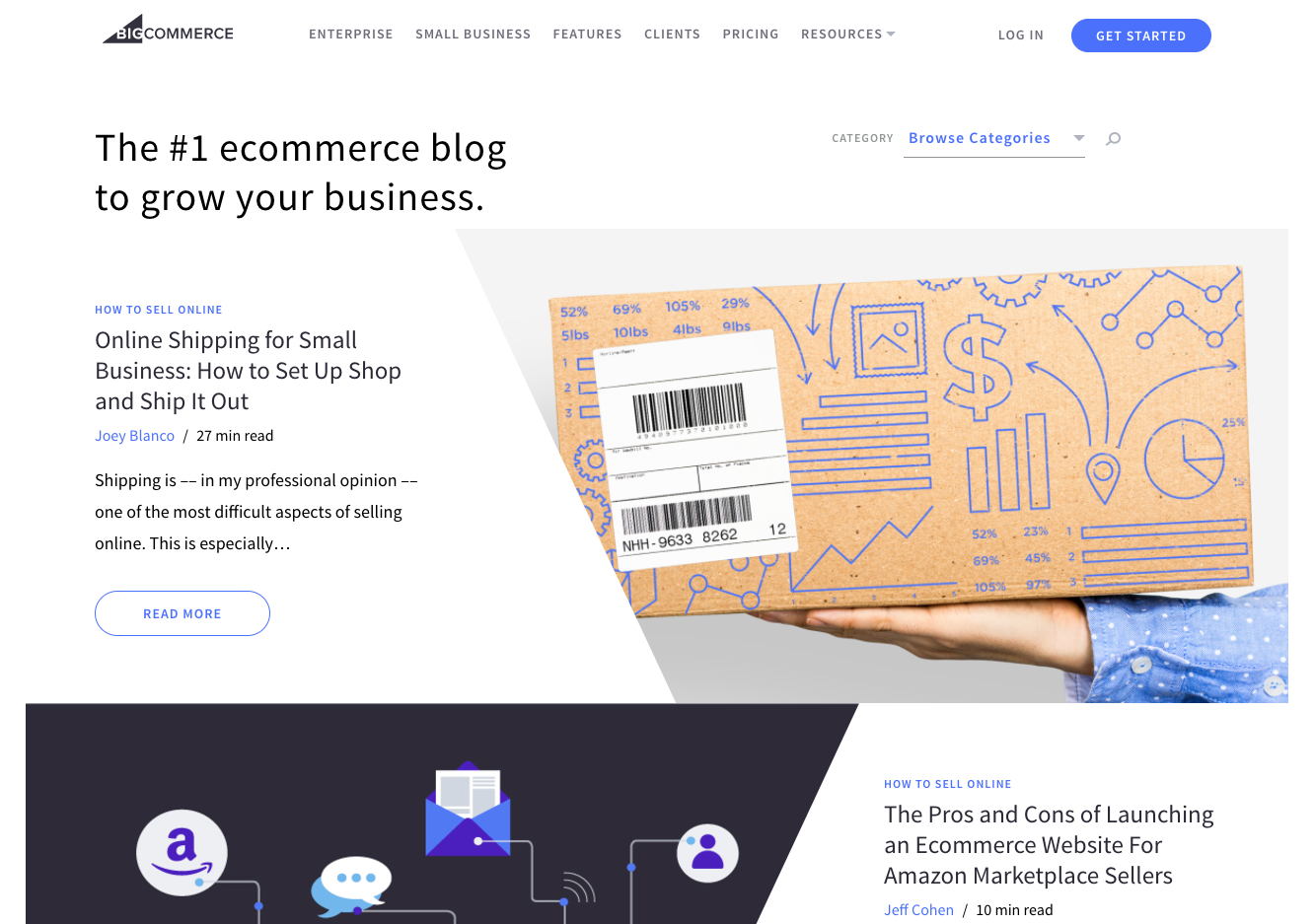 Like Shopify, Bigcommerce is an eCommerce platform you can use to build your store website.
Their blog offers loads of tips for new and seasoned eCommerce business owners alike.
The main attraction is definitely their data-driven, technical posts with plenty of actionable takeaways to improve your business – like this post about using customer data to increase conversions.
They've even got some amazing case studies you can use for inspiration as you grow your eCommerce business.
This blog's standout feature is the BigCommerce University. It's a free eLearning series that teaches you the essentials of launching, managing, and scaling an eCommerce business.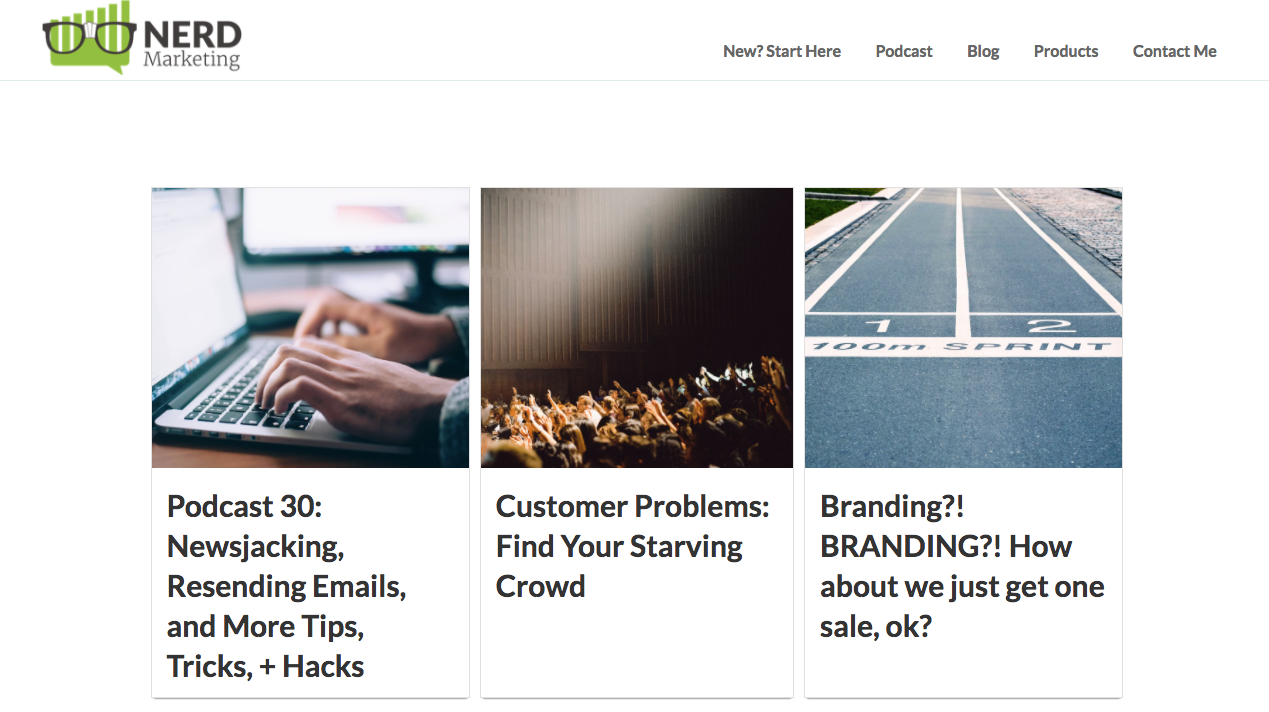 The Nerd Marketing blog is jam-packed with advice you can follow whether you've just opened an online store or have years of experience running an eCommerce business.
You'll find a variety of content there – everything from insights on branding to data-driven posts about metrics you should track for your store.
And one thing's for sure:
You won't get bored reading this blog.
Not only is the content written in a friendly, engaging tone – it often features GIFs and funny videos that are sure to keep you entertained as you learn.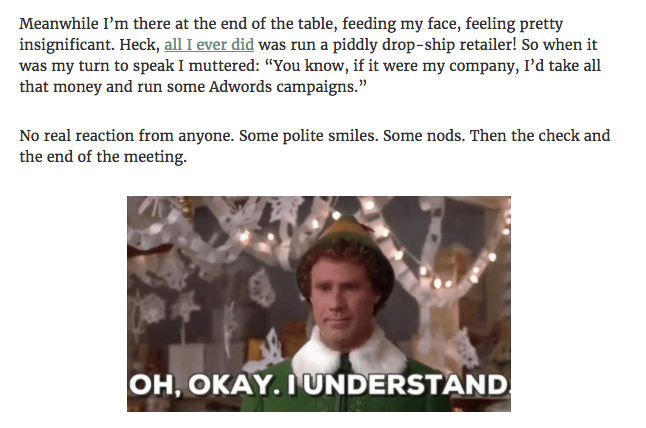 Other than the refreshing writing tone, the most unique thing about this blog is the corresponding podcast, which you can listen to here.
If you're not sure where to start, check out Episode 13 to hear the story of how IronFenceShop.com's Josh Manley ramped up a 7-figure business using AdWords!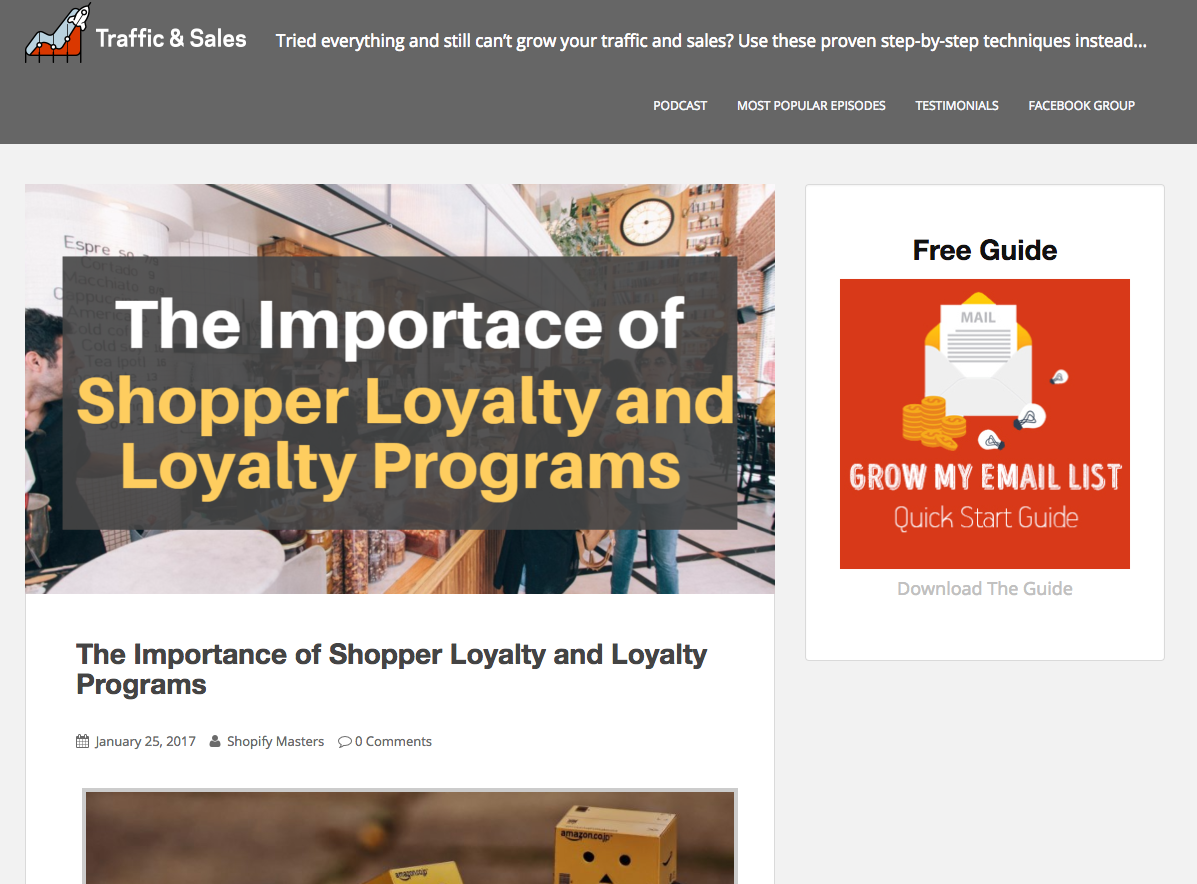 When you first open your eCommerce store, you have 2 main concerns:
Getting traffic, and converting users to paying customers.
As you can probably tell by this blog's name, it's perfect for helping you accomplish both.
But this blog isn't just for those first starting their business. You'll find something useful whether you're a newbie or you're already running a 7-figure eCommerce business.
The content covers a variety of topics relevant to eCommerce business owners, including product photography, copywriting, social media, and more.
And you'll definitely want to check out the podcast – it's updated much more frequently than the regular blog posts, with a new episode available every few days.
What sets the Traffic & Sales blog apart from the rest is that it has a corresponding Facebook community for eCommerce entrepreneurs. Check it out to start networking with other people in your industry!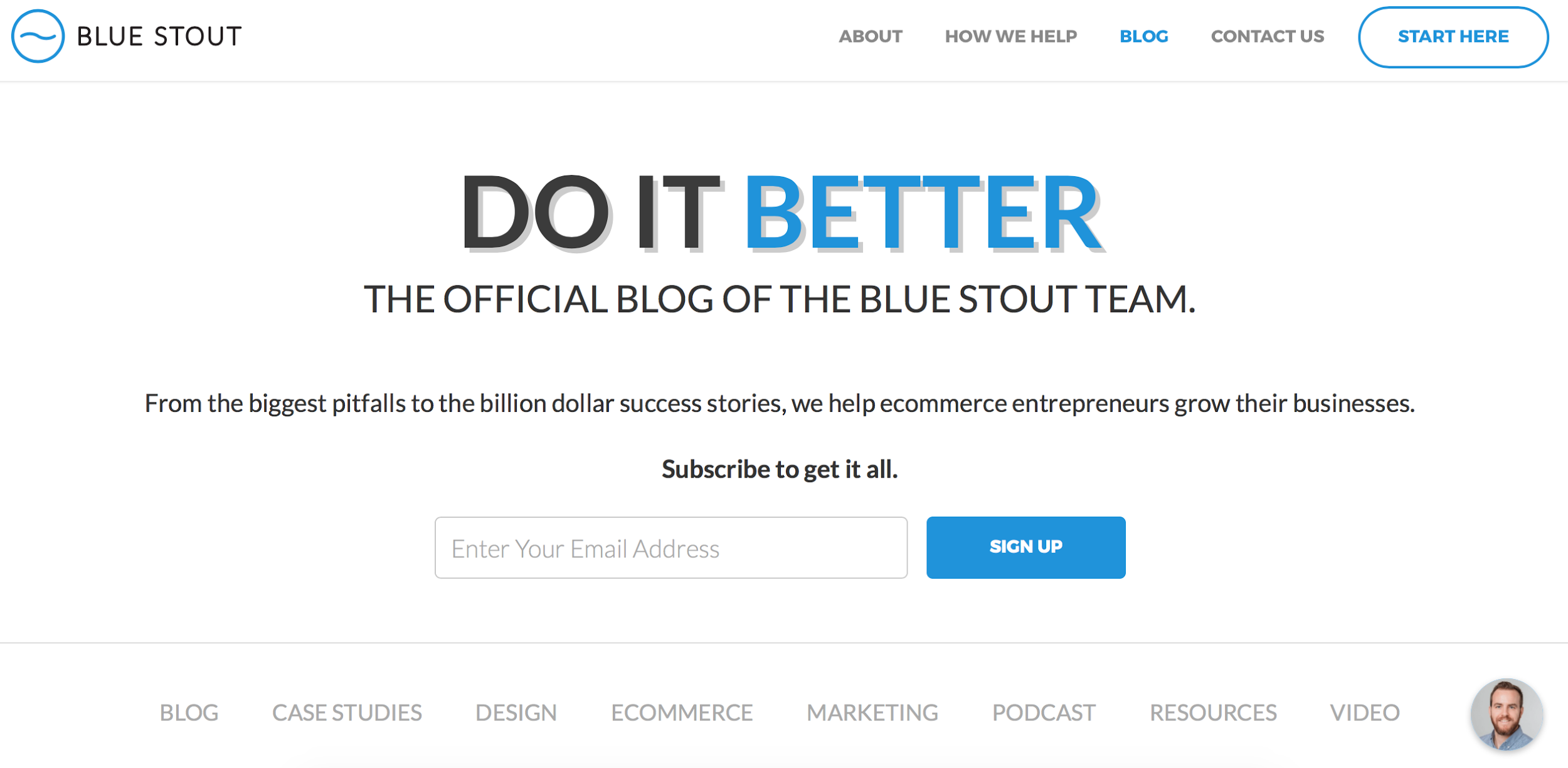 Blue Stout is an eCommerce development company, and they feature an information-rich blog on their site.
Packed full of data-driven advice on design, conversion, and eCommerce marketing in general, their content is perfect for anyone looking to increase store sales without increasing their stress levels.
Although these kinds of topics are a bit technical, the Blue Stout blog presents them in an easy-to-follow way that enables their readers to take action on what they learn.
For example, this post walks you through the process of boosting retention with order confirmation emails.
One unique thing you'll love about this blog is that they offer free strategy sessions.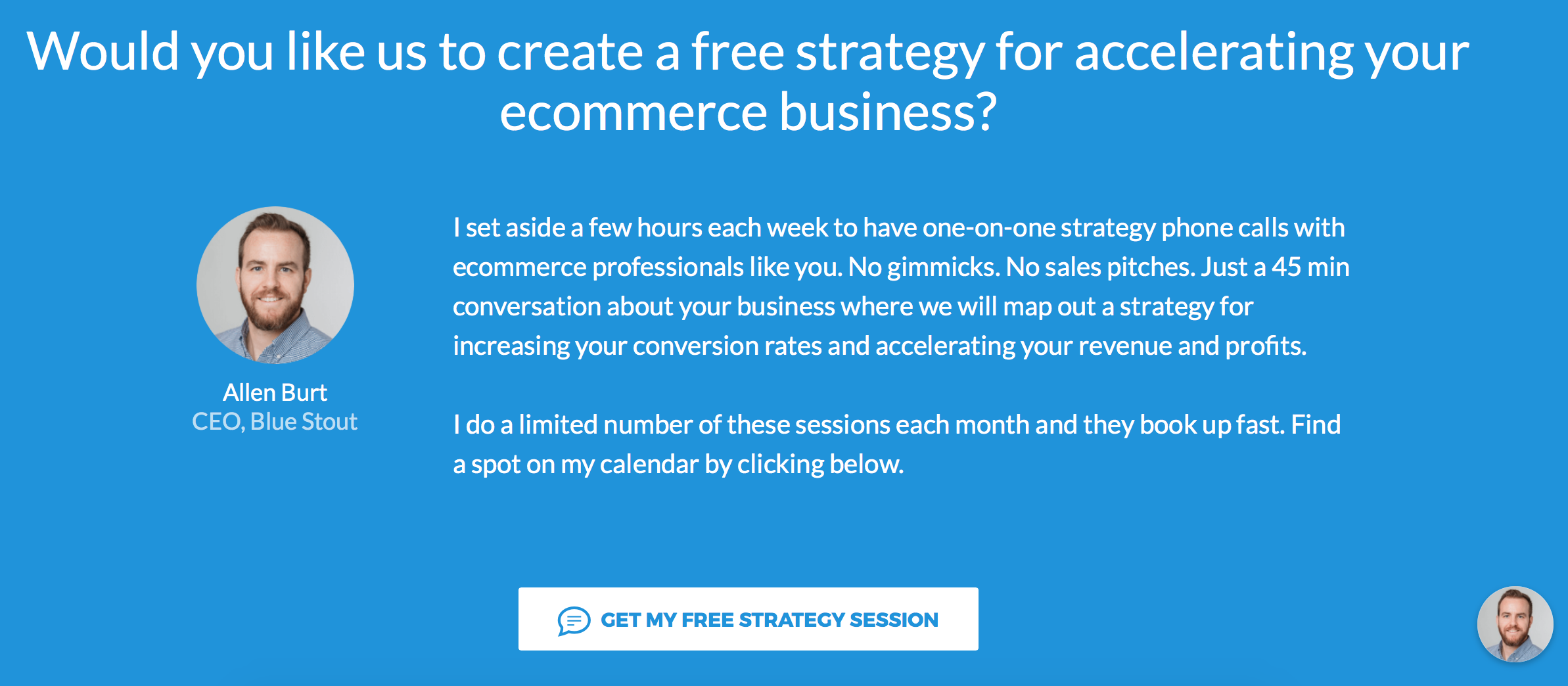 That's right – you can actually talk to the CEO of Blue Stout for 45 minutes and gain valuable insights on how to improve your eCommerce business.
To sum up, this blog is ideal for any eCommerce entrepreneur who appreciates lots of data and case studies presented in a non-intimidating way!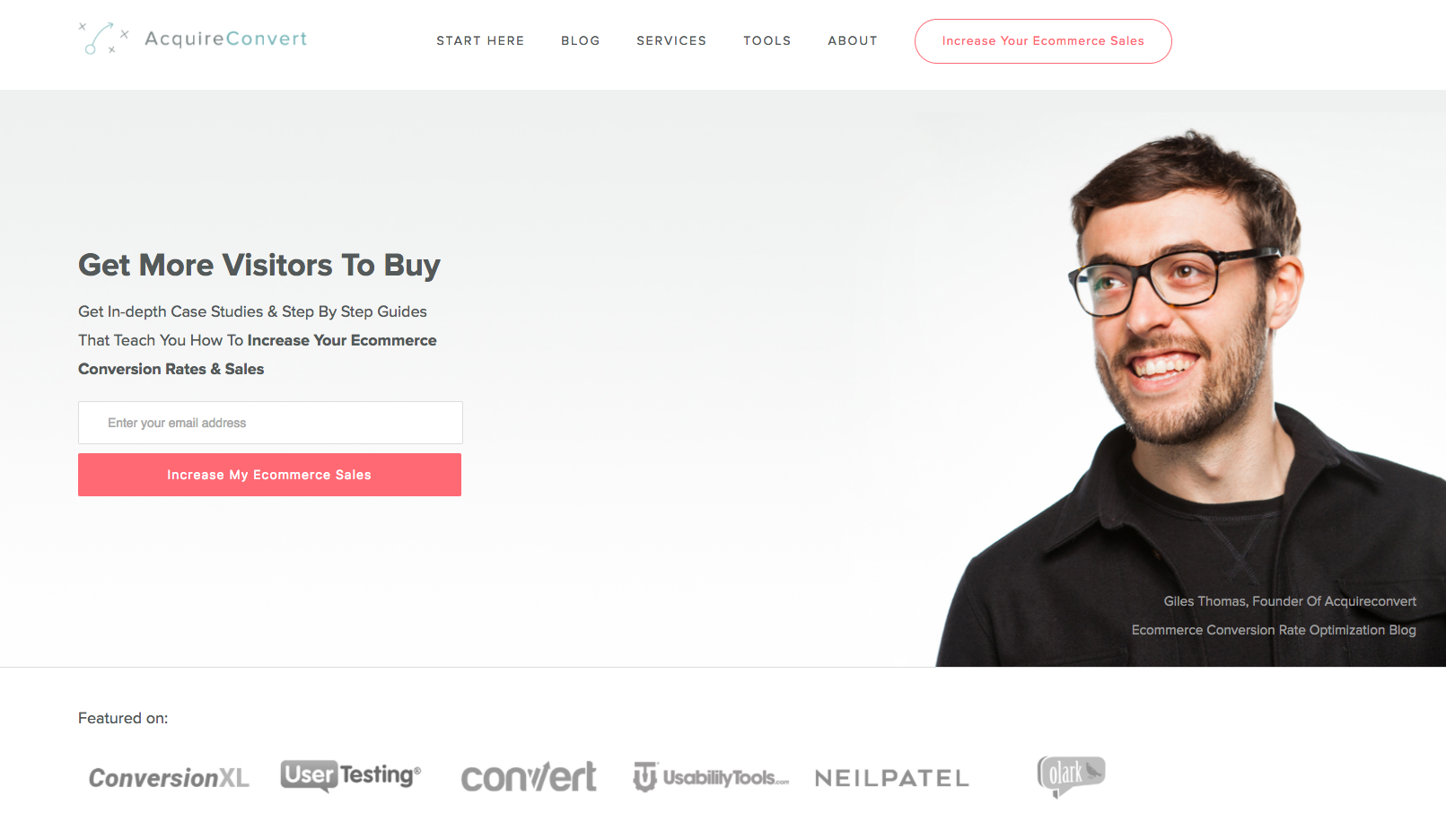 With a heavy focus on conversion optimization, the AcquireConvert blog is perfect for you if you already have an eCommerce website and want to use it to win more paying customers.
For example, one of their recent posts was an in-depth look at how to use scarcity and urgency on your website to improve your eCommerce sales.
But they cover other topics too, like eCommerce trends, email marketing tips, and site search best practices.
No matter which posts you decide to read, you'll find them packed full of in-depth advice you can use to make positive changes to your business.
One especially enticing aspect of this blog is the data-driven, 5-part email course they offer for free.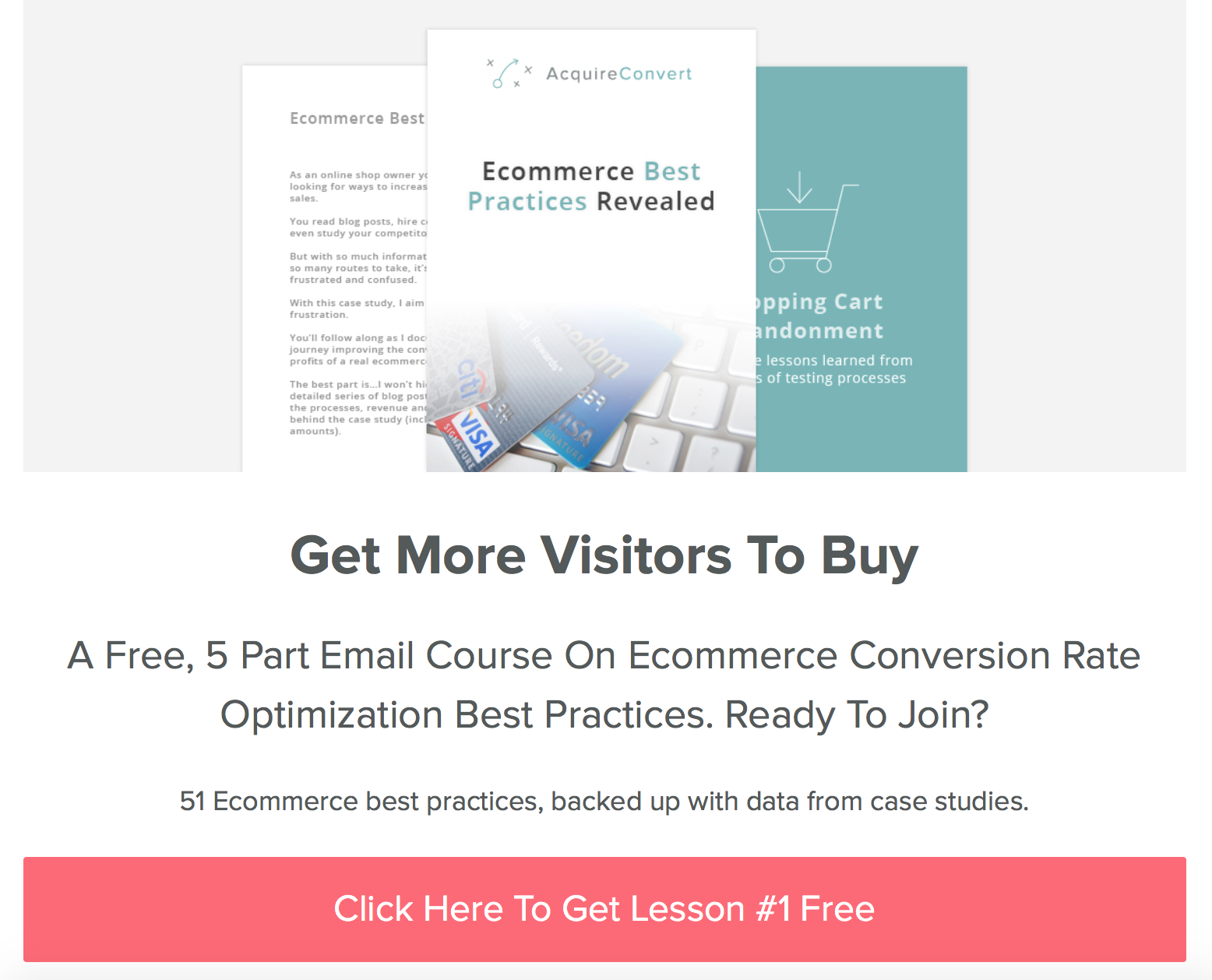 You'll find it's a great way to learn about eCommerce conversion optimization best practices without blowing your marketing budget.
Spanish eCommerce Blogs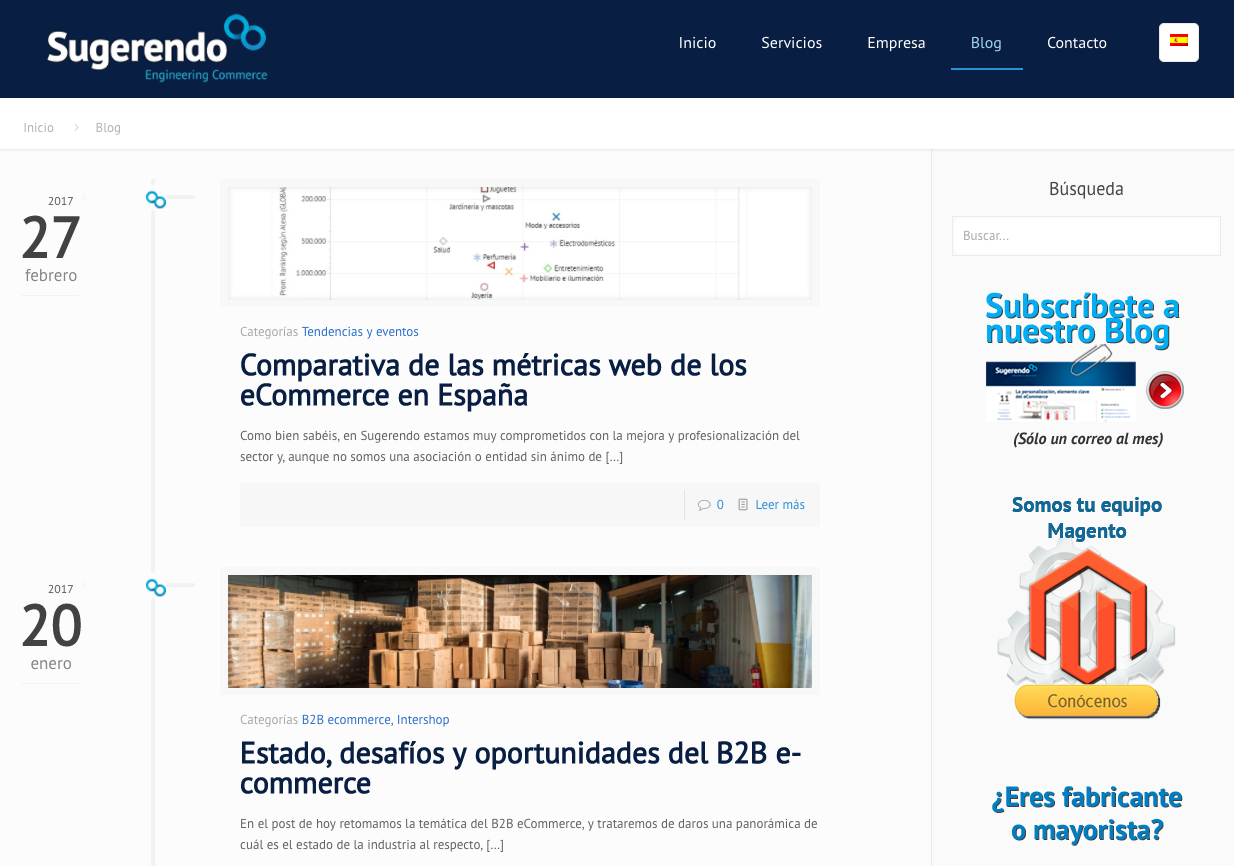 Sugerendo is a consultancy company that specializes in building software and solutions for digital commerce.
Their blog content focuses mostly on B2B and omnichannel eCommerce marketing, and it's perfect for eCommerce entrepreneurs – especially those who are starting a new eCommerce business.
You'll find information on a variety of topics, including project management, Magento, digital strategy, analytics and ROI, and more. Their content is less technical and more business-focused than many of the other blogs in this round-up.
One thing you won't want to miss on the Sugerendo site is their consulting services.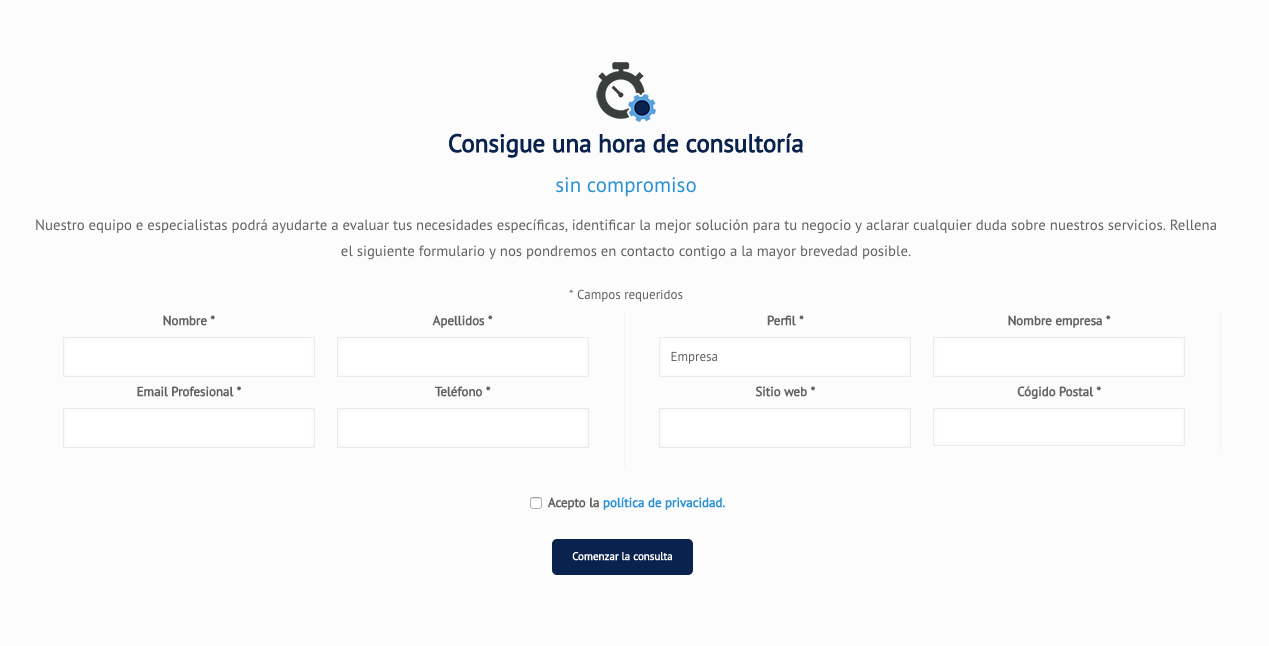 All you have to do is fill out this quick form, and you'll be contacted to set up an hour of consulting for free. Perfect for a B2B and/or omnichannel eCommerce business owner who's looking for some no-cost help with their marketing strategy!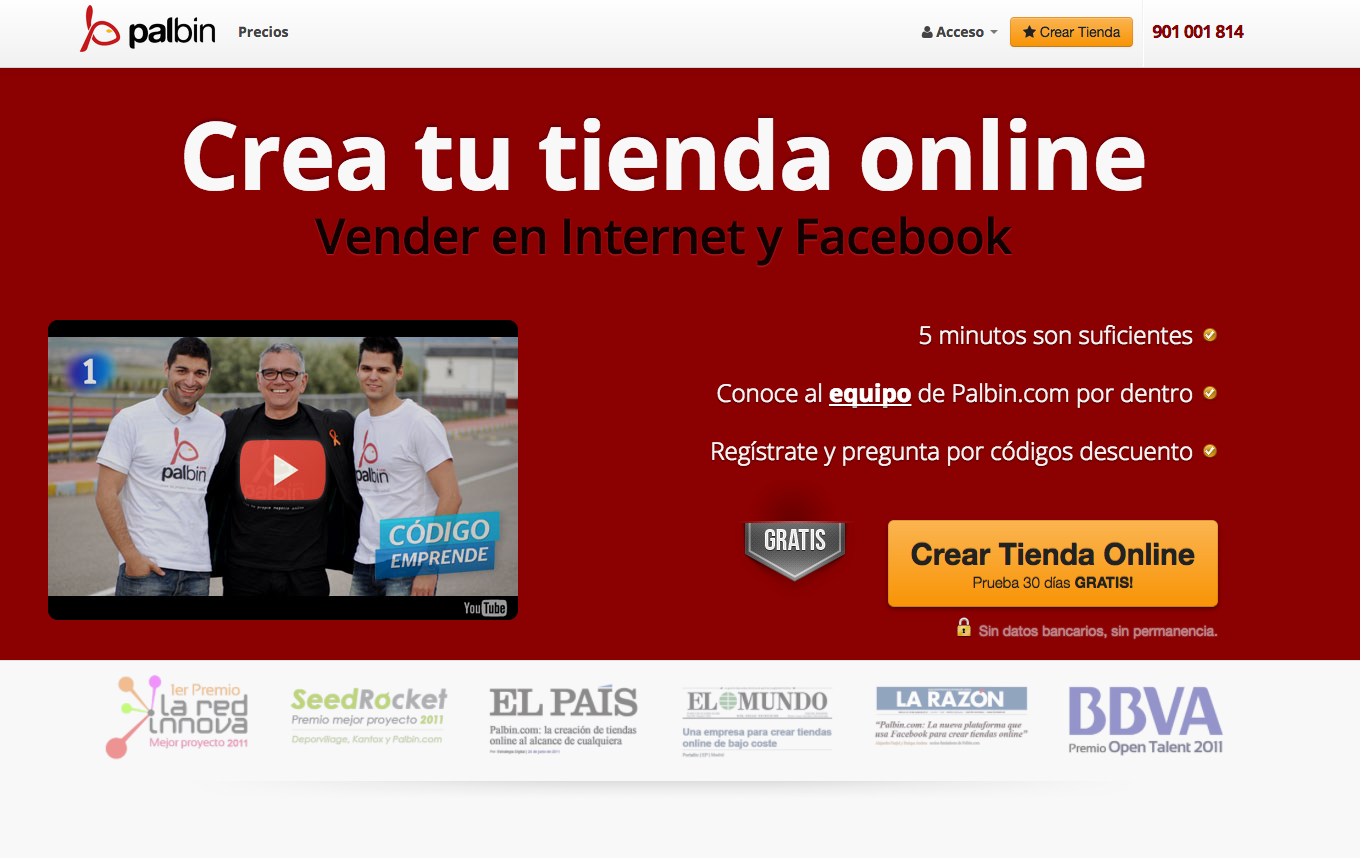 Palbin offers an eCommerce platform solution that allows you to set up your store online – no technical knowledge required.
Their main focus is giving out practical advice that helps small eCommerce businesses grow and sell more products.
In their blog content, you'll find advice on marketing, social media, site design, apps, and other topics of interest to marketing analysts and eCommerce business owners.
When you visit the site, don't miss out on their unique, insightful interviews with industry experts. Start by checking out this one, in which CEO Alejandro Fanjul explains the 3 secrets to having a successful online store.
Portuguese eCommerce Blogs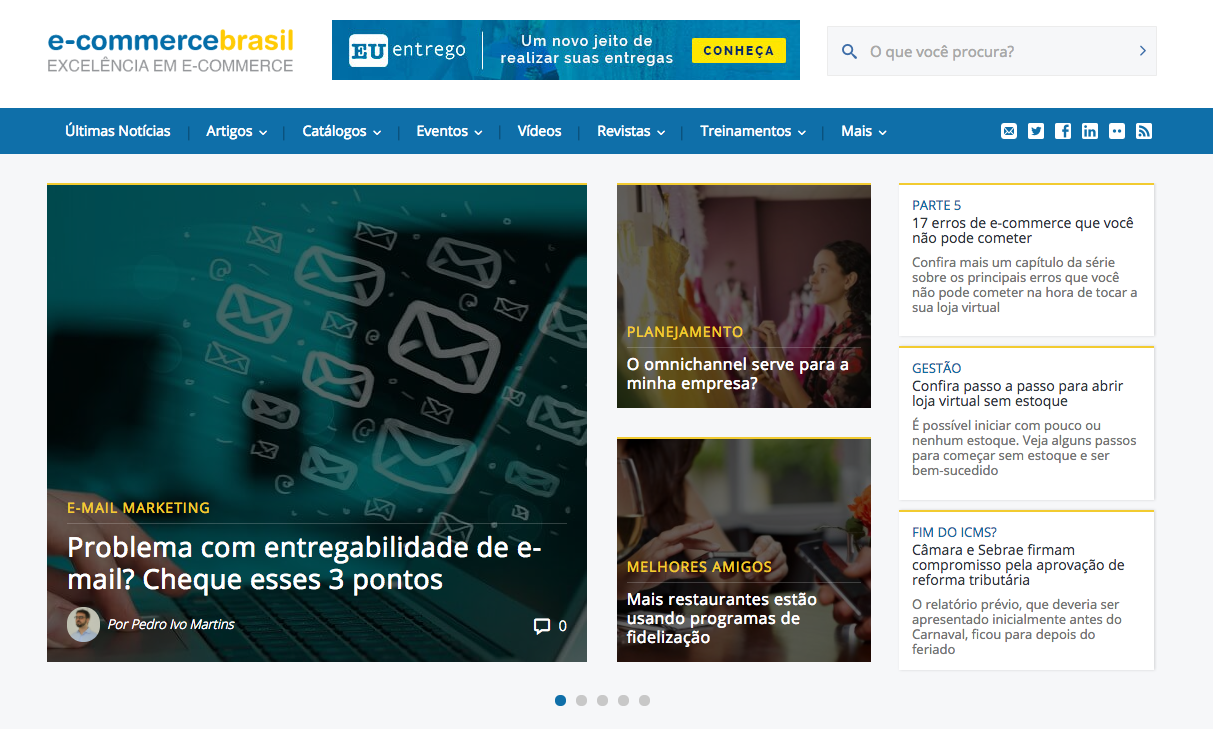 There's no shortage of helpful content on this blog – that's for sure.
Click the "articles" tab in the navigation bar, and you'll find posts covering everything from CRMs to social media marketing. While most of the content is best suited for small and medium-sized eCommerce businesses, they also have some advice for huge stores.
On top of that, they offer a variety of helpful webinars for free.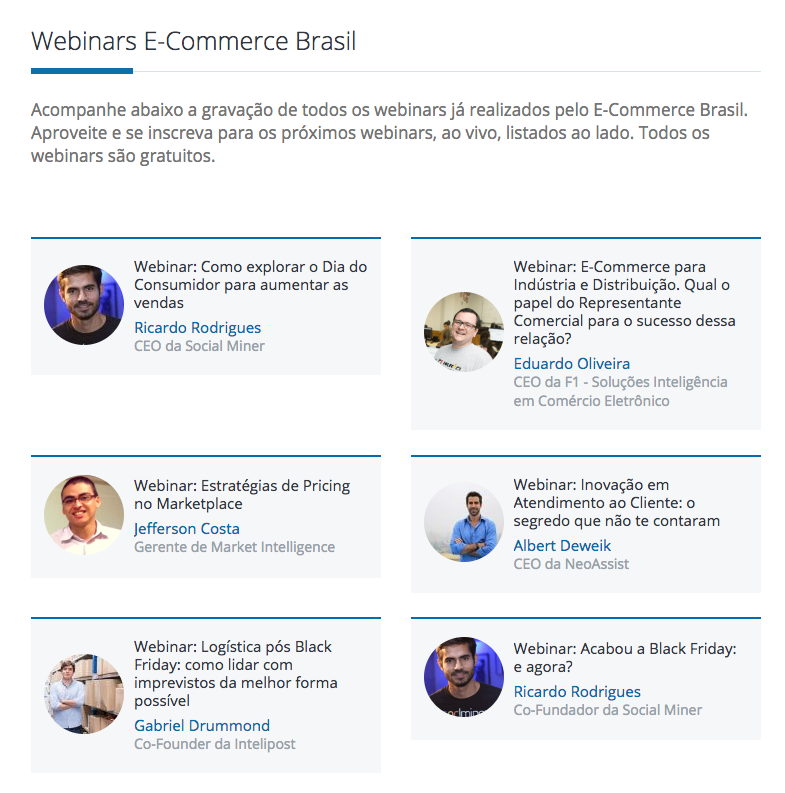 E-Commerce Brasil carries out over 100 live workshops, in-person events, and webinars like these throughout the year.
They even have a magazine on their site. This unique offering is available in print, but you can download a free digital version too.
Just think of E-Commerce Brasil as a central hub for all things eCommerce in Brazil. You'll want to visit it regularly for the latest news and tips to help you improve your business!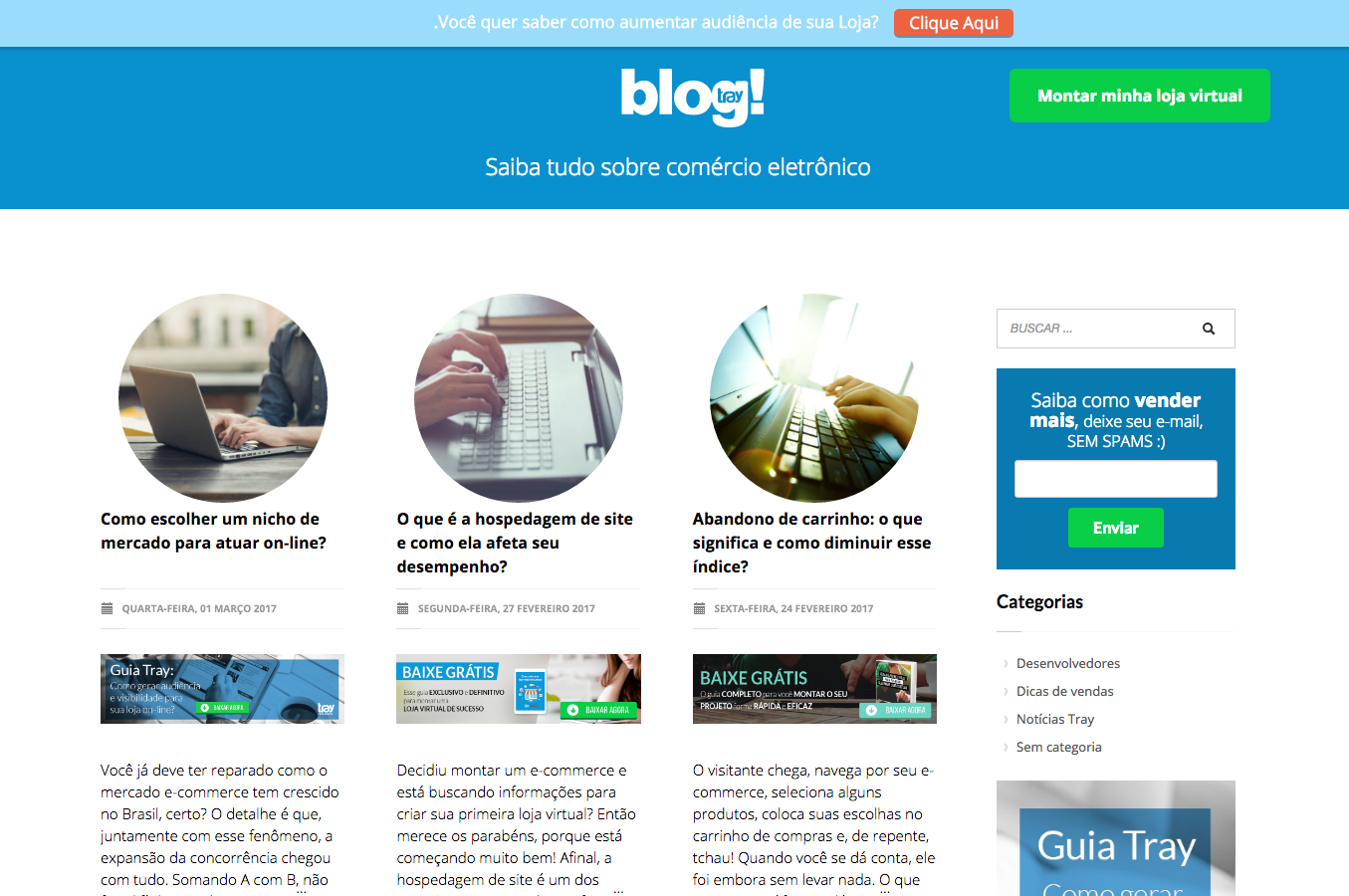 Tray is a platform you can use to build and manage a highly customized eCommerce site.
But even if you aren't looking for a platform right now, you'll want to check out the Tray blog. They've got plenty of tips on all things eCommerce, and the main content focus is on sales and eCommerce technology.
Definitely take note of the complimentary content they offer on their site. You'll find eBooks, spreadsheets, infographics, videos (including a YouTube channel!), and more – lots of helpful resources for small and medium-sized eCommerce businesses.
Start reading these eCommerce blogs, and take action!
Anyone involved in growing and marketing an eCommerce business could spend all day reading about every conceivable topic out there. But you have to execute on that information if you want to grow your store.
So make sure you set aside plenty of time to take action on what you learn. You never know – just one positive change to your business could have a huge effect on your sales!
Do you have a favorite eCommerce blog to add to this list? Let us know!