This Flower Boutique Made $17k From Fomo In 5 Months
Fabulous Flowers creates flowers and gift arrangements for occasions of all kinds, and they're available for same-day delivery throughout Cape Town and surrounding areas.
As a boutique florist, Fabulous Flowers delivers beautiful, fresh luxury and bespoke flower bouquets, arrangements, plants, and gifts in Cape Town.
Fabulous Flowers has operated for over 20 years in Cape Town and 15 years in Johannesburg. Fabulous Flowers has fine-tuned their craft, ensuring that every creation is made with exquisite quality and delivered with exceptional care.

"We specialise in providing the very best floral quality and design as well as an exceptional and efficient delivery service. Our team is dedicated to ensuring that we source only the finest quality, seasonal flower heads and stems so that they stay fresh for a minimum of 5 days."
"Our collection boasts same-day flowers, luxury flowers, and gifts for any occasion. Select from flower arrangements that include elegant roses to classic gerbera daisies to bright and cheerful lilies and choose from gift options that include fruit baskets, balloons, cowshed products, and stuffed animals."
From luxury blooms to the gorgeous fragrance of scented lilies and hand-picked garden variety, Fabulous Flowers takes great pride in choosing flowers of the highest quality to create their beautiful bouquets and arrangements. Their creations are fresh, unique, and made with love.

Tell us about your brand! When did you launch, where are you headquartered, what moved you to start your business?
"We launched in 1999 with our headquarters in Cape Town, South Africa. We're a family business creating luxury blooms for same-day delivery in Cape Town. My mom started with the intention to fill the gap with luxurious products after being invited to create for a local wedding. She loved it, and the rest is history as they say."
What are some of your other favorite apps for increasing conversions?
"Privy and Fomo. We would love to know of more."
What are a few specific conversion-related problems you're experiencing?
"There is a high bounce rate on certain pages, which we are looking into."
What other strategies did you try to address that issue before using Fomo?
"Basic SEO work and content creation."
What is Fomo?
Fomo is a social proof notification that displays on your site where you want it to. The most common use is displaying live shopping data so that other visitors don't feel alone. But there are endless uses thanks to our integration partners.

How did you learn about Fomo?
"The Shopify App Store."
What prompted you to move forward with Fomo?
"We read the reviews, and we like Fomo's look and feel. It's very user friendly."
Have you tried any of our competitors? If so, why did you choose Fomo instead?
"Yes, but it was years ago and I don't recall the name. I didn't like the feel of Nibbly."

How are you tracking Fomo conversions?
"Through Shopify. I would like to learn how to track through Google Analytics."
In this case, it looks like Google Analytics has synced up with the Fomo Dashboard, as we can see Fabulous Flowers stats here since September 2020.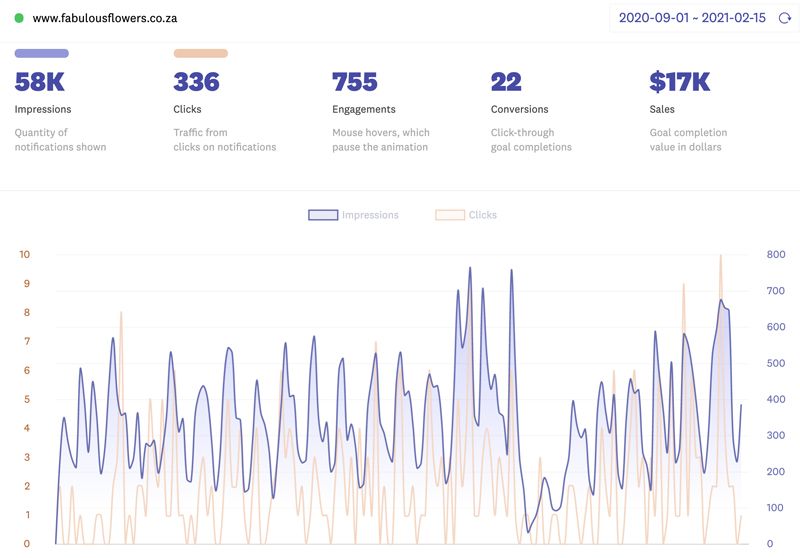 Can you share some of the results that show how using Fomo has benefited your business?
"$17,000 in sales since adding Fomo to our store. Significant! :)"
How long have you been using Fomo?
"Less than a year."
We can also see all of Fabulous Flowers live event data in the Dashboard.

Do you have any changes you'd like to see made with Fomo? Any ideas for the team?
"How do we engage with social media with this app?"
Any other stats you're proud to share?
"We have over 57,000 impressions!"
Do you have any advice for other Fomo users?
"Work hard and hone your craft. Results come with consistency."
What is one thing you want customers to take away from your business? What are you genuinely selling?
"Quality and care. That's two things, but they work together."
Thanks to Fabulous Flowers for sharing their story on the Fomo blog. If you're in the Cape Town area, make sure to consider going to them for any or all of your special occasions this year!
If you haven't tried Fomo on your store yet, what are you waiting for? Fomo offers a 14-day free trial for business owners to get the hang of it and see real results.
If you have a Fomo success story to share, please fill out this form, and you'll hear back from us shortly.