Why Social Proof Is So Critical For A Home Cleaning Company
Tidy Me is a home cleaning service based in Australia.
For a subscription home cleaning service such as Tidy Me, where the customer's financial investment is significant (not to mention, the level of trust required to allow someone into your home), social proof is crucial to their success in converting customers. They achieve this in many ways, including collecting strong reviews on all major review websites as well as displaying live reviews on their site and being 100% transparent with their crew member's ratings.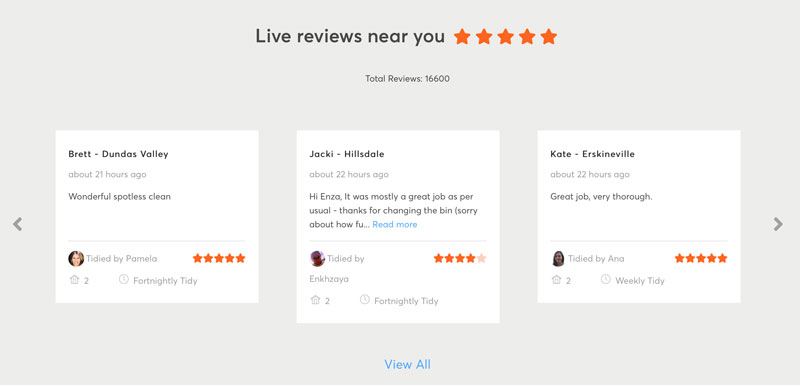 Tidy Me's cleans are calculated based on the number of bedrooms and bathrooms customers want to be cleaned. Living areas and kitchens can be made sparkling too. They do their best to ensure that customers get the same cleaner every time. Tidy Me's cleaners are fully verified, and background checked. Plus, their cleans are eco-friendly, and each one of their cleans is insured up to 1 million dollars.
Pain Points
Tidy Me's most significant pain point is people leaving their page without requesting a quote, or people requesting a quote and then not becoming a customer.
Tidy Me has quite a few methods for addressing this. If someone wants to leave the page, they'll provide an offer pop up. They publish discounts on their site, and they'll frequently make landing page improvements to enhance their social proof. Tidy Me will even go lengths to display their reviews more prominently and highlight how customers can find all of their reviews.
Tidy Me relies heavily on social proof since people want to know that they're safe to let a stranger into their home. Tidy Me runs many apps on their site including Hotjar, Mixpanel, Inspectlet, NewRelic, Optimizely, and Picreel.
But finding Fomo was the next step in their social proof journey.
"I found Fomo because I saw Fomo-like notifications on another website. I think they were using Fomo, but I wasn't sure exactly what software it was, so I Googled around until I found it. I love the ease of using Fomo; I love the promptness of support if I have any issues and, most importantly, that Fomo enables me to do what I want to do with social proofing on our website."
"We drive conversions with the 'live time' feed - provided by Fomo - which gives visitors to our website an idea of the amount and frequency of critical actions that users take on our website: rating cleans, completing cleans and becoming customers. This ensures that visitors are aware of how other users are getting value. TidyMe and enables them to perceive how they, too, can obtain the same value."

Tracking Conversions
"We track conversions via UTMs that we've placed on our Fomo notifications. Also, testing on Optimizely. In general, we track conversions by feeding data through Segment and analyzing on Mixpanel. We also track conversions from PPC using AdWords reporting and website visitors using Google Analytics."
A Look To The Future
"I hope to continue using Fomo to drive social proofing on our website, and I look forward to seeing how other Fomo tools can help customize the user experience on our website to drive conversions further."
Get your business featured on the Fomo blog by filling out this form, and you'll hear from us shortly.