Woodstock's $25k In Direct Sales From Fomo
Woodstock Zambon was founded in the '40s as a furniture company that has since expanded into the world of fashion and accessories. This decision to branch out led to their choice of a new name, Woodstock, which represents their current combination of old and new, past and future.
"Wood" recalls the origins of the furniture factory from where their new adventure started. Woodstock represents their generational change, the evolution and the transformation from a small operation, to a sizeable exporting company.
Together with a new name, their new product was born: the Woodstock Watches. Watches from their Vintage line are captivating, original and they immediately created a trend.
"Our watches are designed to express ourselves and our dreams, passions, and emotions that make each of us unique and special."
In addition to numerous collaborations with national and international bloggers, Woodstock attracted the interest, first, of several local newspapers and, then, of international magazines: not least the collaboration with Glamour Italia.

How did your business start?
"My company was born in Sarcedo (VI) here in Italy. I wanted to express my personality and my way of being with products designed and proposed by me. I've always loved vintage items, and since searching for unique items was a passion of mine, I decided to turn it into a job. After a few months, Woodstock Watch was born."
What are you working to improve about your business?
"We are having a lot of visitors, so we are working to speed up the site to decrease our rebound rate. For tackling abandoned carts, we have a dedicated customer service that contacts customers to see if they need help on each pending basket."
"Also, always being available to the people who visit our site is fundamental and for us, an added value to our service."
Let's meet Valentina Zambon of Woodstock.
How did you learn about Fomo? Why did you move forward with it?
"We wanted something special to make our customers know something more about us on the web, and we discovered Fomo! We chose it due to its simplicity and the fact that it is very beautiful."

What do you like about Fomo?
"With Fomo, we are able to show all our customers who is buying what, and it also shows them our best-selling products. We are an innovative company, so every new application for us is always worth to try."
Have you tried any of our competitors?
"No, we started immediately with Fomo."
How are you tracking the results of installing Fomo?
"With the Fomo Dashboard. Last week we had 38K impressions, 459 clicks, 2,594 engagements (mouse hovers, which pause the animation), 7 conversions, and $545 in direct sales from Fomo."
Check out Woodstock's lifetime results of using Fomo: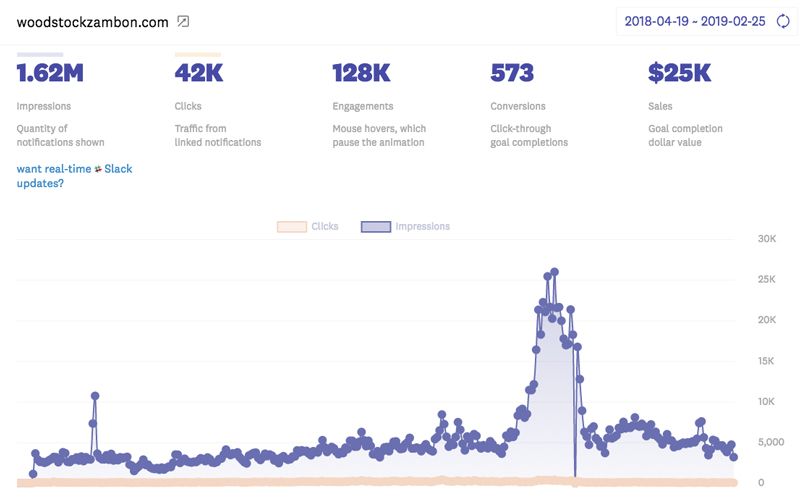 What, if any, future plans do you have in terms of using Fomo?
"We will continue to use it because it is fantastic and we recommend it!"
Have you tried Fomo Publishers?
"No, we haven't tried yet, but we want to try it soon."
Thanks to Woodstock Zambon for chatting with us today! Their results from using Fomo are incredible. Support their site and take a look at their beautiful products. If you're ready to give Fomo a go, start our new 14-day trial and see for yourself.