$26k In Fomo Sales In 6 Months
MAXPRO is a lightweight, travel-friendly workout system. It weighs less than ten pounds and folds to fit in a backpack, drawer, or carry-on conveniently. MAXPRO allows you to work out anywhere, and you can expand workouts with add-ons in the MAXPRO ecosystem.
In less than six months, MAXPRO Fitness has seen sales upwards of $26k directly from the Fomo notification.
MAXPRO can create resistance levels from 5 pounds - 300 pounds (2kg to 140Kg), and the resistance can be changed with a single turn of their patent-pending "PowerCluth dial." The high strength cords hold up to 750 pounds each.

MAXPRO has onboard sensors to track reps, cycles, and resistance, and it can send those analytics to the MAXPRO Coaching and personal trainer app.
MAXPRO can be used on a door, on a bench, on the floor, and with or without accessories. MAXPRO can support cardio, circuit, HIIT, Tabata, plyometrics, suspension, resistance training, or even stretching. MAXPRO can be used indoors, outdoors, in the home, in the hotel room, or a dorm room.
Tell us about your brand! When did you launch, where are you headquartered, what moved you to start your business?
"We launched in 2019, and are headquartered in Rochester Hills (just north of Detroit). Nezar Akeel, had the idea of the MAXPRO twenty years ago because he traveled a lot and there wasn't a way for him to keep up with his fitness regimen on the road."
"Five years ago, he brought the idea back out and worked to make it happen. Now, we are making health and wellness available to everyone."

What are some of your other favorite apps/tools for increasing conversions?
"Email, Fomo, Upsell."
Please share any problems you're currently experiencing.
"Abandoned carts and product availability. We are in preorder and having a hard time keeping up with the demand!"
What other strategies did you try to address those issues before using Fomo?
"Upselling, email, and social ads (retargeting)."
How did you learn about Fomo?
"Marla! She's the best startup consultant around!"
What prompted you to move forward with Fomo?
"Love what it does - saw it on other websites."

Fomo allows you to display real-time data and integrate it seamlessly into your website.
Have you tried any of our competitors? If so, why did you choose Fomo instead?
"No."
MAXPRO Fitness is tracking Fomo conversions in the Fomo Dashboard.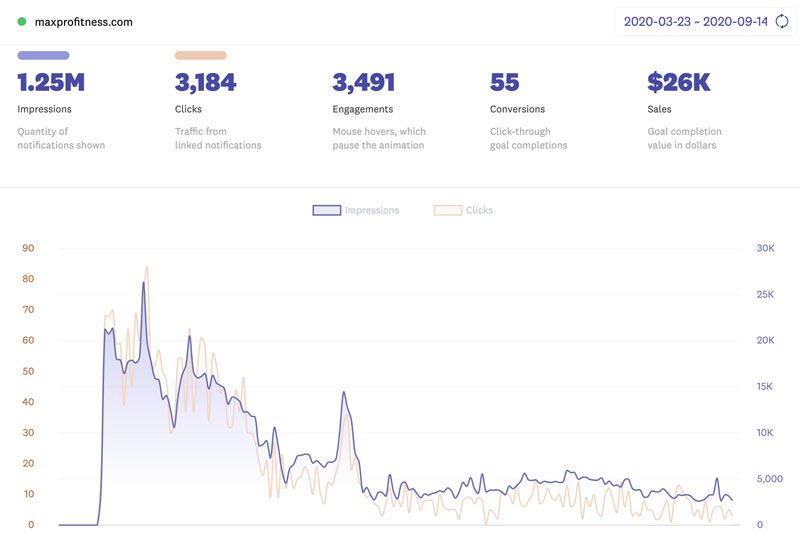 Please share some of the results that demonstrate how using Fomo has benefited your business.
"In the month of August alone, we saw an extra $2,929 in sales come in because people really are afraid of missing out on what the people around them are buying!"
Do you have changes you'd like to see made with Fomo?
"Nothing yet :)"
How long have you been using Fomo?
"Around six months."
Do you have any advice for other Fomo users?
"Create a sense of urgency - people really do have a fear of missing out. Tap into that fear and sell sell sell. ;)."
Any other stats you're proud to share?
"We are in our preorder stage, and the number of purchases per day is exciting, seeing that we are not spending much money on advertising."
What is one thing you want customers to take away from your business? What are you genuinely selling?
"We are selling a lifestyle. With the MAXPRO, you can't say that you don't have time to go to the gym; we make health and wellness available to everyone, anytime, everywhere."
Thanks to MAXPRO Fitness for sharing their story on the Fomo blog. If you're looking for a lightweight and convenient way to workout anywhere, go ahead and place an order on their site.
If you haven't tried Fomo yet, try our 14-day free trial today. And if you have your own Fomo story to share, don't hold back, share it here.