Boosting Conversions 10% With Social Proof
Kids Cars Canada has provided the highest quality of children's ride-on cars since 2015, focusing on kids between one and nine. Kids Cars Canada is located in Woodbridge, Ontario, but caters to the entirety of Canada and the USA.
Kids Cars Canada is dedicated to bringing "the ultimate driving experience" to every kid out there – and they know that that has to include safety so that parents can rest easy while their little loved one is driving around in a fully licensed and tested electric ride-on car.

They don't skimp on luxury, either: most of their premium models come equipped with a leather interior, LED headlights, a premium sound system, a remote control, and more – and all are officially licensed and come with a one-year manufacturer's warranty.
They have a huge variety of brands, including Mercedes, BMW, Bentley, Lamborghini, and more – including a large selection of UTV Jeep styles.
Kids Cars Canada is running their store on Shopify, and they are using Fomo to showcase recent purchases to new visitors.

Tell us about your brand! When did you launch, where are you headquartered, and what moved you to start your business?
"Kids Cars Canada started out providing a small selection of ride-on cars in 2015. Today we offer over 70 different makes and models of licensed ride-on cars for children."
"We now manufacture our own ride-on cars as well and have established partnerships with licensed manufacturers to supply both the wholesale and retail markets. Our products can be found across Canada and the US, online and in stores!"
"Our goal at Kids Cars Canada is always to offer the most fun and unique ride-on cars for children."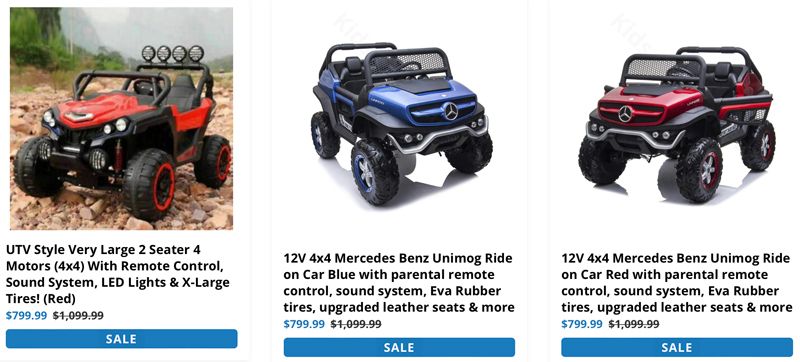 What are some of your other favorite apps for increasing conversions?
"We love to use Fomo, Judge.Me, Merch Bees, and Klaviyo."
What are a couple of specific conversion-related problems you're experiencing?
"We've recently overcome a challenge of having a lot of abandoned carts, and we were not utilizing our email list effectively – but with the addition of the right team members, we've been able to overcome it!"
What other strategies did you try in order to address those issues before using Fomo?
"We've tried a number of different apps, but not only was Fomo affordable, it's been a great add-on to our online store."

How did you learn about Fomo? How long have you been using it?
"We found it on an online search about four months ago and have been using it since."
What prompted you to move forward with Fomo? Have you tried any of our competitors?
"Simply – it works! Seeing the results really made us jump in. We haven't tried any competitors – and we have no desire to!"
How are you tracking Fomo conversions?
"We use the Fomo Dashboard to track conversions."

Can you share some of the results demonstrating how Fomo has benefited your business?
"It's still too early to be sure of exact numbers, but we can say with confidence that our sales have gone up around ten percent since using Fomo."
Any other stats you're proud to share?
"We are proud of our team and the entire system we have created. We are extremely proud of the sales we have seen so far and are on track to hit seven figures in sales this year."
What is one thing you want customers to take away from your business? What are you truly selling?
"Kids Cars Canada is all about delivering smiles across Canada and the US. We want our customers to see the joy their children have when they unbox one of our products! At Kids Cars Canada – we care."

Thanks to Kids Cars Canada for sharing their story on the Fomo blog. If you have a little one in the family you'd love to surprise, make sure to visit their website.
If you're a business owner and haven't tried Fomo yet, what are you waiting for? Give our 14-day free trial a go here. And if you have a Fomo story you'd like to share, share it with us here.