Liz's 38% Boost In Conversions From Using Fomo
Meet Liz, founder of the Otaku Box.
"Hi, my name is Liz, and I've been an anime fan since I was a kid in middle school watching Sailor Moon and Dragonball Z on Toonami! Last year I moved to Tokyo to teach English, and I couldn't believe how much anime loot there was that was never available in the USA - and that's what gave me the idea for The Otaku Box and The Otaku Box Shop. The Otaku Box is the only subscription anime crate where the subscribers get to vote on the anime titles that I choose the loot from, as well as the option to receive naughty Hentai items!"
"I launched pre-orders in October of 2017, and the first box went out January of 2018, and I've been growing fast ever since. I now have a small team distributed all around the world!"
"When I'm not running the Otaku Box, I'm walking the streets of Tokyo looking for a new place to eat. My favourite foods are sushi, takoyaki, taiyaki, and tea!"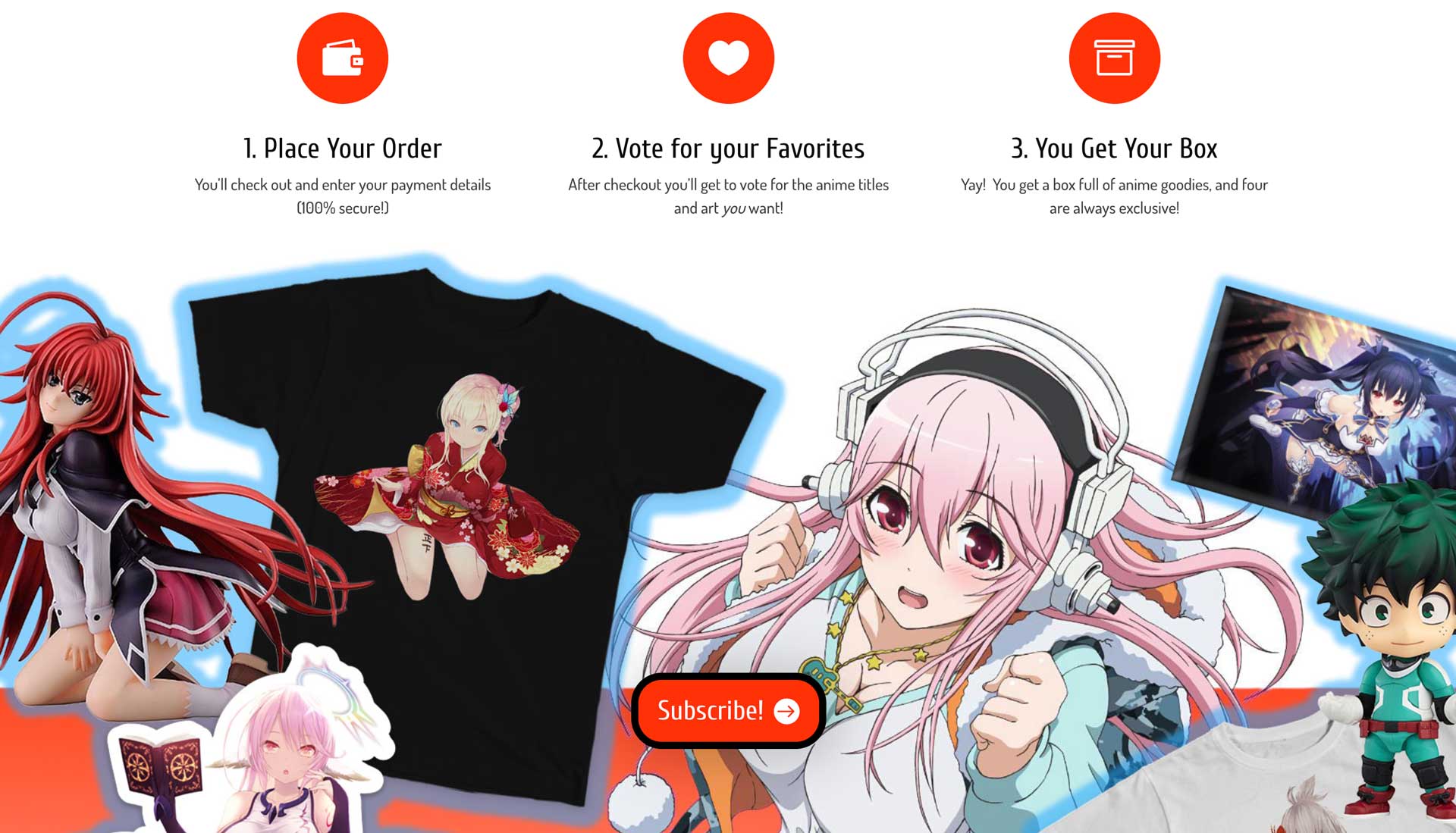 What are your favorite apps for running your operation?
"Drip, CartStack for abandoned cart recovery on The Otaku Box, (Recart for The Otaku Box Shop), Wheelio, ConvertBox, and of course, Visual Website Optimizer. Other additional apps I use are Subbly.co, Zapier, Airtable, and Asana. Subbly Powers the Subscription ecommerce side, Airtable is the database and powers the voting form (theotakubox.com/vote) and Asana is my project management platform."
What did you struggle with the most while selling online?
"The issue was a lack of social proof and reviews: I was asking people to pre-order a product that wasn't shipping for months, which of course meant no reviews or any other form of social proof. That's when I decided to use Fomo! Honestly, for building social proof before the product existed, I couldn't think of another way!"
How did you find Fomo?
"I'd seen notifications appear on other sites, and I searched online until I found it (using DuckDuckGo, of course)."
"I love Fomo because of their funny branding and they have lots of integrations, especially with Zapier! I haven't tried any competitors. You guys were and are clearly leading the pack in this space!"

What have your results been so far?
"I'm tracking conversions with Google Analytics and with VWO. I saw a ~38% lift in conversions when using Fomo!"
What are your future plans with Fomo?
"Fomo is now making an appearance on my new online shop which I've just set up! I love the Fomo roundup metrics too."
"Fomo adds a lot of personality to a website, making it seem almost like a social club! I also love that it's a way to add social proof that isn't a typical review or testimonials because every visit and action becomes the testimonial!"
It sounds like Liz would definitely recommend Fomo to a friend! Be a cool friend and give Fomo a seven-day free trial, and check out the Otaku Box.
If you are a Fomo user and want to be featured on the social proof blog, fill out this form.