Your New Secret Weapon: Conversational Commerce
Many, perhaps most, online businesses now offer "live chat" as a customer service option. Rather than calling or emailing with your support questions, live chat means you can speak to a customer service rep via instant messaging.
This option is convenient and easy, and customers like it: live chat has the highest reported satisfaction rating (73%) of any customer service channel. But it's only the beginning. It's part of a wider trend known as conversational commerce that's set to transform the world of digital commerce in the years to come.
The term "conversational commerce" was popularized by Chris Messina, then of Uber, in a 2015 post on Medium.com (Messina is perhaps best known as the inventor of the hashtag). In a follow-up post a year later, Messina summarized the idea as follows:
"Conversational commerce... largely pertains to utilizing chat, messaging, or other natural language interfaces (i.e. voice) to interact with people, brands, or services and bots that heretofore have had no real place in the bidirectional, asynchronous messaging context. The net result is that you and I will be talking to brands and companies over Facebook Messenger, WhatsApp, Telegram, Slack, and elsewhere before year's end, and will find it normal."
To illustrate what this means, let's consider an example of how things could look in the near future.
A Seamless Shopping Experience
"No one wants to have to install a new app for every business or service that they interact with. We think you should be able to message a business, in the same way you would message a friend."  - Mark Zuckerberg
Picture the scene: you're talking with some friends in a chat app (e.g. WhatsApp or Facebook Messenger), and you arrange to meet for dinner. The way things currently are, you'll have to switch around between a few different apps or websites to finalize your plans.
Maybe you'll search Google or Yelp to get ideas for where to eat. Once you've made a decision, you'll need to call the restaurant to make a reservation. Then you can use a ride-sharing app like Uber to get there, or use Google Maps to figure out how to get there yourself.
Or maybe in the end you scrap your plans and decide to eat in - and download yet another app which you use to order a delivery.
We're used to doing everything through a stack of different apps, but it doesn't have to be like this. What if you could make all your arrangements without ever leaving the original chat app?
For example, if the original conversation took place in Facebook Messenger, why not just message a restaurant through Facebook to make the reservation?
Better yet - what if Messenger acted like your own personal concierge - a virtual assistant which you could ask not just to make the reservation, but to recommend a restaurant for you in the first place based on your preferences? Then, once you've settled on place to eat, your concierge could arrange every other aspect of the night, such as transport.
In fact, you already can* order an Uber through Facebook Messenge*r, and that's only the beginning. Soon you'll be able to interact with your favorite businesses in all kinds of new ways through apps like Messenger.
This is the idea behind conversational commerce.
It doesn't stop at instant messaging either. Voice recognition is getting very sophisticated, and has been an increasingly prominent part of our digital lives since Apple introduced Siri to the iPhone. Now, other tech companies are following Apple's lead with tools like the Amazon Echo and Google Home being two other popular examples.
Clearly, in the future we'll be spending less time typing and more time talking to our digital devices.
How WeChat is Paving the Future
For a preview of what's coming, look at WeChat. Despite having nearly a billion (yes, a billion) monthly active users - and despite the fact that Forbes has called it "one of the most powerful apps in the world" - this messaging app doesn't get much attention in the U.S..
The reason it doesn't get much attention is because most of those billion users are in China, where WeChat is now far more than just a chat app - it's a cultural and technological phenomenon. To many Chinese, WeChat has become an integral part of their day-to-day life, used for… well, anything. You can use WeChat to:
Send money to friends

Order a taxi

Order food

Book flights and hotels

Pay bills

Buy movie tickets

Book a doctor's appointment

Shop online

And much, much more.
WeChat is so pervasive in China that it's been dubbed the "app for everything."
So far, no messaging platform in the U.S. has become as ubiquitous as WeChat has in China, but the latter's success shows that the technology for such a seamless integration is clearly there.
Americans aren't used to using chat apps for everything yet. As technology improves, and conversational commerce becomes a more natural part of our smartphones and our lives, this is likely to change.
Rise of the Robots
The obvious problem with the "digital assistant" described above is one of scale. Unless you're a luxury retailer, you probably can't afford to pay for personal assistants for every one of your customers.
There's a reason, however, that conversational commerce is taking off now and not ten years ago: artificial intelligence. Instant messaging itself is nothing new, but recent advances in machine learning and natural language processing mean that chatbots are getting good. Very good, to the point where they can handle an increasingly large and complex range of customer queries.
This isn't just speculation; it's already happening. Here are some existing examples of digital assistants in action, aided by A.I.:
At Starbucks you can now place an order using "My Starbucks Barista", a chat bot that's built into the company's mobile app: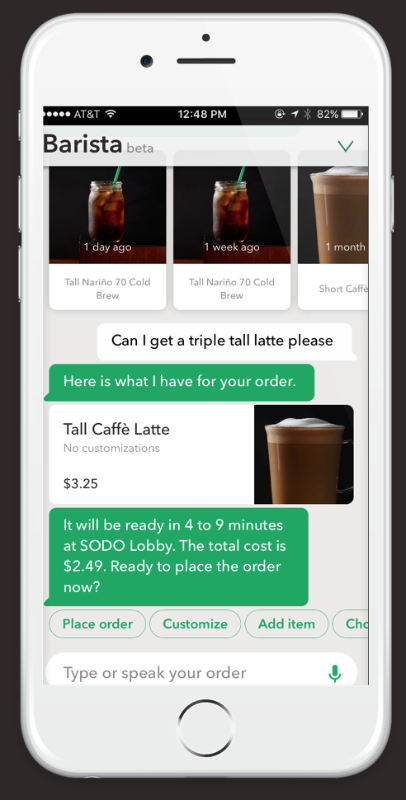 At Staples you can order new office supplies using "The Easy Button." Literally a big red button labelled "easy" that sits on your desk, you can press the Easy Button and make requests via voice commands, using natural language as if you were ordering on the phone - "we need some new blue pens" - and the Easy Button will handle things for you.
You don't have to buy the physical product to take advantage of the Easy Button. The same service is available as a smartphone app, or you can communicate with it in other ways, such as via email, Facebook Messenger, or a SlackBot. Whatever the case, the Easy Button can interpret and process your request using advanced language-parsing technology developed in partnership with IBM Watson.
Another company partnering with IBM Watson is The North Face, retailer of outdoor apparel and equipment. Their new "XPS" (Expert Personal Shopper) system will help you shop for a jacket, guiding you through a series of questions to help you narrow down the options and get a recommendation.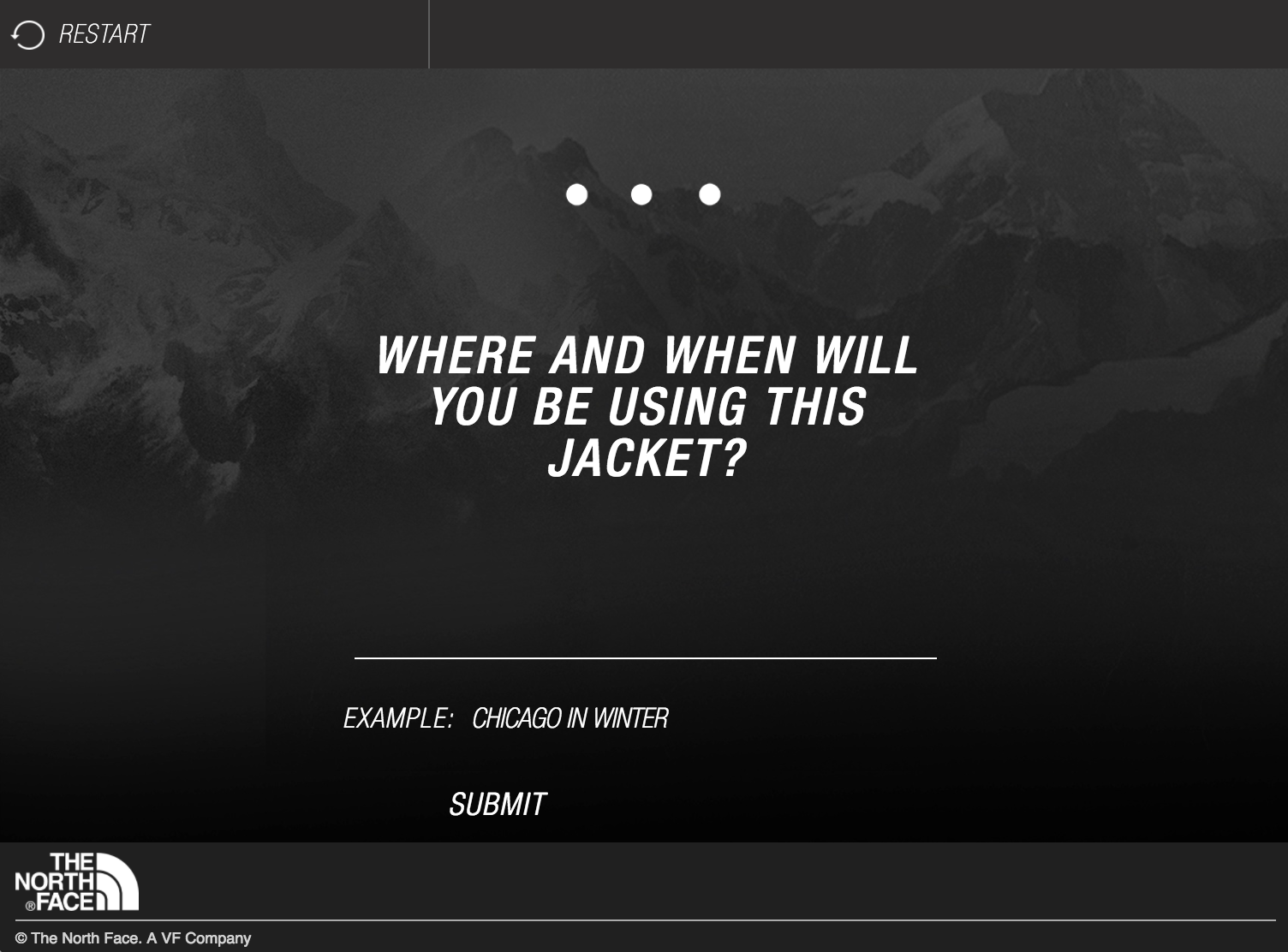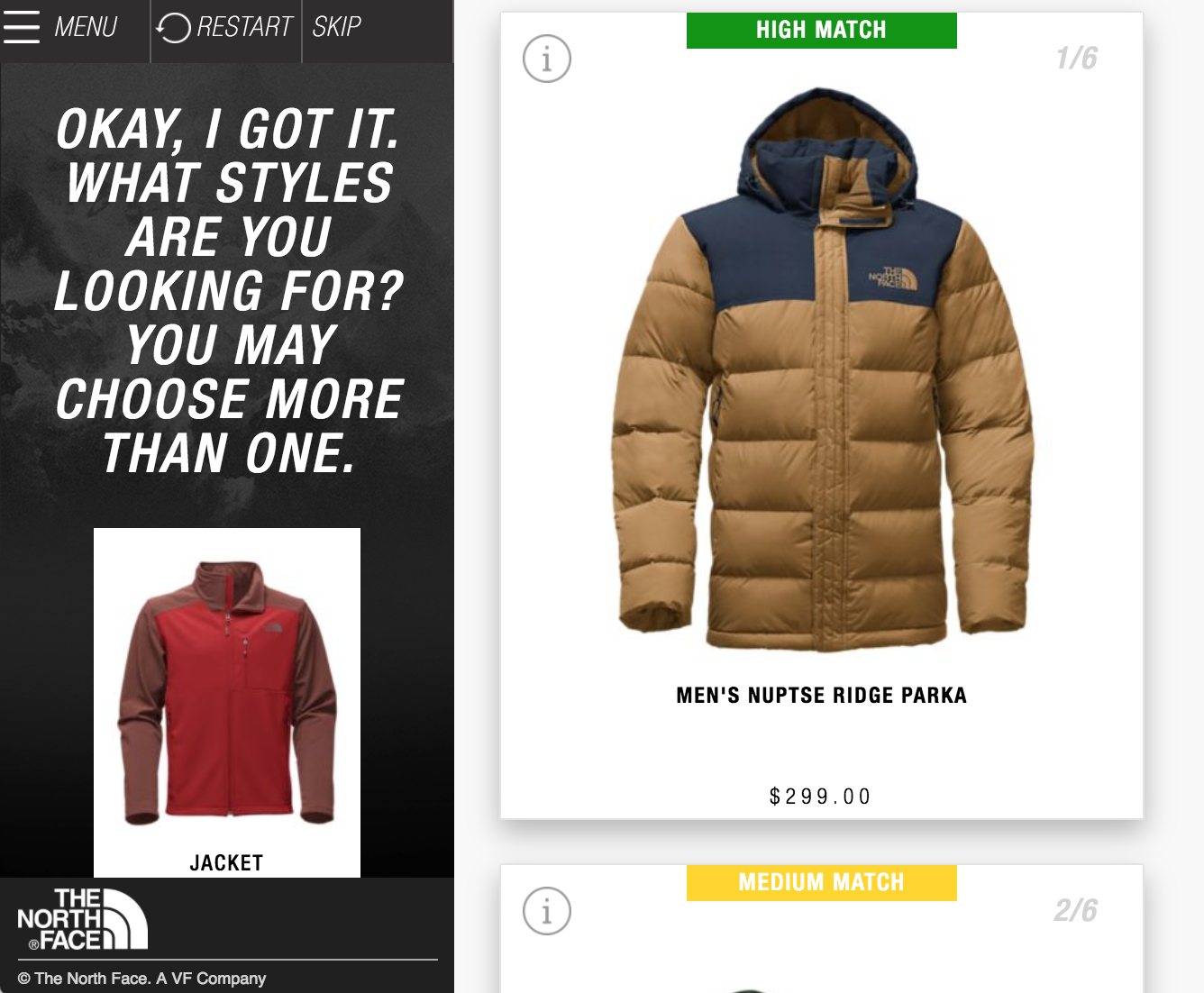 While the internet has gutted brick and mortar retail, the high street has remained strong in one key area: customer service. It's hard for an online retailer to replicate the experience of a well-trained, knowledgeable in-store assistant who can help customers with their queries.
The rise of conversational technologies like North Face's XPS shows that in this key part of the customer experience, even B&M's advantages may be short-lived.
Could You Be Using Instant Messaging Already?
You might not be a huge company with the budget of Starbucks, nor have access to a team of world-renowned A.I. experts like IBM.
Still, "conversational commerce" doesn't have to mean a cutting-edge A.I. solution. Like previous technological advancements, what's now considered "cutting edge" will likely be widespread and available to everyone else before too long.
Whatever the case, there are things you can be doing today to bring a more conversational approach to your customer experience. Start now, and you'll be ideally positioned to take advantage of more advanced conversational technologies when they become available.
Take the case of jeweler Rare Pink, which sells bespoke diamond rings through a process that's highly personalized to each client. Since 2015, the company has made heavy use of WhatsApp to communicate with certain customers. (Rare Pink are based in the U.K., where WhatsApp is more popular than Facebook Messenger).
Rare Pink doesn't use WhatsApp for every customer; only with those who prefer it over email or phone-based communication. The company has a "live chat" feature on its website which could be used in essentially the same way, yet customers are far more likely to use the messaging app.
According to Rare Pink CEO Nikolay Piriankov, customers like using WhatsApp because they're used to using the app with their friends and family. The platform has a convenient, low-pressure feel, and it makes it easy for Rare Pink's sales assistants to build a rapport with their customers.
Rare Pink can afford this highly personalized approach because the lifetime value of an individual customer is very high - the average ring goes for $4,500.
But even if you're not selling something as expensive as a diamond ring, it may still pay to engage your most valued customers through the personal communications channels that they're already using.
Provide More Value Through Facebook Messenger
Did you know that mobile users now spend more time in messaging apps than on other forms of social media? That's been the case since 2015. The most popular app varies by country, but in the U.S. the clear winner is Facebook Messenger.
You probably already have a Facebook page for your business, but are you taking full advantage of everything that Messenger has to offer?
No doubt most of your customers are already on Facebook, so it makes sense to let them reach you through this channel. Facebook Messenger now actually comes with several features to make life easier for your customer support team:
Automated replies to let a customer know that their message has been received.

"Away messages" in case a customer messages you outside of your normal office hours.

Reply templates, to save you typing out the same messages over and over again.

"Customer information cards," which include relevant information about each customer (location, order history, local time, demographic information) along with their message.
Follow Facebook's instructions to get started.
The era of conversational commerce is just getting started. To make the most of it, make sure you're ready to ride the wave of this coming trend - and start more conversations with your customers.