How Fomo Accounts For 5% of Sales For a Luxury Jewelry Company
Deepa Gurnani is a fashion accessories company that specializes in unique embroidered jewelry handcrafted by artisans in India. The Deepa Gurnani brand, conceived in the dreams and passions of husband and wife Jay and Deepa Lakhani, launched in 2006 in New York City.
The driving force behind their company is their understanding that they are preserving handcraft traditions that have hundreds of years of history, interim supporting culture, and heritage.
Deepa Lakhani tells us:
"Through today, the highest quality standards prevail in all our collections with no compromise on the quality and the ethics of our workmanship."
While Deepa Gurnani looks out for the customer, they also look out for the world and its inhabitants. They actively donate a portion of their earnings to various charities such as Build On, an educational foundation, Organic Consumers Association, to look out for the future of the planet, SGI-USA, an organization dedicated to advancing world peace, and in India, the Icha Foundation for orphaned children with mental and physical handicaps.
A shimmer and sparkle…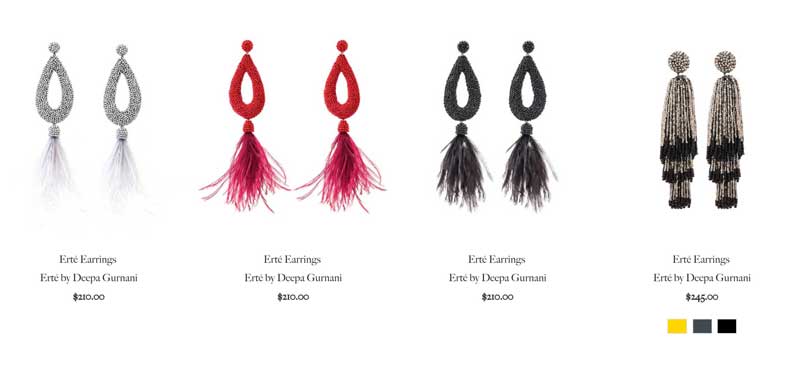 While studying fashion at London's prestigious Central Saint Martins College of Art and Design, Deepa beaded couture pieces for Alexander McQueen, Emanuel Ungaro, Fendi and Marjan Pejoski. Jay Lakhani started his training at the Fashion Institute of Technology NYC and progressed to work with some of the finest names in the jewelry industry.
After ten years in business, the brand has grown in a continually changing industry. Customer expectations for craftsmanship and luxury are ever in demand. However, in a challenging world economy, there is a growing need to satisfy a more price-conscious and internet-savvy customer.
Canary in a coal mine...
Deepa Gurnani's favorite tools for increasing conversations are email campaigns, Facebook and Instagram. While they succeeded in getting of traffic to the site, abandoned carts and low click to checkout remained their primary challenges.
They tried using an abandoned cart email to coax customers to return, though it wasn't until they stumbled upon a "gem" that helped polish things off...
Striking gold...
While browsing a Shopify Forum, they discovered Fomo. Fomo is a social proof marketing tool for increasing conversions and building trust in consumers. They opted for the trial version of Fomo and saw that it improved conversion rates instantly.
"Fomo was proven to work, so we signed on." says Deepa.
They saw that with a few clicks, they could quickly get started using Fomo. They saw that it worked by using a small notification in the corner of their shop shown to prospecting customers looking for what to buy.

A prospecting customer will see this and build familiarity and trust with the store and their products. They can view the purchases made in real time revealing to them that it is indeed an active store, with customers that are purchasing just like them.
This concept is the idea of social proof. If there's a lot of other people using the product, then it must be good. For example, when is the last time someone recommended you a movie, and you watched one you saw an ad for instead?
Cashing out...
After tracking conversions with Google Analytics, Deepa Gurnani confirms that Fomo accounts for 5% of their total sales! Incredible!
Deepa Gurnani plans to continue using Fomo as it continues to complement their sales strategies, and maybe even expand to use it with more integrations (nearly 40 and counting).
If your business would benefit from social proof (it would) like Deepa's has, take Fomo for a spin today.