Learn How Fomo Helped A Luxury Travel Brand Earn $2,395
Boarding Pass NYC is a New York-based travel-lifestyle brand. In 2012, with an office no bigger than a broom closet and a credit card, pilot Mike Arnot opened up the digital doors to Boarding Pass.
Since their original product, a luggage tag, Boarding Pass has now expanded to a full line of goods. Their products include duffel bags, men's grooming products, personalized gifts and home and work supplies. All of Boarding Pass' products are designed and made in the United States.
Their products are beloved, as they've been named GQ Magazine's best product in 2012, 2015, and 2016, and were featured in Men's Health magazine and the New York Times.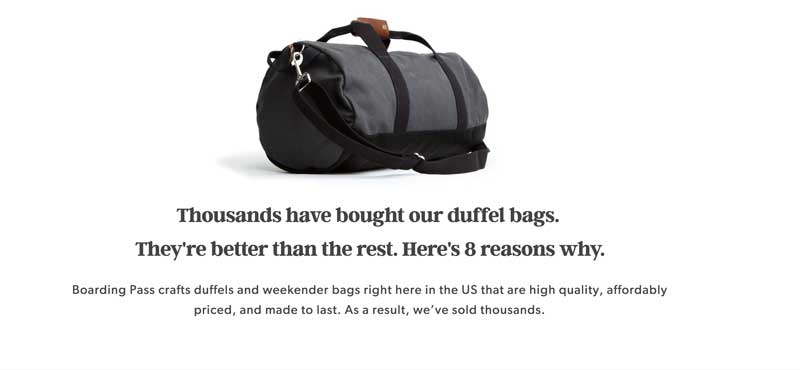 Heavy Lifting...
Boarding Pass' duffel bags are stylish and durable, made with high-quality waterproof materials and zippers. Unlike other polyester bags on the market, they use tightly woven 100% two-ply cotton and quality leather. "The bag looks fantastic, picking up character as you use it."
Boarding Pass has tested their bags many different ways- including spraying the bags with a hose and dunking them in a bucket of water, but they still stay dry inside.
Prepare For Take Off...
Boarding Pass is now sold in 600+ retail stores worldwide, online at Boarding Pass NYC, and at two stores in New York (230 Mulberry Street in Manhattan, and 42 West Street in Greenpoint, Brooklyn). Selling online presents a unique set of challenges, but Boarding Pass has it under control.
"We do some fun things on abandoned carts," Mike says.
Boarding Pass uses Klaviyo as their email provider.
But one-day Boarding Pass saw Fomo on Pura Vida bracelets (check out their case study), and installed it immediately (as Fomo only takes a few seconds to install).
Founder Mike says:
"We get pitched all the time for apps and services to help with conversion. Fomo was an obvious choice when I first spotted it in the wild, and I signed up literally within minutes. We love that our potential customers get a flash with what other customers are doing. It gives credibility that Boarding Pass is a brand to trust."
Boarding Pass now has Fomo integrated with Yopto product reviews alongside Shopify purchases. Fomo can now integrate with 1,000+ applications too.
The fact that potential customers see what current customers are buying is what prompted Boarding Pass to move forward with Fomo.

"Fomo flashes images of our product, as social proof. Also, we use it for our retail store purchases to drive conversions online. Now we just need to sell more."
Flyin' High…
Boarding Pass is tracking Fomo conversions on the Fomo dashboard and has had 23 conversions for $2,395 revenue.
"It's a start," founder Mike says. "We think the Fomo team will continue to develop great products unlike most other things out there."
Boarding Pass plans to continue using Fomo to showcase customer purchases and reviews.
"Fomo gives an immediate dose of social credibility to our potential customers, and also shows products they might not otherwise see when browsing our store."
To feel the power of real-time social proof for yourself, try Fomo free for seven days. Want to see your company featured on the Social Proof blog? Tell us about your business, and we'll be in touch soon.