Fomo Helps Potential Customers Feel More Trust
Sampoorna Ahara is a one-stop-shop for all things healthy, with a wide variety of healthy foods and snacks that have several health benefits.
Sampoorna Ahara is India's first whole food plant-based meal subscription service.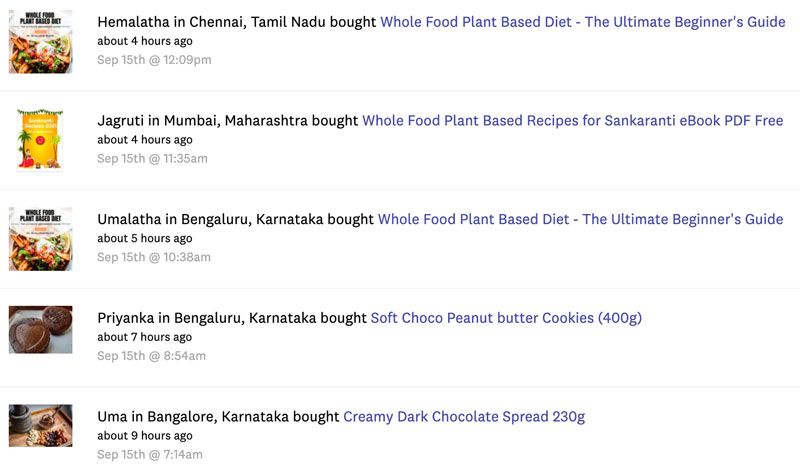 "We have the healthiest food plan. Ever. We are scientifically planned. We use zero oil, dairy, sugar and are completely vegan. Our diet is based on Dr. Michael Greger's Daily Dozen."
At the moment, Sampoorna Ahara offers meal delivery in Bengaluru City within two days.
"Heart disease is the leading cause of death in India. The good news is heart disease is preventable, treatable, and even reversible through a whole food plant-based diet, exercise, and meditation. What we eat is probably killing us slowly. Our diets are the #1 risk factor for death."
"If our customers want to start eating a range of nutrients, we have meal subscriptions offering a complete balanced diet. We have food to help weight maintenance and reduce blood pressure. Many of our dishes are inspired by traditional foods made healthier."
"Every single one of these delicious goodies can aid their weight loss goals. They can safeguard their future health by eating healthier food today and get additional health benefits with every bite!"
Tell us about your brand! When did you launch, where are you headquartered, what moved you to start your business?
"Launched two years ago, Sampoorna Ahara is inspired by the challenge to innovate products and meals based on a whole food plant-based system that will help people to reverse and prevent lifestyle diseases."
"We are led by Dr. Achyuthan Eswar in Bangalore, India, and his team to cook up plant-based meals, sugar-free desserts, oil-free healthy snacks, sourdough breads, and vegan condiments."
What are some of your other favorite apps/tools for increasing conversions?
"Fomo, Privy, PageFly, Judge.me, and PushOwl."

What are a couple of specific conversion-related problems you're experiencing?
"High bounce rate and low checkout rate."
What other strategies did you try to address those issues before using Fomo?
"We tried using live chat using Zoho chat and Facebook Messenger."
How did you learn about Fomo?
"People need social proof before buying."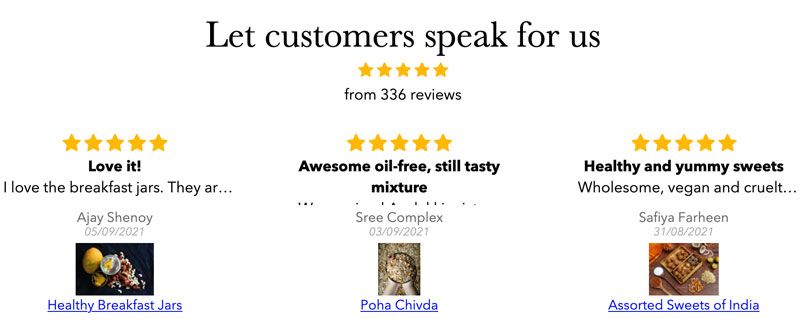 What prompted you to move forward with Fomo?
"It was recommended by many e-commerce experts."
Have you tried any of our competitors? If so, why did you choose Fomo instead?
"Fomo was the only choice."
How are you tracking Fomo conversions?
"Fomo Dashboard."
Would you mind sharing some of the quantifiable ROI results that demonstrate how using Fomo has benefited your business?
"For a startup with a Shopify site that was established six months ago, Fomo was the only way to create a sense of urgency to get our new customers to buy from the store."
"Our customers belong to a niche market. They love to know that others similar to them are buying. They appreciate a small but passionate group they belong to that follows a plant-based system."

Do you have any changes you'd like to see made with Fomo? Any ideas for the team?
"Integrate with PushOwl to notify customers that others are buying the products they browsed."
How long have you been using Fomo?
"About five months."
What is one thing you want customers to take away from your business? What are you genuinely selling?
"Healthy lifestyle choices that prevent and reverse lifestyle diseases."
Thanks to Sampoorna Ahara for sharing their story on the Fomo blog. If you're looking for healthy plant-based recipes, visit their website and download their recipe guides for free.
If you haven't tried Fomo yet, what are you waiting for? Give it a try on our 14-day free trial here. If you have your own Fomo story to share with us, share it here.