Fomo Meets Fandom Fashion Brand Jordandené
Jordan Ellis founded Jordandené in 2011, instead of applying her teaching degree. Jordan is a self-proclaimed "huge nerd who loves dressing up and throwing extravagant themed parties." Jordandené started as a fun way for Jordan to put a nerdy twist on regular handmade goods.
Jordan's hobby soon blossomed into a full-blown 'geeky' fashion brand, podcast, and magazine. Jordan's first product was a "geek chic apron." "The apron makes all kinds of household tasks more tolerable; even the worst chores are easier to do when you're practically Batman or R2D2, right?", her website says.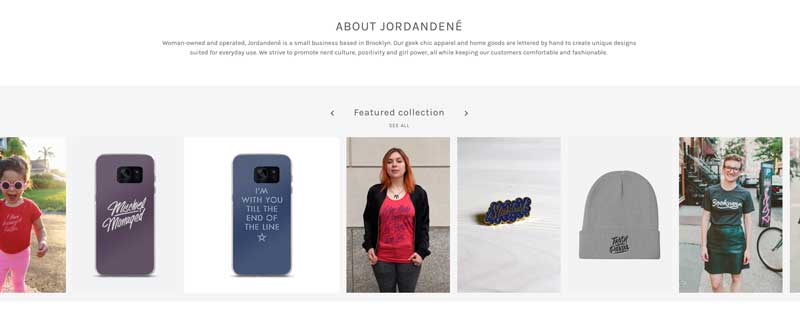 Fandoms In Everyday Fashion
Jordan's goal is to make products for the nerds that understand (and love) what the products reference while keeping them mild enough for those who don't understand. Jordan didn't want to confine her products to the kitchen arena either, so now she makes all kinds of products that stay true to the inner nerd, yet keep it normal enough for everyday life.
Jordandené combines taste with good design and materials, (no cheap plastic, comic sans, or boxy graphic tees are to be seen on their shelves,) and keeps the production process as eco-friendly as possible— from the inks they choose to the way they package products. All of the products are sweatshop-free and screen printed in Brooklyn. Jordan's team sew all of their aprons and screen print all of their shirts by hand. Plus, the team didn't set out to be an all girls' production machine, but they sure aren't complaining about it.
Jordandené runs production on one shirt design a month, with November always being a Doctor Who month. Sometimes the demand for a particular shirt lingers beyond one month, so Jordan brings it into production full time. The products are a hit at conventions.
Fear Of Missing Out On Fomo
Jordan switched the Jordandené store over to Shopify, on a trusted friend's recommendation, and began using Fomo at this time as well.
"Fomo was one of the first apps we downloaded when switching to Shopify. My friend at Espionage Cosmetics, who convinced me to switch to Shopify, told me I had to start using Fomo."
Fomo utilizes this exact idea of social proof to help business owners sell more. Social proof is the exact reason why Jordan switched her shop over to Shopify and even started using Fomo. Since one of her trusted friends recommended it, it gave her much more confidence in her purchasing decision and making it stand out above all the rest.
Fomo emphasizes this by the act of displaying notifications of what other people have purchased on the store, therefore building a sense of trust and credibility. (Aka, social proof.)

Doesn't it shout, "Click me! Buy me! Other people have!"
2.5% of the clicks on these notifications turn into conversions on Jordan's website. Once the products are displayed, it starts a cycle. When one product gets purchased a lot, many people see the live purchases, so then more buy it because of that!
"Fomo looks great, is customizable, and really works to convert more website viewers into customers! Fomo just looks the best. Fomo is a site feature that friends and customers comment on the most for us. Plus, I love the weekly status email updates."
Jordan is going to keep rocking with Fomo for now. Tell your friends about Jordandené and Fomo, and get featured on the blog by filling out this form.