How Fomo Helped SkateXS Sell Over $500,000 Worth Of Skateboards Last Year
Bryan Tracey had a problem. He wanted to find a skateboard for his six-year-old son. Searching around, however, he discovered that there were no quality skateboards sized for children available; only toys.
Bryan launched SkateXS - Skateboards for Kids in 2013 alongside his son and ran it part-time until the summer of 2014 when he left his career as a vice president of engineering to focus full time on growing SkateXS to be the worldwide leader in building real skateboards in kid-friendly sizes.
They funded their original inventory on a credit card and took the leap from Wisconsin to the heart of skateboarding in sunny Southern California. Bryan has grown the business year by year since then.
About.com Skateboarding Guide says:
"SkateXS uses the highest pro grade parts I've ever seen on boards sized for kids."
Sunny Side Up...
It's a great time to get into skateboarding, as the global skateboarding market is expected to exceed $2 billion by 2020. Skateboards are typically available in two distinct types: longboard and shortboard. 'Shortboards', mostly used by skateboarders to perform different types of skateboarding tricks, and 'longboards' used for cruising and racing.
Traditionally, skateboards consist of decks, grip tapes, trucks, wheels, bearings, and hardware. Skateboard decks, usually made of maple wood with a polyurethane coating, makes the boards durable and smooth. SkateXS makes their skateboards out of lightweight bamboo and equips their boards by hand with all of the high-quality parts needed for a smooth ride.


Riding Clean...
SkateXS makes most of their sales direct through Shopify, and they use additional apps such as reamaze, Yotpo (with 1,900+ reviews and counting), and MailChimp. They also run a rotating promotional offer for a free t-shirt in their announcement bar, and use product listing enhancement apps to allow customers to personalize their skateboard with their child's name for an upgrade.
Hit The Park…
Organic visitor conversions always convert higher than advertising conversion for SkateXS. SkateXS does an excellent job of building trust for the customer, taking on the role of a trusted advisor. They have a YouTube channel and an entire section of their website devoted to educating parents on skateboarding and safety.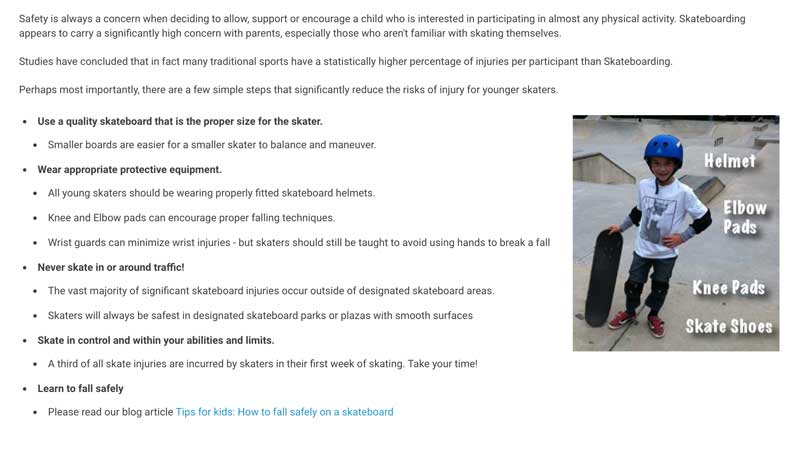 Bryan says:
"I think the organic folks come in with a sense of trust as they heard about us from somewhere else while the ad based visitors need some extra trust building."
SkateXS aims to make their website as family friendly as possible and make sure other sites are talking about them.
Bryan knows that if others are talking about your product, word of mouth recommendations spread and people will have more trust and be more willing to buy as opposed to buying from ads. Because of this, when Bryan found Fomo through the Shopify app store, he loved it.
"We loved the concept, it was super easy to install, and it worked right away."
Fomo is based on the idea that if other people are buying something and telling you to buy it, you will trust them more than a random advertisement you've seen. You can get started with a seven-day free trial, one copy and paste, and Fomo will begin to broadcast live purchases to your potential buyers.

SkateXS has been a Fomo user for a long time. Fomo has developed a lot since they first installed it and they are excited to test out the new features like the custom theme builder.
"Fomo has come a long way since we first started using it and we haven't been taking advantage of all the new features like customizing the theme, etc. We'd like to get it all dialed in this year!"
Made The Trick...
SkateXS will regularly note in the shop how all of a sudden they get a run of sales on a specific type and style of product, and they always attribute that to Fomo.
SkateXS earned over $500,000 last year, and they are proud Fomo has helped them accomplish it!
"Fomo creates awareness around that specific item and creating a sales trend around it. That happens all the time, so we know it's working well!"
Bryan sums it all up:
"Customer trust is always going to be the single biggest factor in completing any successful sale. The product, price, shipping, etc., of course, they all matter, but ultimately it is about a customer being able to make that final huge leap to trust you. The value of Fomo is ensuring your customer doesn't feel alone when they make that leap, they know others are doing it, and they can feel the positive energy of being part of something. It is a huge difference maker!"
Sign up for Fomo today, or tell us how Fomo has helped your business, here.