How A Sock Subscription Service Boosted Conversions During The Fomo Trial
Headquartered in Melbourne Australia, GetSocked launched in March of 2016. GetSocked is a sock subscription service that mails customers one pair of funky mind-bending patterned socks made of bamboo every month. GetSocked's primary audience is men, but anyone who fits their sizes can wear them! Plus, they ship internationally.
Bamboo socks you say? You got it! Compared to cotton, bamboo is much softer and possess a natural wicking process. Bamboo contains strands of loosely woven fibers that draw up moisture. This wicking process is why bamboo socks can reduce uncomfortable wetness and prevent a dangerous loss of fluid while you're out enjoying outdoor activities like hiking or climbing.
Additionally, bamboo is antimicrobial and creates less strain on the environment during production. Compared to other trees, bamboo consumes one-third of the amount of water required during growth and requires no herbicides or pesticides to thrive. That means more happy feet for generations to come!
"Socks make us tick, and the fact that we have such striking designs and so much positive feedback from clients encourages us each and every day."
Happy Feet...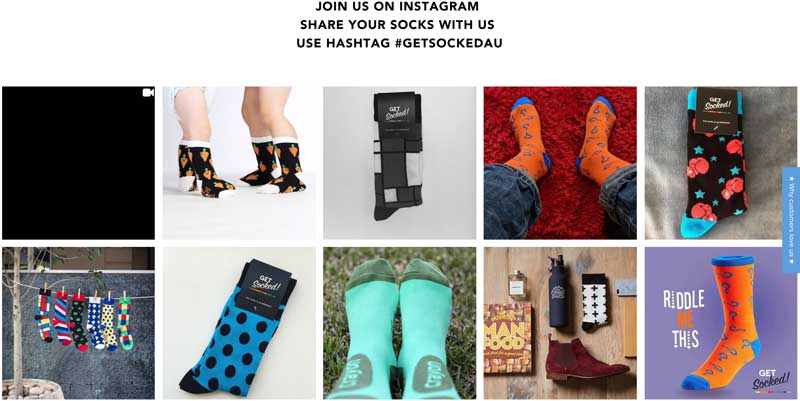 GetSocked is running their bamboo operation on Shopify with the help of MailMunch, Judge.Me, Instagram, Ako Retargeting for Facebook ads and Referral Candy.
"Abandoned carts are always one of the biggest issues when it comes to e-commerce. You know you have a product that someone wants since they added it to their cart but you still haven't convinced them to buy!"
Some strategies GetSocked uses to address abandoned carts are running discounts and sending abandoned cart emails. It wasn't until one day while GetSocked was studying the best of the best e-commerce sites when they noticed something they were missing out on.
"I wanted to emulate some of the best e-commerce sites in the world and noticed that they all seemed to use Fomo. We were lucky that we got into Fomo in the earlier stages of GetSocked.com.au and it has become a core app for us ever since."
Fomo, it's that hype and buzz you feel when you get recommended restaurants around town, so you go to try them since you don't want to miss out, only to realize your friends are wrong about everything. Conversely, you are then told to check out a movie to see, and you leave quite impressed. The fact that people trust the recommendations of others is a crucial marketing principle. Aptly named 'word of mouth marketing,' this is something to take note of since humans are continually going to listen to what their friends say to do or try.
The best way to capture and take this human phenomenon online is to create a way for your future customers to see what other customers are already doing on your site. From being able to display the most recent purchases to when someone subscribes to the email list, GetSocked loved this idea and got on board early.


The moment that GetSocked tried the free seven-day trial of Fomo their conversions increased instantly.
"Conversions increased from 2.4% to 4% the moment we ran the trial of Fomo."
Because of this, they haven't tried any Fomo competitors.
"No, no reason to. We are happy with the product and service. In business, it's all about relationships and not always about swapping providers just because they are "better" or cheaper. We know Fomo is working because of Google Analytics and money in bank account ;)"
GetSocked plans to keep selling killer socks and making their customers happy, and are satisfied with the way Fomo is.
GetSocked's has some parting words for those of you who are thinking about signing up for Fomo.
"If you run an e-commerce site then you need to consider using Fomo. Unless you are a competitor of ours, then don't use it!"
Sign up for Fomo here, or tell us how Fomo is helping your business here and we'll write about you, so don't miss out.