you ever have a great idea, but the perfect domain is taken?
we've all been there.
when Fomo launched, we irked at "usefomo.com".
it was the best alternative to other options we purchased:
fomo.blog
socialproofplugin.com
fomotoolbox.com
socialproof.org
but still, not great. "use" is amateur.
what's a domain worth?
in addition to virtual real estate, domains are the entry point to your brand and culture.
this implicates people too, not just websites.
for example, if i meet a promising designer at a networking event, there's a higher chance i'll get in touch if their email is a Gmail address, than designer-gal@hotmail.com.
Hotmail ruins job prospects.
similarly, when startup companies do business with larger enterprises, it's almost rude not to complement their status with a bit of your own.
prioritizing status
Fomo is a bootstrapped company; we don't have 18 months' runway to throw parties or acquire frivolous assets.
i tell the team: "every week is a bullet... we get 52 bullets a year..."
would it ever make sense for us to invest in a domain name? let's dig into our name's inspiration, Fear of Missing Out.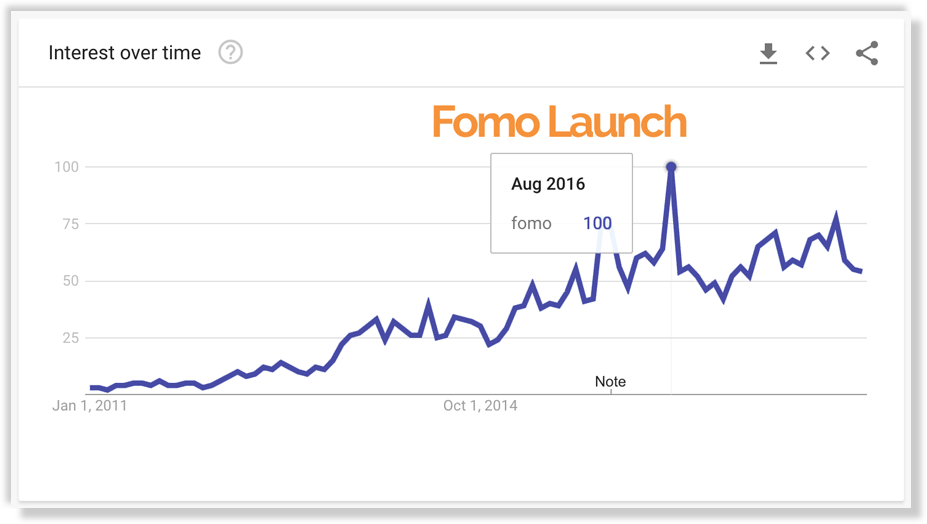 over the last 5 years, "Fomo" increased in popularity 100x, from an index of "1" to a peak "100" on the day we launched in August 2016.
no crystal ball here, but it's likely the underlying concept of Fomo, social proof, will continue gaining popularity for years to come.
making a deal
they say domains are like men -- all the good ones are taken.
this explains why i'm engaged and, why fomo.com was already a successful company years ago, when i thought girls had cooties.
so we did what all good guys do: followed up persistently.
last week, after 2.5 years of courtship, it worked.
future proofing
social proof isn't going anywhere, and neither are we.
starting today, it's not "FOMO" or "fomo" or "F.O.M.O," just Fomo.
as an expression of our vision to give honest entrepreneurs the credibility they deserve, we're proud to unveil our new home:
click it, i dare you.