How A Hair Loss Specialist Increased Click-Through Rates 80%
Meet Debbie Williams, a hair loss specialist, nutritionist and health and wellness coach based in Marietta, Georgia. Debbie launched a natural hair care line in April 2016 called Pure 7 Cosmeceuticals.
"I love my work, and I am very passionate about helping people, but to be honest with you, doing hair was never my dream job. However, back in 2004, I decided to open a salon. I really was clueless about what to do and was scared to death on how to build this business up."
"I was recently divorced and was determined to make a good life for my children and me. I took most of my savings and built a beautiful salon, but because of hiring the wrong people, and making bad decisions, the salon was not the success I wanted it to be."

"After a few years of spinning my wheels, I decided to sell the place. Around that same time, my oldest sister had been fighting and battling with Lupus. Over time she lost all of her hair. Not only did she lose her hair, but she also lost her self-esteem and confidence too."
"I felt so sad, and knew that I had to do something about it, and I went on a crusade to find a cure for her hair loss, and even for Lupus. On my journey, I discovered trichology (which is the study of hair and scalp disorders). This discovery opened up a whole new world to me. I traveled around the country to learn more and more."
Today, Debbie's hair clinic is a well known and recognized hair restoration center for women and men and was featured on Fox News and Good Day Atlanta.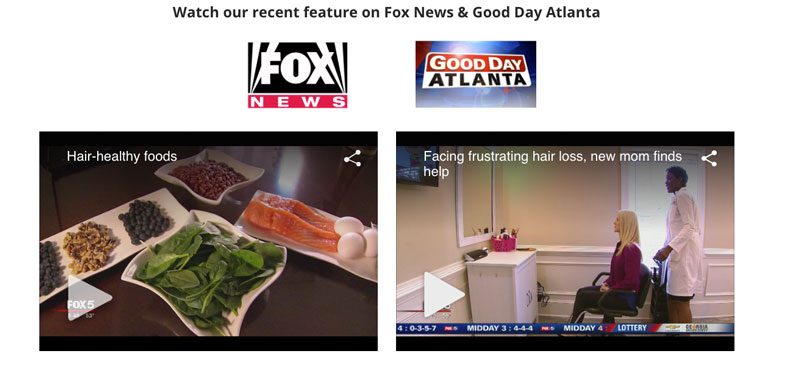 "Teaching people to understand that their health could be the cause of their hair loss problems makes me "tick."
Bold And Beautiful
Debbie is running her operation with the help of Wordpress. She is offering her consulting services as well as selling products. Helping to diagnose what could be wrong with a patient is already tricky enough. So trying to figure out why people are abandoning their carts isn't something Debbie wants to worry about.
Some of the tools in her arsenal for fixing this are Drip, Leadpages, Fomo, Leadquizzes, and Opt-in Monster. Specifically, she uses an opt-in to have customers sign up for discounts.
One of her favorite tools for increasing conversions is a mysterious little box she came across one day, called Fomo.
"I saw a Fomo notification in the left corner of a website that I was visiting. I loved the interaction."

"I installed Fomo because I know people will buy when they see that others are buying from me. It gives me credibility and social proof."
Debbie is using Fomo to display her current amount of site visitors, which helps them feel that they're not alone, and she can add as many integrations as she can imagine.
"I tried Fomo competitors at first. I chose Fomo because you were less expensive and you have great customer service."
Debbie is tracking her results with Fomo using the handy Fomo Dashboard.
"I check my Fomo Dashboard weekly. I've seen an 80% increase in click-through rates because of Fomo."
Visit Debbie's website to check out her products and visit Fomo for your free trial.