Annoying things about Fomo
inspired by Postmark, we polled our customers to learn what they don't like about Fomo.
more than 50 replies later, here's the deal.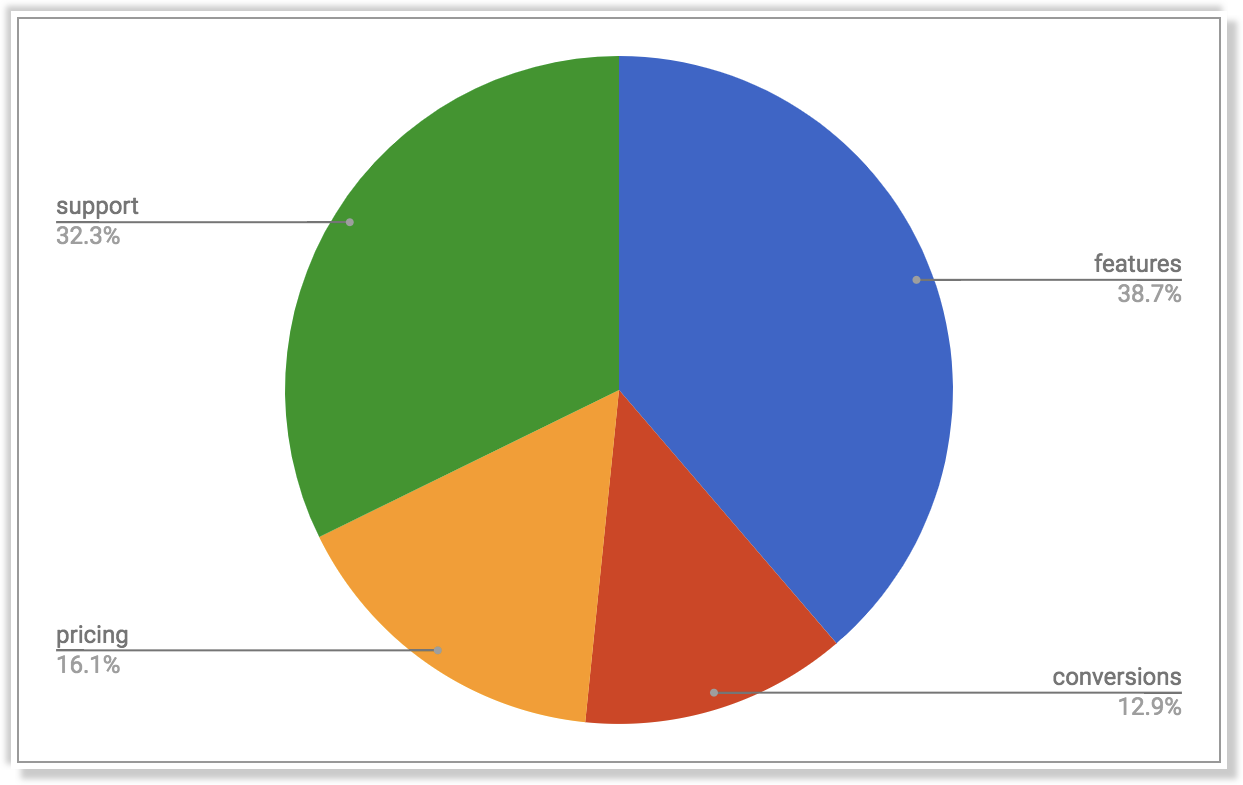 we reviewed and categorized each comment:
support
features
pricing
conversions
this helps quantify otherwise blocks of text, making the feedback more actionable.
below is our unedited reaction to the survey results, including verbatim feedback from Fomo customers.
what's annoying about Fomo?
support
with 2 full-time support engineers on the team, it was surprising that a third of all grievances were in this category.
that said, included comments range from "you don't send enough newsletters" and "you never use proper capitalization, so i cancelled."
if we ignore those outliers, only a few folks ("support is slow") have material issues with our customer service, which comes in many flavors: live chat, phone, email, help desk.
(recent improvement - last month we upgraded our support stack from Drift / Groove to Intercom, an all-in-one platform already absolving disparate chats and email threads between team members).
features
confession: this is the category i was most excited to digest.
every product team thinks they have great intuition about user needs, but it never hurts to get an anonymous gut check.
the only repeating comment in this category was about the look & feel of our notifications. our brand new theme builder takes care of these concerns, but only a few 100 users have switched to it.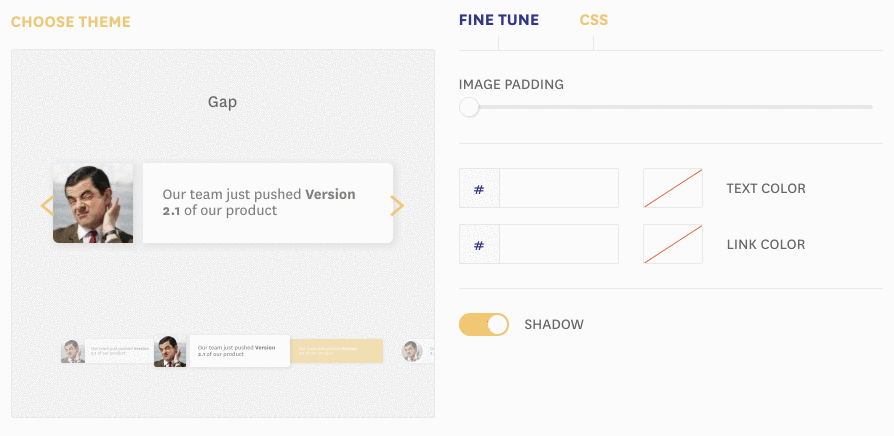 in other words, this feedback could also be categorized as support.
using our feature request framework, it's clear most concerns about our features are only experienced by 1-3% of our [power] users.
here's a good example:
"I would like to be able to have Fomo take the slowest moving items and mix one or two in with all of the other notifications showing products being purchased."
we call these "deep" features, with a "wide" feature being a new integration, or introducing Paypal as a billing option.

soon we'll offer more ways to prioritize various data streams connected to Fomo, but for now a ~mostly chronological feed is sufficient.
a large-scale example of this is Facebook vs Twitter: Facebook launched their algorithmic feed nearly 12 years ago (Sept 2006), yet Twitter was strictly reverse-chronological until ~1 year ago.
which is better? which is more authentic? are these qualities mutually exclusive?
pricing
nobody thinks Fomo is cheap.
we believe in charging less than you're worth, but rational players (business owners) will always prefer a better deal, and that's fair.
more on how we think about pricing:
a couple users also said Fomo is "too expensive for how simple it is..."
having raised prices 4 times in the past 1.5 years (but always grandfathering former tiers), i understand this sentiment too.
conversions
our final category tries to understand if customers are getting the metrics they need to justify continued service.
in a few cases users said things like "i have no way of knowing if Fomo is affecting conversions" or "mobile conversions dropped, turned it off for those visitors."
this feedback demonstrates we need to do a better job educating users (again, support) about how to navigate our dashboard, properly connect Google Analytics, configure UTM parameters, and determine an attribution strategy.
summary
the second question in our survey was an option to be emailed whenever a concern is addressed.
as an accountability check for that update, here's what we're hacking on over the next several weeks:
in-app notifications offering protips for advanced features
more frequent, but shorter, email newsletters
new Template filters for deeper message customizations
1-click "apply changes" for Fomo Insights

if you're a Fomo customer who wants to leave anonymous feedback for the team, our survey is still open.