Making A Splash With Fomo
Lagoon Designs creates handmade swimwear, jewelry, and clothing. Started in 2014 by Leah Sofia, she and her team create custom beachwear from recycled, up-cycled, and biodegradable materials.
Customers can build their own bikinis that are seamless and are reversible for multiple styles.
"As a handmade label, we strive to reduce our waste as much as possible. Our swimwear is made to order and made in small batches. We rarely have leftover inventory, which allows us to have very little to zero waste with production."

How did you start out?
"Lagoon Designs started in my garage as a summer project of creating, playing with inks, and screen-printing pineapples. Lagoon is independently run, meaning that I read all the emails, sew all the swimwear, screenprint the tees, and I am thankful for everyone who orders."
What are you doing to stand out in your field?
"We have played in up-cycled fabrics and recycled fabrics such as Econyl, which is a fiber that is made from 100% from post-consumer materials. We are constantly evolving our brand with better practices, new fabrics, and are never afraid to try something new."
"We also use a variety of fabrics designed by boss girl graphic designers and local fabrics. The Lagoon girl style is very laid back but also has a sporty feel. We love mixing in fun prints and a solid color for the perfect reversible bikini."
Who is your swimwear for?
"For the adventurous girl, the sun-seeker who is addicted to the water. Our swimwear is designed for the outdoors, for days of surfing, hiking, waterfall jumping, and sun-soaking."

What inspired your business?
"I guess you could say I've always had a wanderlust for tropical vibes. I love being inspired by adventure and the sea."
Tell us a little more about your business!
"We are a handmade swimwear label. We launched in 2014 and are headquartered in Santa Barbara, Ca, and Kauai, Hawaii. I started our business as a creative outlet, but it has evolved into an obsession of finding the perfect fitting bikini with fun prints, custom sizing, and flattering cuts."
What are some specific conversion-related problems you're experiencing?
"We have high traffic driven from Facebook and Instagram ads but low checkout conversion."
How did you learn about Fomo?
"From other retailers that I shop from, I thought it was a great idea."
Fomo is an app that can be installed on multiple e-commerce platforms that allows you to display sitewide live recent orders, recent email sign-ups, how many visitors are active on your website, and more.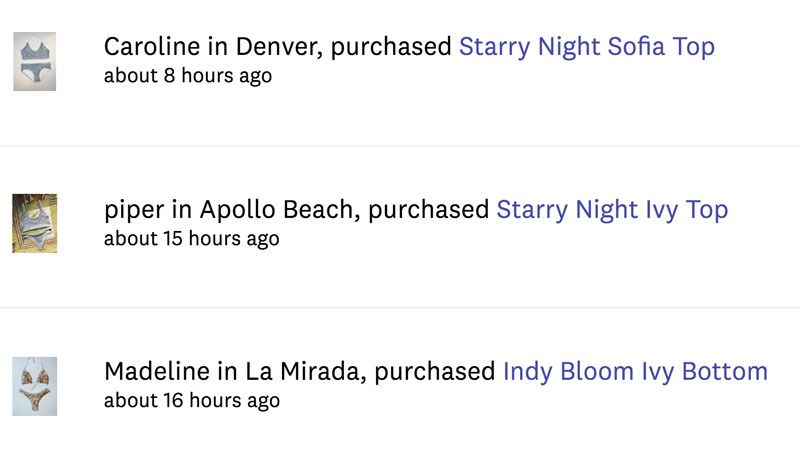 Why did you install Fomo?
"The idea of Fomo itself. It shows that other people are actually shopping from the site currently and gives a sense of urgency."
Have you used any Fomo competitors?
"Nope."
Lagoon Designs is using Fomo to showcase recent orders, including details like what they bought, their name, and where they ordered from.
You can do more than this too, as all of these options are customizable in your template settings.
How long have you been using Fomo?
"1-2 years."
What are some of your other favorite tools for increasing conversions?
"Affiliatly and the Swell Rewards program."
Affiliatly is an affiliate tracking software that lets you control and track the program from a browser. Swell Rewards, a Yotpo company, is an incentive-based marketing platform whose customizable software helps merchants build on-brand rewards and referral programs.

What do you want your customers to take away from your business? What are you genuinely selling?
"Lagoon Designs is a lifestyle brand inspired by the sea. Our goal is to get you outside, connect with mother nature, and run free."
Do you have any parting words?
"I'm thankful for all you gorgeous women out there rocking Lagoon and fulfilling your need to adventure and explore this beautiful world."
Thank you to Leah from Lagoon Designs for sharing her story on the Fomo blog. Check out her website and pick out something beautiful in time for this summer.
If you want to learn more and try Fomo for yourself, check out the Fomo site and start your 14-day free trial.
If you have your own Fomo story to share, share it with us here.