How a Children's Gifts Company Increased Click-Through Conversion Rates 65%
MyFairyTaleBooks is an award-winning Personalized Children's Gifts company owned and operated by Kelly Mistry since 2009, headquartered in Orange County, New York State. The company has won awards for two of their exclusive children's books.
Fast forward eight years, MyFairyTaleBooks is on a mission. Their focus is on fostering education, building self-esteem, and creating joy in children's lives by offering unique, personalized books, puzzles, and other products.
While on this mission to build children's self-esteem, MyFairyTaleBooks teamed up with PACER's National Bullying Prevention Center in 2013 as a PACER Champion partner to raise awareness.
Kelly explains:
"Parents, grandparents, and educators need valuable tools to combat bullying. We tackle this issue in a sensitive, age-appropriate manner in one of our exclusive storybooks, The Good Friend. The story at its core is one of friendship, what makes a good friend and how to instill strong character in children."
MyFairyTaleBooks stands firm in their belief that bullying must come to an end, and is actively donating 10% of all sales of The Good Friend to PACER to support anti-bullying initiatives.
Once upon a time…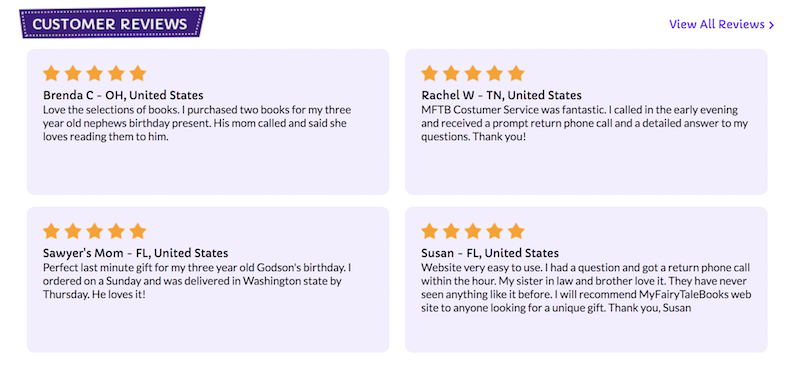 At MyFairyTaleBooks, gift giving is an art. The company values the thoughtfulness and energy exercised when one offers a personalized, unique gift.
"Children light up when they recognize their name in a story," the company says. They want to share this gift giving joy with as many children as possible.
But something wasn't working quite right.
A wolf on the horizon…
MyFairyTaleBooks had identified a problem. They succeeded in drawing people to their online book stand and had the books in their hands. But they began to notice that the customers were leaving. How could this be? The company began to seek out new solutions. Sadly, their attempts seemed futile, and things looked bleak. Suddenly, a light shone brightly at the end of the tunnel.
The knight in shining armor…
Upon browsing the BigCommerce app store, they discovered Fomo. Fomo is an e-commerce transparency tool that stands for fear of missing out.
Dinesh from MyFairyTaleBooks believes that Fomo is something that all shoppers have, and has personally experienced this when shopping online in the past. They thought it was a natural fit to implement Fomo on their site.
They saw that with a few clicks of a button, they could quickly implement Fomo, which appears toward the bottom of the screen of their shop.
Now, whenever someone visits MyFairyTaleBooks website, they'll be notified that someone else just made a similar purchase in a small notification like this:

Seeing this builds security within someone about to purchase an item to take the plunge with the reassurance of knowing that others are doing the same.
Additionally, this draws more attention to the store. Imagine, driving by a busy ice cream shop, with the line out the door, and then not thinking about a visit in the future! Crazy! Right?
It takes a village…
Other integrations MyFairyTaleBooks have implemented with Fomo aside from orders are BigCommerce product reviews, Shopper Approved product reviews, and Google Merchants product reviews.
Co-founder Dinesh explains:
"Fomo allows us to show our customers that we are a trustworthy active site by displaying customer reviews in real time. This, in turn, furthers our vision of becoming a trusted brand for Personalized Children's Books."
Happily ever after…
After tracking conversions with Google Analytics, MyFairyTaleBooks has come out on top and have seen a 65% increase in click-through conversion rate, directly related to products displayed in the Fomo feed.
MyFairyTaleBooks plans to continue using Fomo by setting up additional integrations, leveraging webhooks to pull in data from other sources and keep using the notification feed.
If you or someone you know is expecting a baby, then check out MyFairyTaleBooks' extensive collection.
If you feel that your store would benefit from the busy store effect, and the idea that you could give Fomo a try without having to lock into a long-term commitment, try Fomo today.