Paintvine Has $200,000 In Total Sales From Using Fomo! Take Note..
Paintvine is New Zealand's fastest growing paint & sip company. Based out of Auckland, New Zealand, their concept is simple; Drink, Paint, Just don't drink the paint! Paintvine runs weekly painting classes accompanied by wine in some of New Zealand's most iconic bars and restaurants.
Denym Bird had the idea to start Paintvine after visiting the US and crashing a painting and wine class while out at a bar.
Denym says,
"The spark of joy I experienced while painting was the first time I had felt that since I was a kid, it was incredible, and I knew I had to bring this unique concept back to NZ."
Denym teamed up with friends Alex Hamilton & Euan Lockie to launch Paintvine in the winter of 2017 with the goal of injecting more flavor into New Zealand's tired nightlife.
"I was excited by the idea of bringing the joy of creativity back into focus in our nightlife. I wanted something to compete with what you would normally do on a typical night out. Think about what other experiences you have where you create something unique, have a good time, and take it home to put on your wall to remember forever? They're far and few between."
"So I set up a Shopify website, found a bar who would take a punt on us, recruited an artist and threw up a few Facebook ads. After I sold out the first event in 5 days, I knew I had stumbled onto something unique."
Since then, Denym and his team have been able to scale Paintvine's weekly classes from one location in Auckland to over 11 locations across New Zealand in under two years. They are now hosting over 1,000+ new paint and sippers each month to become New Zealand's largest paint and sip company.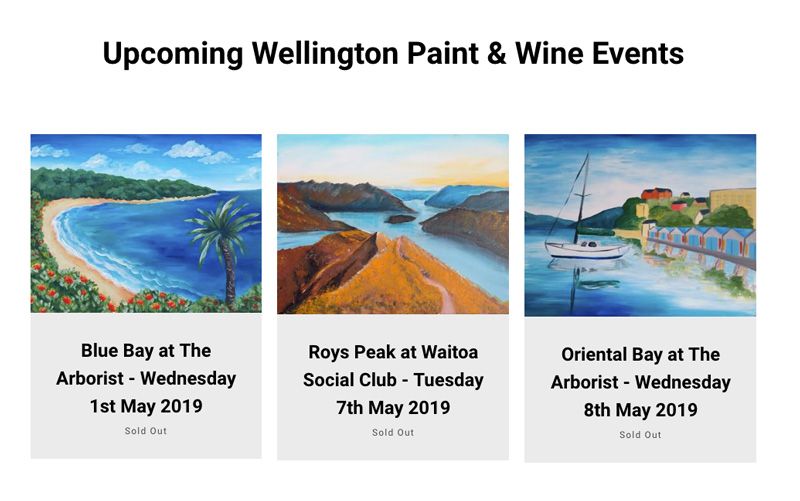 "Technology has always been a huge part of our success in scaling Paintvine. I've taken a very tech-first approach to scaling Paintvine from implementing on our store from the early days."
"Fomo has been a huge part of our success; social proof is one of the most powerful marketing tools we have as entrepreneurs. Finding an effective way to leverage it in the past has been difficult. Fomo has broken down those barriers to provide authentic social proof marketing that has helped me scale Paintvine to the heights we've achieved to date."
"As Paintvine grows and we focus on launching new and unique creative events to scale beyond $1M in revenue and beyond, I have no doubt Fomo will continue to fuel our success well into the future."
Unreal, let's get to know Paintvine in interview time!
Hey Denym. What are some of your other favorite apps?
"I'm a huge fan of Privy for capturing emails for our weekly mail outs, along with Shopper & Stock, and Remaining Counter to help drive even more Fomo on my products."
What problems were you facing when you started using Fomo?
"I was experiencing a high amount of abandoned carts, so we picked up Fomo very early on in our business to help generate FOMO."
How did you try fixing these problems?
"I set up automated emails after cart abandonment, but the cut through from these was modest at best. I needed a solution that helped reduce them from happening in the first place. Prevention vs. treatment."
How did you find Fomo?
"I was searching for social proof apps for Shopify stores and stumbled across Fomo, along with a few others, but Fomo won out as the best value across all of them. I was instantly impressed by the ease of setup of the tool, and then I fell in love with the authentic approach to marketing that they had from a company/brand point of view."

Did you try any competitors?
"I trial tested a few competitors, but none of them were able to match the ease of use, the number of integrations or the customization of Fomo. Hands down Fomo is the best value social proof tool out there. Perfect for e-commerce and perfect for my business."
How are you tracking Fomo's results?
"With Google Analytics."
What are the tangible results Fomo has had on your business?
"Fomo brought us $25,000 in extra sales in the last month and over $200,000 in total since we first started using Fomo. Fomo cut our cart abandonment rate in half."
What are your plans for the future?
"We are exploring the new integrations from reviews, NPS integration, and the newly announced animations!"
Thanks to Denym from Paintvine for chatting with us today. If you're in their area, check them out and give them a visit. If you're not near them, dust off those art supplies and crack open a bottle of wine and get your creativity rolling.
If you're ready to get your social proof rolling, try Fomo's free 14-day trial.