Simple Social Proof. That's it.
Modus Apparel and their team are dedicated to pursuing the best in innovation by blending the best fabrics and constructing each garment with one goal in mind: to be able to meet their customer's lifestyle at every turn.
With how busy everyone's lives are nowadays, you never know if you're going to go from leisure into work, or from work into the gym or whatever hectic turns your life might throw at you. Modus Apparel understands. They live it.
That is why they design, build, test, redesign, and launch quality products that will make it through anything you throw at it.
"Activewear isn't just meant for the gym. It's a fashion statement. It's a piece of you."
"Over the past year, Modus Apparel has been testing the market with quality and lifestyle adaptable products that you have all grown to love. Now is the time we take it to the next level and unveil what we've been working on behind closed doors."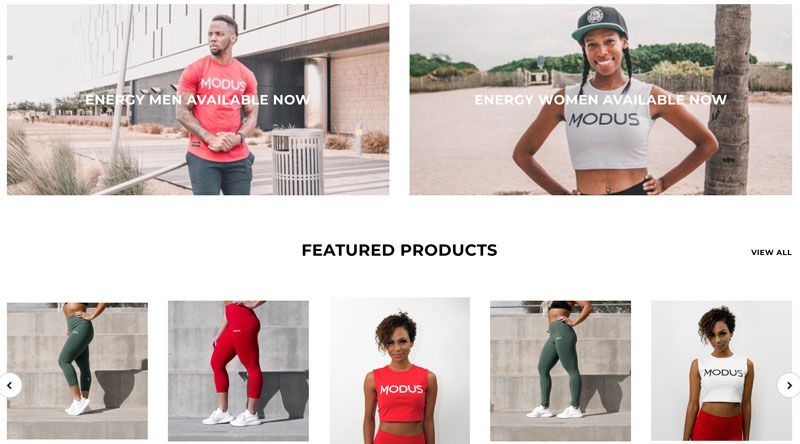 "We are innovating where one might not look or think about; we are evolving what industries have done for years and enhancing the way we look at activewear for years to come."
"We are Modus Apparel, and we will be bringing you nothing but the best in activewear that will meet your lifestyle at every turn."
When did you launch?
"Modus Apparel launched in late 2014 with the idea of bringing premium quality athleisure clothing at affordable price."
Where are you headquartered?
"We are located in Phoenix, AZ."
What do you love about your field?
"We love quality clothing, striving for success in fitness, and becoming the best version of ourselves."
What problems do you face while running your store?
"Abandoned carts have to be #1 because it is direct, precise, and on point. Also, low social media engagement."
In what ways have you tried to address this?
"MailChimp campaigns and Messenger bot."
How did you find Fomo?
"We stumbled upon it among Shopify related apps with high reviews."
What did you like about it?
"It's non-invasive, it shows real proof of purchases by clients, and it has easy integration. Fomo is the only social proof app we're familiar with."

How are you tracking Fomo's results?
"To be honest, we don't actively track Fomo conversions, but it feels good to get an email once in a while that states how many times a link was clicked. We recently got ten clicks, which is not much, but for the first time in almost one year, it's something."
"We look at Fomo as only a notification on screen that shows recent customer purchases. That is about it. We'd like to know more details about tracking! We are certainly keeping the app synced with Shopify."
Thanks to Modus Apparel for speaking with us today.
If you're looking for clothing to make it through whatever your days have in store for you, support their store and buy an item.
If you want to give Fomo a try on your store to boost your conversions or just to have social proof, check out our free 14-day trial and see the results for yourself.