How A Smart Wallet Company Boosted Conversion Rates 2%
Ekster®, the world's largest smart wallet brand, provides innovative solutions for organized access and safeguarding daily accessories stylishly.
Ekster set out to design the perfect trackable wallet that conforms to the fast-moving modern world's standards. It's an ultra-slim trackable solar powered smart wallet with instant card access.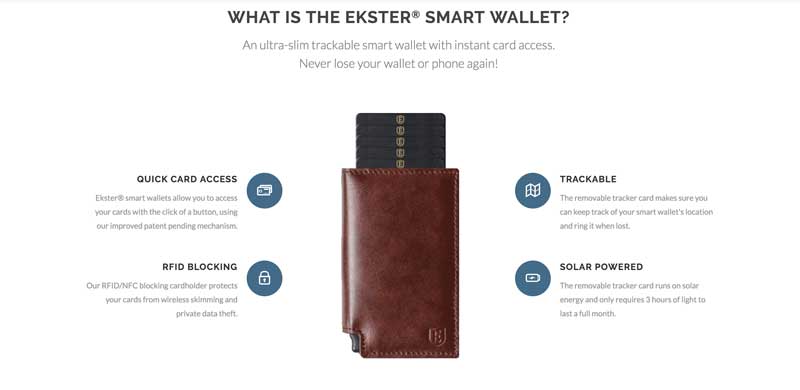 Where'd I Put It? I Just Had It...
Several pains and trends in the market led to the invention of their smart wallet with a look at the future. Security issues, bulky wallets, NFC payments and too much fidgeting are all reasons why they decided to make a change in this industry.
After the successful launch of Ekster's smart wallets for men, their technology has paved the way for many more smart products to come.
Ekster currently has offices in Amsterdam and New York and sells online worldwide.
Opening Tracking App...
Selling online comes with its own set of challenges. Getting people to the site is no problem, but getting them to follow through with what they decide to purchase is another. Increasing the click-to-checkout ratio as well as decreasing the number of abandoned carts are some of the problems for Ekster. Some of Ekster's favorite tools for increasing conversions are Hotjar, Analytics, judge.me, and helpflow.
But what else could there be?
Locating Your Wallet...
Thanks to Ekster's advertising guru Jake Spear, Ekster tried a number of different strategies to improve conversion rates. Eventually, the team decided to give Fomo a try.
They saw that Fomo would give their store a healthy stream of live notifications by displaying them on the corner of their site with the action of their choosing. There's a lot to choose from since Fomo can integrate with 1,000+ applications.



Ekster currently has the Shopify (purchases made in real time) and judge.me (reviews left in real time) integrations setup. Other examples of what can be displayed are someone subscribing to an email list, an image posted on Instagram, amount of viewers on the website, etc. See the magic for yourself.
What Does This All Mean...
What this does is engages the customer with the store. They can see what is happening in real time and build trust that others are visiting (and purchasing too). This is the power of social proof. It's like walking by a busy restaurant and not assuming it's delicious. No, you'll probably start to think about going there sometime.
Why? Because it's human nature to experience fear of missing out on something that everyone else around you is enjoying. This can encourage people on the fence to purchase because "everyone else is doing it." Additionally, this will allow your customers to start marketing to future customers with their purchases.
Still Searching...
After tracking conversions through the Fomo platform, the Ekster team was pleased to see that the simple addition of Fomo Feed increased conversions by a rate of 2%. That may not seem like much, but given the fact that it takes seconds to activate and runs entirely without effort, it's a boost anyone would be happy with.
We Found Your Wallet…
Olivier, head of marketing and sales at Ekster says:
"Fomo looks better than competitors, and works better than competitors!"
Ekster plans to continue using Fomo and is also excited to try out some of the new features and integrations.
Want to see your company featured on the Social Proof blog? Tell us about your business, and we'll be in touch soon.