The Story Behind Board Blazer's 50% Monthly Revenue Increase
Today we're sitting down with Greg Rudolph of Board Blazers, maker of LED underglow skateboard lights.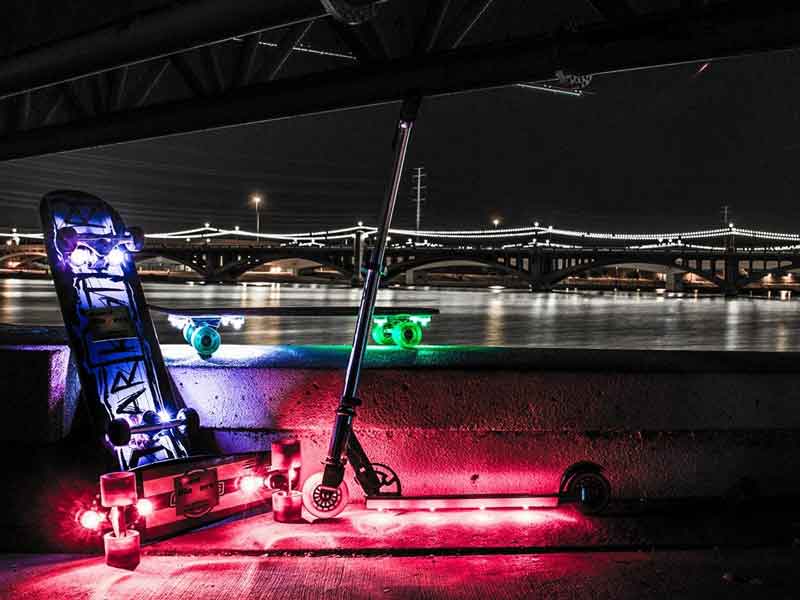 Hey Greg, how did Board Blazers begin?
"One night at Arizona State University in 2011, I spotted a student who had duct-taped Christmas lights to his skateboard, riding around the campus. It inspired me and gave me the idea for Board Blazers LED Underglow Board Lights. I risked most of my savings and started the company at age 20 in March 2012 from my parents' garage in SoCal. Since then, the company has become a lot more than the summer job I'd initially hoped!"
Board Blazers is built on the Shopify selling platform. The best thing about selling products online is all of the options for apps to use to make it easier.
What are your favorite apps, besides Fomo of course? ;)
"We love many of the Bold Commerce apps: Quantity Breaks (get two sets for $35!) and Product Upsell (popups after adding to cart) are two of our favorites. We also can't recommend Splitly enough for Amazon sellers!"
What challenges do you face in your business?
"Our blog is for skaters and their parents. We have topics ranging from easy skate tricks to teaching kids how to get jobs in skateboarding so we get a ton of traffic to our site. Converting these visitors into shoppers is a challenge though, which is where Fomo shines. It helps us to turn our blog into a conversion machine by engaging customers with the other content we're creating. Before finding Fomo, we relied on constant email collection popups. It turned out this only added a step to the conversion funnel though because we'd email out the content that now appears automatically with Fomo. Nothing has been more effective than just sharing the photos our skate crew posts, automatically through the software."
How did you find Fomo?
"Like many things, we just Googled it! Fomo was easy to integrate with our site, so we didn't have to get a developer involved. The deep customization options also gave us confidence that we could match the appearance of every notification to the look of our site. We didn't want to use a stock style that wasn't seamless."

Did you try any Fomo competitors?
"We considered using Proof, but it was significantly more expensive. There are a few budget competitors, but they have low caps on the number of monthly visitors. Plus, I prefer phone calls to emails, and Fomo's unlimited free phone support is a significant bonus!"
How are you tracking your Fomo results?
"Fomo provides a helpful Dashboard that mostly fits our needs. Beyond that, we use Google Analytics to monitor site speed, popular pages, and more detailed conversion tracking."
How has Fomo helped your business? Give us numbers!
"For us, the value of Fomo comes from sharing our social content. Once people see how cool the lights look, they're much more likely to buy (or ask for Board Blazers as a gift). Monthly revenue has increased 51% since using Fomo – and has grown steadily every month! Our conversion rate has also increased by 27% since adding Fomo, a sign we're achieving the goal of converting more blog visitors to customers."
What are you looking to do with Fomo on the horizon?
"We hope to add more social integrations soon so we can share more content with visitors. We just launched a Pinterest page, so as soon as an integration is ready, we'll be the first on board! (pun intended)"
Greg's closing words for those looking at using Fomo:
"Fomo provides social proof that we're an active, thriving company. A static website can seem sketchy, like "am I actually going to get my stuff?" Fomo gives shoppers confidence that there's a real group of people behind the brand, so they feel like they're joining our skate crew, not just typing in their credit card and hoping something shows up in the mail. Displaying recent content gives Board Blazers personality, and Fomo helps us share the stoke with people browsing our blog."