The Importance Of Social Proof For New Companies
Om Vapors was founded in December 2014 with a simple mission; to make quality, well-tested e-liquid that doesn't break the bank. All of their e-liquids are carefully crafted to ensure that they provide their customers with the most delicious experience possible.
In addition to this, none of their flavors contain sweeteners, and only their tobacco flavors contain trace amounts of di-ketones, the rest are di-ketone free with testing results available at the bottom of their site. Om's flavorings are sourced strictly from the USA and Europe.
"All of our E-liquids are mixed and bottled in a 400 square foot, clean laboratory environment with 2,000 CFM of airflow."
Vaping vs. Smoking
Vaping is a huge trend. Many are even finding that they are starting to prefer vaping over physical burning for smoking.
Of course, new things always need time to run their course to get full evaluations of their health impacts. However, just the simple fact that there are a small number of compounds in vape juice compared to traditional cigarettes is shocking and hopeful.
Interview: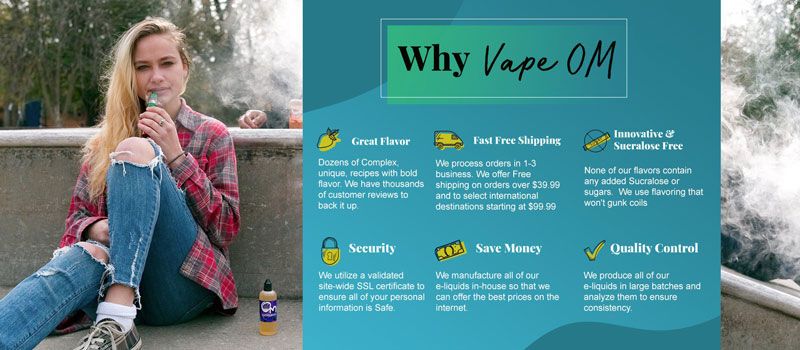 Tell us about your brand!
"Our brand is Om Vapors. We manufacture over 70 varieties of e-liquid. We are based in Nicholasville, KY and our company was founded on October 20, 2014. We started our business to help smokers transition from traditional tobacco products to vaping."
What inspired you to start the business?
"Coming from a family of smokers and being exposed to smoke during my childhood helped prompt me to want to change the world!"
What apps do you like?
"Fomo is definitely great. We use Yotpo for customer reviews. We also use Privy and Mailchimp to build our mailing lists."
What is the biggest challenge you face in your business?
"Low click to checkout may be our biggest problem with new customers."
What have you tried so far to combat this?
"We tried to work with Beeketing; however, they were a Shopify only platform."
How did you find Fomo?
"We found Fomo through a Google Search."
Why Fomo? What prompted you to move forward with it? 
"We liked Fomo's pricing and detailed analytics. We chose Fomo because of the good reviews. It was also one of the few customer notification tools that worked with 3dcart."
How are you tracking the results of Fomo?
"Through the Fomo dashboard and Google Analytics."

What results have you had so far? 
"The Fomo notification has a CTR currently of around 2-3%. Fomo has definitely helped increase our engagement on the site."
Do you have any plans to use Fomo in new ways?
"We plan on using it as is and showcasing our social proof to returning and new customers."
Thanks to Om Vapors for chatting with us today.
A parting note from Om:
"With dozens of delicious, affordable flavors you will be sure to find several all day vapes! When you shop with Om, you don't have to worry about your wallet, and you can rest assured that your e-liquid will be top notch! Breathe Easy."
Visit Fomo's website to check out the details for yourself. Sign up for the seven day free trial, and see what results you get.