Thousands In Extra Sales Thanks To Fomo
The Crystal Elephant is an online handmade jewelry shop specializing in bracelets made of crystals.
Danielle, founder of The Crystal Elephant, says that the elephant represents power, strength, wisdom, luck, intelligence, and determination.
"All our crystal jewelry is handmade using genuine stones and crystals from artists around the world. Our buyers can use them in their meditation practice, wear them to help in healing and to manifest their power, and wear them to experience the crystal's special properties all day."
The Crystal Elephant also runs a blog highlighting what makes each crystal unique. Customers can also find an in-depth care guide for caring for their jewelry.
"We hope that our crystal jewelry will help our customers manifest their dreams and find balance in their life."

Tell us about your brand! When did you launch, where are you headquartered, what moved you to start your business?
"In the aftermath of a devastating loss, I found comfort and healing through crystals. My husband and I were walking around town and discovered a crystal store one day. They had a huge selection of crystal beads for making bracelets. We made each other a bracelet and have been hooked on crystals and crystal jewelry since."
"I started making them for my friends and family, and they loved them. I wanted to share that with more people, so I started TheCrystalElephant.com in 2020."
"It wasn't my plan to start a company during a pandemic, but people found comfort in wearing them. My customers have told me that they help with stress and coping with tough times. They bring them good luck and give them hope."
What are some of your other favorite apps/tools for increasing conversions?
"Some tools I use for conversions are a Spin The Wheel email pop-up made by Privy and Stamped reviews for social proof. I use a bump offer tool that gives a discount on a product at checkout to increase my average order value. I've used other social proof tools, but I really like using Fomo."

What are a few specific conversion-related problems you're experiencing?
"I would like to decrease abandoned carts and increase my average order value."
What other strategies did you try in order to address those issues before using Fomo?
"I'm concentrated on getting more reviews right now, so people trust my site and products. I added abandoned cart emails and added offers at checkout."
Fomo is a social proof notification tool that displays real-time data on your store, ranging from recent sales, email sign-ups, and reviews. We probably sync with your favorite apps. Check if we do here.
How did you learn about Fomo?
"I searched Google for a new social proof tool because I wasn't happy with the one I was using."
What prompted you to move forward with Fomo?
"I liked how it looked, the flexibility of making it look how I wanted, and the analytics, so I could see what was working."
Have you tried any of our competitors? If so, why did you choose Fomo instead?
"I tried another social proof pop-up but didn't like it because I couldn't prevent it from popping up at checkout or change the way it looked. It didn't have analytics either, so I couldn't see what was working."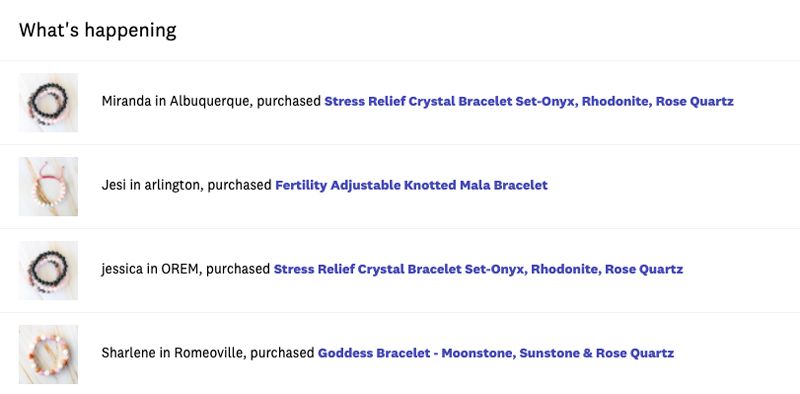 How are you tracking Fomo conversions?
"I use Google Analytics and the Fomo dashboard."
Can you share some of the ROI of how using Fomo has benefited your business?
"Fomo has contributed to thousands of dollars in extra sales. The e-commerce conversion rate for anyone who clicks on Fomo is well above our average at 6.9%. It's paid for itself several times over."
Do you have any changes you'd like to see made with Fomo? Any ideas for the team?
"Not at this time."
How long have you been using Fomo?
"Since September 2021."

Thanks to Danielle for sharing her story on the Fomo Fomo blog. If you're interested in the healing power of crystals, give her store a visit.
If you're a business owner and haven't experienced the powerful effect of social proof on your store, give our 14-day free trial a test. If you have experienced the power of Fomo, share your story with us here.