Cathe's 1k+ Fomo Clicks Per Month
In 1988, Cathe Friedrich and Chris Williams founded Step N Motion Videos, now known as Cathe dot Com. They were the first to sell fitness videos online, and now Cathe.com is one of the best-known fitness DVD and video sites on the web.
Cathe Friedrich is a certified professional group fitness instructor who has been teaching fitness classes for over 30 years. Cathe has over 20,000 hours of teaching experience and still works almost every day at her Gym in New Jersey where she continues to do what she loves — teach group fitness classes and help as many people as possible reach their fitness goals.
Cathe started producing these exercise videos about 30 years ago with the goal of bringing the same quality gym workouts her clients get at her club for them to enjoy in the home exercise market. Today, Cathe has produced nearly 600 workout videos, and she is excited to share them all with you on her new Cathe OnDemand and Cathe Live streaming channels and exercise DVDs.
Where is Cathe dot Com located?
"Cathe dot Com is located in Glassboro, New Jersey, and is part of our other business – our Gym Four Seasons Fitness. This 60,000 sq ft facility features one of the best-equipped health clubs in the USA along with a world class 6,000 sq ft filming studio where we film all of our own workouts. All warehouse, shipping, editing, graphics, web design, and offices are located on site offering a one of a kind, total production facility."
What is Cathe's primary goal?
"Cathe dot Com's mission is to provide customers a health club quality workout in the privacy of their own homes, never forgetting Cathe's three guiding principles: Professionalism, Passion, and Quality – No gimmicks! – No magic pills or powders! – Just real fitness!"
What's your Golden Rule?
"We retain a tight control on our brand following our Golden Rule: if you want a job done right – do it yourself! From video production and web design to shipping, we do almost everything in-house."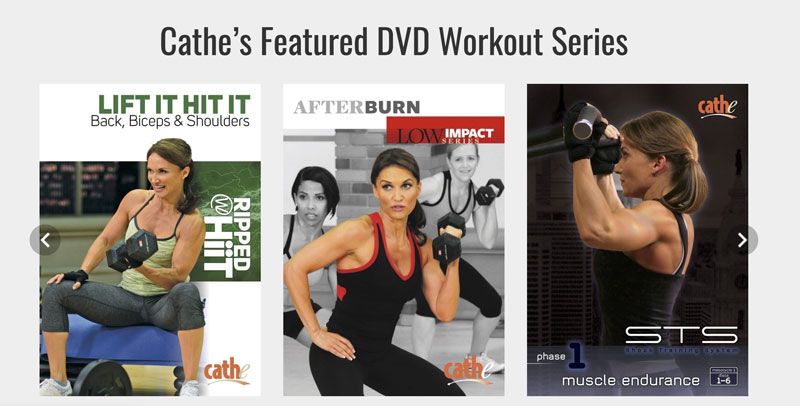 What are your favorite apps?
"Fomo, Optin-Monster, Trust Spot, Thrive Architect, Thrive Leads, Newsletter (Mailchimp), Forums (Xenforo), Woobox polls, Live Chat, Pinterest, Facebook, and Instagram."
What problems do you face in your business?
"We spend a lot of time researching, writing and publishing fitness, health, weight loss, and nutrition-related articles on our site. By providing great content and free information to users, we hope this will drive traffic to our website, and we hope readers will eventually become customers and purchase either our DVDs or subscribe to our streaming channels. Since our site is very large with over 100,000 pages, converting people from "reading" an article to "purchasing" a product is not easy to do without seeming to be too pushy or fake."
What steps have you taken to help this?
"In the past, we pretty much relied on our "right-side-bar" banner ads on our article pages to convert readers into customers. Though this did work in the beginning, through the years, readers seemed to have developed "banner blindness," and this is no longer an effective conversion tool for us."
How did you find Fomo?
"I was doing some online reading and research regarding social proofing, and I came across some Fomo posts in some of my searches on Google. I was already familiar with this type of a tool, but not Fomo."
Why did you move forward with Fomo?
"I think it was because most of the other similar products only worked in WordPress and we wanted something that works on other parts of our website too, like our Volusion shopping cart. We also wanted something that wasn't too 'loud' or 'intrusive,' and we felt the Fomo design was just what we were looking for."

Did you try any of our competitors?
"I did look at and downloaded 'Proven' but quickly learned after installing it that had some limitations that wouldn't work for our site."
How are you tracking Fomo's results?
"We do look at our dashboard occasionally, but mainly look at our weekly Fomo summary emails."
What results have you had with Fomo?
"We're averaging over 1,000 clicks per month from Fomo, all of which are directed to our Cathe OnDemand and Cathe Live streaming sites. The cost of these clicks is a small fraction of what we would have to pay to get the same result with paid advertising."
What are your plans for using Fomo in the future?
"Our current plans are to keep using Fomo the same way we are now. It's working, so why it change it?"
Thanks to Cathe for chatting with us today. With an impressive track record, hop on over to her site and spice up your workout routine with her content. You can search her entire library of over 3,000 fitness, health, nutrition, and weight loss articles.
If you are ready to get started using Fomo on your store, head-on over to Fomo's site to start a 14-day free trial.