20% Increase In Click Through Conversion Rate From Fomo
Heather Monahan is confident.
Heather says taking baby steps everyday towards our goals will help us build the confidence muscles we need to pursue our dreams.
Heather is a confidence expert and has a lineup of courses, books, and a podcast all while speaking and coaching.
Heather climbed the corporate ladder and was one of the few women to break through the glass ceiling and become apart of the C-suite club.
As a Chief Revenue Officer in Media, Heather Monahan received a "Glass Ceiling" Award and was named one of the "Most Influential Women in Radio" in 2017. Thrive Global named her a "Limit Breaking Female Founder" in 2018.
Heather's book "Confidence Creator" shot to #1 on Amazon's Business Biographies and Business Motivation lists the first week it debuted on Amazon.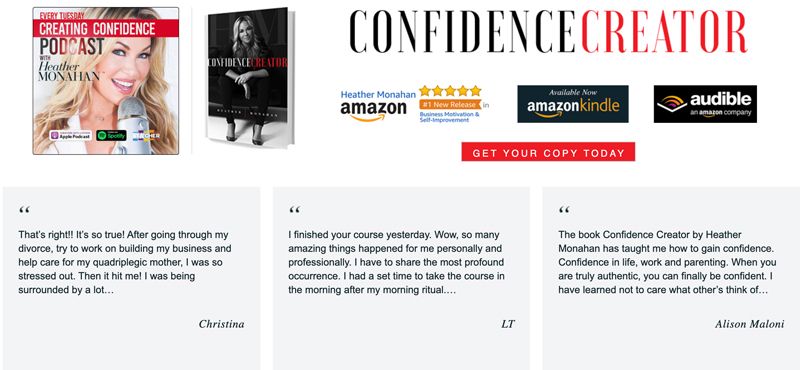 Tell us about your brand! When did you launch, where are you headquartered, what moved you to start your business?
"Four years ago, when I was still a CRO in corporate America, I decided I wanted to launch a personal brand to show others that they too could reach the C-suite and achieve their goals."
"One year after launching my brand on the side, the company I worked for fired me. They were intimidated by my initiative and told me to shut it down. I knew that what I was doing was good, and I refused to shut it down. I was devastated and didn't know how I would make money or what I would do to pay my bills."
"After many tears, I decided if I was going to roll the dice and start over somewhere, I might as well roll the dice on myself. That is when I wrote and self-published my first book "Confidence Creator." That book "trumped" Trump for #1 on the Business Biography list on Amazon. I then went online to research the best way to sell books, and it said to speak."
"For 20 years in my previous role, I had spoken for countless events, but I had no idea it was a business I could be compensated for. I started cold calling companies to pitch myself to speak to promote my book only to find that they would pay me. I delivered my first TEDx talk, which was promoted to TED and translated into six different languages."
"My speaking career took off until the pandemic hit. I knew I needed to reinvent myself yet again, so I went to my DM's on LinkedIn and looked to see what people asked me for that I could charge for virtually. There it was."
"They were asking me for coaching and consulting, so I put a post up on LinkedIn, offering my first ever coaching program in May. Over the last seven months, my virtual speaking business, podcast, and coaching business have taken off. While I miss meeting people and speaking at events in person, the Zoom solution has helped me to learn so much about the value we all can provide others remotely."
What are some of your other favorite apps and tools for increasing conversions?
"Zapier has been a great tool to connect my social media outlets and allow for posting to multiple platforms simultaneously. I can connect my Calendly to my Zoom and my Zoom to my PayPal. Shopify is a great site to facilitate conversions and provide analytics."
What are a few conversion-related problems you're experiencing?
"Low click to checkout has been an ongoing problem. Not much time spent on page has been another issue."
What other strategies did you try to address those issues before using Fomo?
"I have tried it all! I have tried changing site copy, targeting different audiences, and trying different customer acquisition strategies."
How did you learn about Fomo?
"Researching solutions online."
What prompted you to move forward with Fomo?
"We live in a review and recommendation world, and while I preach this to clients and I am always asking for testimonials, I didn't have enough social proof on my site or at least visible to the end-user."
"People do business with those they know, like, and trust, and I knew that my users would feel more comfortable with me if they saw that others trusted me too."

How are you tracking Fomo conversions?
"Through site analytics."
Please share some of the results of using Fomo on your business.
"My click-through conversion rate has increased 20% since launching Fomo."
Do you have any changes you'd like to see made with Fomo? Any ideas for the team?
"Continue to innovate!"
How long have you been using Fomo?
"6 months."
What is one thing you want customers to take away from your business? What are you truly selling?
"Confidence! I want others to learn how to create confidence for themselves in their lives and their business."
Do you have any advice for other Fomo users?
"Get started today! If yesterday was the right time to start, today is the only time."
Thanks to Heather Monahan for sharing her story with us on the Fomo blog. If you're ready to build your confidence, header over to her site.
If you haven't tried Fomo yet on your store, what are you waiting for? Get confident and try out our free trial today.