An Extra $3k In Fomo-Led Sales
With so many health supplements on the market, it can be overwhelming to choose. How do you know which supplements are healthy, safe, and good quality?
That's why HugeSupplements was created.
HugeSupplements launched in 2019 and is still a relatively new company in a competitive and explosively growing industry.
"Our vision is to provide serious athletes with properly formulated, innovative supplements that have been backed by science. Our products undergo extensive testing and research to make sure they deliver significant effects and results. We haven't cut corners when it comes to product formulation, which will show when it comes to results."
"Whether the customer's goal is to build lean muscle, increase strength, or lose body fat, our products can help customers accelerate the rate at which they reach those goals. We continue to strive for perfection by improving existing formulas, creating new products, and giving our customers a great experience when shopping with us."
HugeSupplements also shares essential information such as workout guides, nutrition, and health tips on their blog.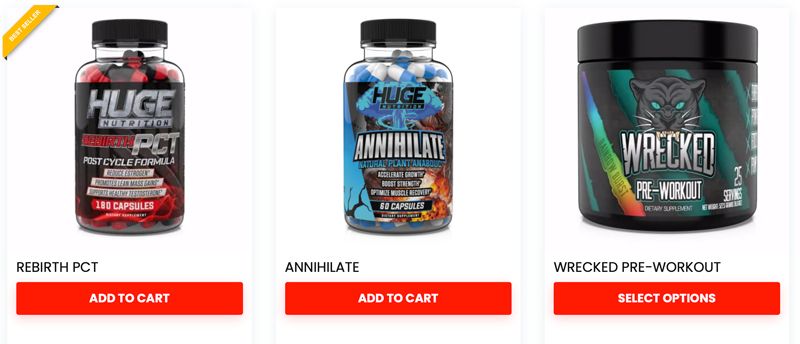 Tell us about your brand! When did you launch, what moved you to start your business?
"We are a supplement company that is focused on providing high-quality supplements for bodybuilders and fitness enthusiasts. We started this company in January 2020 and have seen massive growth and positive feedback. HugeSupplements stands for transparency and, overall, providing products that work."
What are some of your favorite tools for increasing conversions?
"Our website is built on WordPress and WooCommerce and therefore has many different options to increase conversions. Other tools we use are, for example, Yotpo, Mailchimp, Google Analytics, and Fomo. Most things we do are built from scratch and on-site."
Do you have specific conversion-related problems you're experiencing?
"Well, we are converting at 3% sitewide right now, which is pretty good, looking at the industry average."
"The main issue we have, since we still are a young company, is trust and authority. So, we tried to solve this problem by collecting as many real reviews as we possibly can."
Fomo delivers real time notifications on your storefront allowing customers to see your activity in real time, much like a real store.

How did you learn about Fomo?
"We already noticed a trend in e-commerce with pop-up messages of real customer purchases and reviews. So, we just searched for the best possible tool, and we came across Fomo pretty fast."
What prompted you to move forward with Fomo?
"Well, it's a very good tool to increase conversions, but Fomo is also very easy to install and it looks very good on your website. Fomo also has some pretty good insights marketing-wise."
Have you tried any of our competitors? If so, why did you choose Fomo instead?
"Yes, however, I can't remember which one. We tried one that didn't work very well with our WooCommerce system and didn't look as good as Fomo."
How are you tracking Fomo conversions?
"Through Google Analytics."
Please share some of the results you've had from using Fomo on your website.
"Back in April, we had a conversion rate of 2.62%, and in September, we had a conversion rate of 2.93%. In April, we didn't use Fomo, so the conversion increase could be due to Fomo."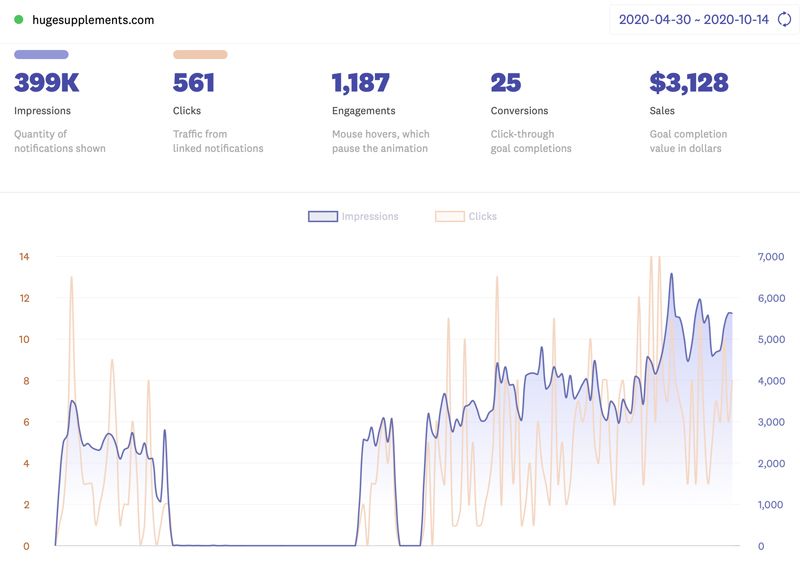 Do you have any changes you'd like to see made with Fomo? Any ideas for the team?
"No, not right now."
Do you have any advice for other Fomo users?
"Start using it today!"
How long have you been using Fomo?
"A couple of months now."
Many thanks to HugeSupplements for sharing their story on the Fomo blog.
If you're looking at getting into shape this year, make sure to give HugeSupplements a visit to help you on your journey.
If you're looking to boost sales on your store with social proof, make sure to join Fomo's 14-day free trial today. If you have a Fomo story to share, share it with us here.