Lowering Bounce Rates and Increasing Sales After Installing Fomo
Not Just Toyz L.L.C. specializes in brand new action figures, toys and collectibles. Not Just Toyz supplies brands such as Mattel, N.E.C.A., Hasbro, Bandai, Jakks Pacific, Funko, and many more.
Not Just Toyz carries characters from Masters Of The Universe, ThunderCats, Cabbage Patch Kids, Gremlins, Muppets, Batman, Marvel, DC Comics, and more!
Not Just Toyz offers a 30 day return policy on all of their toys.
"You may return items for a full refund, excluding shipping fees, within 30 days of receipt. Items must be returned in the same package they were shipped in, along with all packing materials."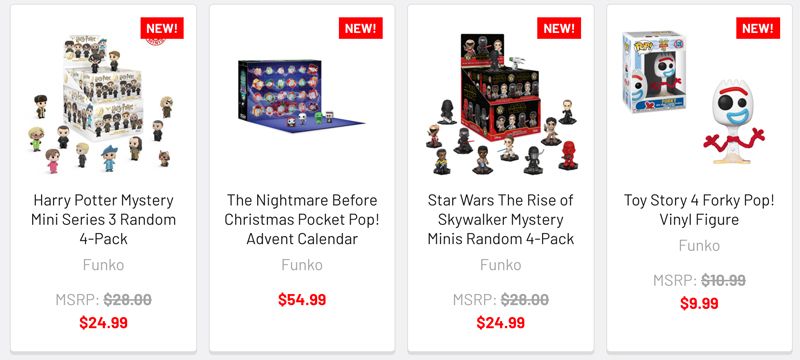 All items sold at Not Just Toyz are brand new in their original packaging.
Tell us about your brand! When did you launch, where are you headquartered, what moved you to start your business?
"I started collecting toys back in 1995 in my teenage years, and it became a passion of mine. After eight years, I ventured into selling products on eBay, capitalizing on the growing e-commerce space, and eventually decided to open up Not Just Toyz in 2009."
"We are headquartered in Bethlehem, PA."
What are some of your other favorite tools for increasing conversions?
"I have tried many different tools since launching the store but have only seen consistent success from tools such as Google Shopping, CM Commerce (formerly Conversio), Smile.io, and Fomo."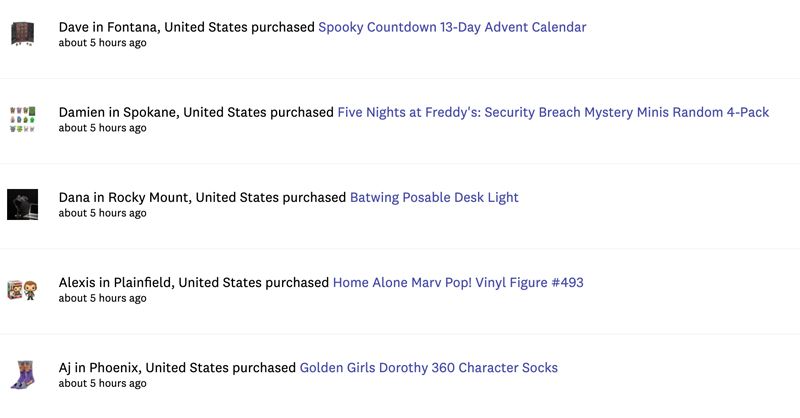 What are a couple of specific conversion-related problems you're experiencing?
"Abandoned carts are probably the number one problem across many e-commerce sites, but the two I experience the most trouble with are:
1) Brand awareness/Customer trust - convincing first-time visitors that making purchases through the site is safe, secure, and will exceed customer expectations.
2) Shipping costs - In a world where free shipping is the norm, we do not have the luxury of offering that same level of service. We offer flat rate shipping across the United States. However, costs are variable based on location. Identifying the right way to either message customers or account for the prices has been a tricky problem to solve."
What other strategies did you try to address those issues before using Fomo?
"To help address customer trust, we implemented a few strategies:
1) Collecting reviews - allowed for customers to see and give feedback on their experiences from shopping with Not Just Toyz.
2) Launching a rewards program - to encourage repeat purchases and build brand loyalty.
3) Personalized email marketing - to keep users engaged and aware of new products and listings catered to their interests."
How did you learn about Fomo?
"We use BigCommerce as our e-commerce platform, and we discovered the app via the BigCommerce Marketplace."

What prompted you to move forward with Fomo?
"Going back to the topic of building trust for first time users, promoting real-time customer purchases seemed like a great strategy to help drive new customer conversions."
Have you tried any of our competitors? If so, why did you choose Fomo instead?
"I have not, but given the success of using Fomo, I don't see a reason in trying them."
How are you tracking Fomo conversions?
"Fomo makes it extremely easy to link our Google Analytics account where we track conversions."

Please share some of the results of how using Fomo has benefited your business.
"We saw positive results across many of the metrics we monitor compared to the averages we see across all of our acquisition sources:
1) Bounce Rate - 40% lower than the average
2) Time Spent - 300% higher than the average
3) Pages per session - 158% higher than the average
4) Conversion Rate - 300% higher than average
"We are still working on optimizing the total number of users exposed to Fomo, which should help drive up the total volume of conversions."
What changes would you like to see made with Fomo?
"We would like to see more variety and additional formats to help drive up engagement."
Do you have any advice for other Fomo users?
"Experiment with different placements of the notification to maximize engagement."
What is one thing you want customers to take away from your business? What are you genuinely selling?
"A quality experience from start to finish."
How long have you been using Fomo?
"We started using Fomo toward the end of March 2020."
Thanks to Not Just Toyz for sharing their story on the Fomo blog. If you're in the market for quality unopened toys for the children in your life or to bring back your childhood, make sure to visit Not Just Toyz.
If you have a story to share on how Fomo has enhanced your business, please share it here. If you haven't written your own Fomo success story yet, sign up for our free 14-day trial today.