How a Designer Jewelry Company Reduced Bounce Rate by 20% in 30 Days
Roma Designer Jewelry has been selling high-quality jewelry at select Costco's around the U.S. for more than 10 years.
By bringing authentic designs from places like Milan, Paris, Tokyo, and Bali directly to consumers in the U.S., they are able to deliver exceptional value for premium, unique and timeless jewelry collections.
In just over a decade, Roma Designer Jewelry has quietly sold over 1 million pieces of jewelry to delighted customers.
A Gem of a Problem
To keep up with the times, Roma recently began selling its inventory online. What they quickly learned, however, was that selling on the web is an entirely different ballgame than in-person sales. While they were getting a decent amount of traffic to the site, Roma was struggling with bounce rate. They were also at a bit of a loss for how to effectively showcase the glowing reviews they had from other satisfied customers. And with such a huge collection, how could they get more of their items in front of more of their audience?
One of the biggest challenges Roma faced was the transition from in-person to online sales. Selling jewelry to someone who can touch, see and experience it firsthand creates a sense of excitement that was difficult to duplicate online. They knew that if they could just find a way to get their online customers buzzing as much as their in-person ones, they'd be able to get web sales where they wanted them. But how?
A Golden Opportunity
Roma's CMO, Deven Davis came across a Shopify article detailing the tools fellow jewelry retailer Pura Vida Bracelets uses to optimize their online sales. That list included Fomo. Upon reading this article and seeing Fomo in action on several big sites, Deven figured it was enough of a nudge to give it a shot.
Prior to using Fomo, Roma was doing everything manually, displaying new featured collections and endlessly rearranging the home page to try to engage visitors. It was way too much work for not enough engagement. To address this, Roma's marketing team began by implementing Fomo's regular notification setup – a process that literally took less than 30 seconds to complete.
Now, when a visitor is browsing a page on the Roma Designer Jewelry website, a small box pops up, indicating that another customer just purchased the same or a similar item.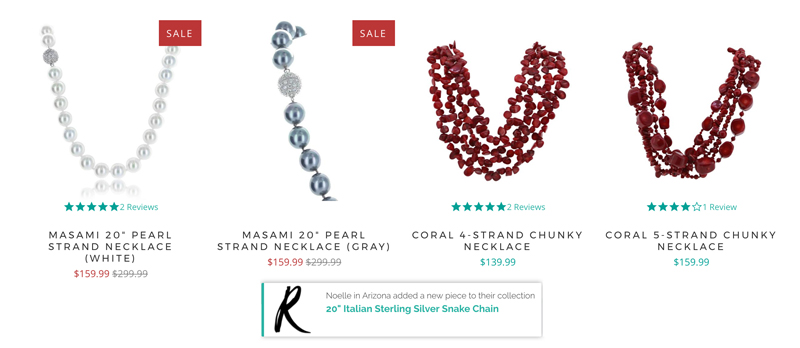 This instantly addressed Roma's challenge of creating an online buzz by catching the attention of visitors and demonstrating social proof in real-time. It also allowed the company to effectively get more of its large catalog in front of visitors, increasing their time on the site and improving the chances of a conversion.
Another thing that they appreciated was how well Fomo integrates with other applications (nearly 40 and counting). The Roma team had always focused using on apps that "play well" together in order to leverage the strengths of one into another.
For example, they use product reviews gathered from Yotpo and display them on the site using Fomo. They've also begun using an integration with Fomo events in their Shoelace Facebook retargeting campaigns.
In short, Fomo has allowed Roma to display products and reviews that otherwise would not have been seen.
The Silver Lining
Since its recent implementation, Roma Designer Jewelry has achieved nearly $1,500 in additional sales attributable directly to Fomo clicks in just over a month. More importantly, their bounce rate is down nearly 20%. People are staying on the site longer and, as a result, Roma's overall revenue is up 20% month over month.
"We love Fomo's integration with other apps that we use because it provides a better overall experience for our customers," comments Deven. "We also love Fomo for our site because it's difficult to reproduce the buzz that exists at our jewelry trunk show events in an online setting. Having Fomo on the site is as close as we have been able to come to creating that level of excitement and sense of urgency about our jewelry online."
A Brilliant Future
To further improve online performance, the marketing team has been experimenting with different timing of Fomo display events to engage visitors just as they begin to lose interest.
Thankfully the results Roma Designer Jewelry has achieved are not merely a diamond in the rough. To experience the power of real-time social proof for yourself, give it a try FREE for 7 days.