Attracting Customers To Your Store Instead Of Amazon
FreshCap Mushrooms creates powdered mushroom extracts that are great to add to coffee, tea, smoothies, or any other foods.
Meet Tony:
"For as long as I can remember, I've had a profound interest in mushrooms."
"Something about them caught my attention. Was it because they're the fifth kingdom, different from any other living organism? Was it because of the undeniable health benefits of medicinal mushrooms? Was it because different mushrooms have the power to either heal our bodies, send us on bewildering journeys, or end our lives altogether?"
"But what I do know is that the more I learned about mushrooms, the more intrigued I became. That's why in 2015, I finally decided to do something with mushrooms. FreshCap originally started as a humble mushroom farm in central Alberta. We grew everything from Pink Oysters to Reishi. I built the farm myself from the ground up, including building an environmentally controlled grow room, a sterile laboratory, and everything in between."

"I was always testing, exploring, and playing with the art of cultivation. You could say that I was a little bit obsessed. But I couldn't keep it all to myself. So, I set out to write as many helpful articles as I could. I even started a YouTube channel, and eventually plan on making a completely free online course to teach people how to grow mushrooms from scratch."
"I learned about the amazing health potential of medicinal mushrooms. I learned that a huge percentage of the world's top pharmaceuticals are derived from fungi."
"I also learned that we share 50% of our DNA with mushrooms. I learned that mushrooms had been used for thousands of years by ancient cultures to heal, invigorate, and revitalize."
"FreshCap wants to teach the world to grow mushrooms and to know mushrooms because there might be a lot more to the fungi under our feet, waiting to be discovered!"

Tell us about your brand! When did you launch, where are you headquartered, what moved you to start your business?
"We are on a mission to bring mushrooms to the masses. And I know what your thinking, but no, not those mushrooms. Our mushrooms are magic in a different way."
"More and more people are learning about the amazing health benefits of mushrooms like Reishi, Chaga, and Lion's Mane. But most of the supplements on the market right now are mostly filler. We set out to change that by offering the best mushrooms in the world and we are standing behind our product 100%."
"FreshCap started as a gourmet and medicinal mushroom farm in Edmonton, Alberta, in 2015 but pivoted to selling functional mushroom supplements in 2017."
What are some of your other favorite apps/tools for increasing conversions?
"We use SUMO with an exit intent pop-up that has been really good for retaining customers. We also use Klaviyo for follow up sequences that convert really well. Yotpo has been awesome for us to get CGC and reviews at a way higher rate than what we got with the standard Shopify reviews app."
What are some specific conversion-related problems you're experiencing?
"Our blog growth has been awesome, getting up to 50,000 visitors per month, but it has been difficult to convert those visits into customers."
"We sell on Amazon as well, so without steep discounts or bundles, it has been hard to convince people to buy on our site. Many who come to our site will leave to purchase on Amazon instead."
What other strategies did you try to address those issues before using Fomo?
"Exit-intent pop-ups, chatbots, and offers on the top-bar."
How did you learn about Fomo?
"Nat Eliason was using it for Cup and Leaf; I believe that is where I first heard about it."
What prompted you to move forward with Fomo?
"It's so insanely easy to set up and use. The UX is incredible. It just seems like the best solution in the space."

Fomo displays customer actions in real time to everyone viewing your store.
How long have you been using Fomo?
"6 months."
Have you tried any of our competitors? If so, why did you choose Fomo instead?
"Before Fomo, I did try others, but they were painful to use and properly integrate."
How are you tracking Fomo conversions?
"Fomo sends out an email once a week, that is probably the only time I look, other than that I just let it do its thing. We use it for social proof as well as conversions; it is just nice for potential customers to see that other people are buying."
How has using Fomo benefited your business?
"Since one of our major initiatives is to grow sales off of Amazon, we have been spending a lot of time and resources into making our site a better and higher converting experience."
"Since there have been a lot of changes, it is hard to attribute a specific number to Fomo, but it has certainly helped the overall conversion of the site without a doubt."
"Fomo is also super helpful on landing pages where you are getting cold traffic, and visitors can see that other people are buying."
What, if any, plans do you have in terms of using Fomo?
"I need to use the capabilities further, use more integrations like reviews, sign-ups, etc."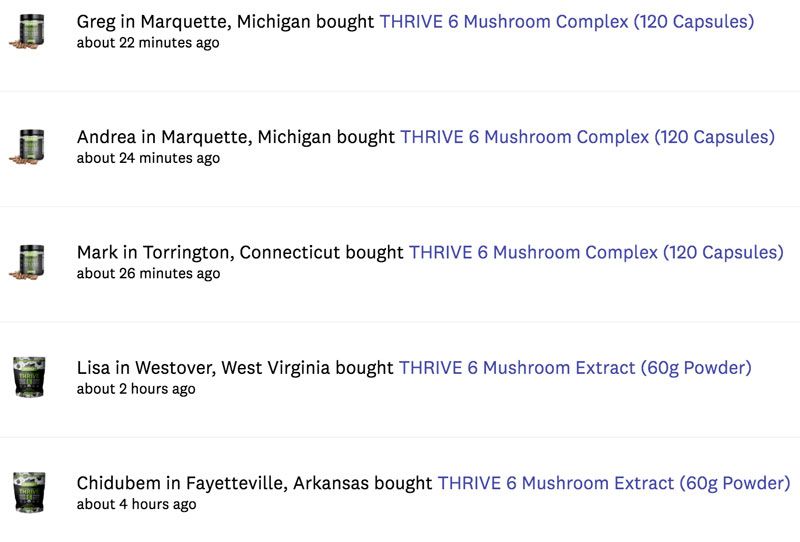 Any other stats that you're proud of?
"Our sales are growing every month, with each month better than the last. In September alone, we brought in 450+ brand new customers, helping to achieve our goal of bringing quality mushrooms to the world."
What is one thing you want customers to take away from your business? What are you truly selling?
"Everyone has health goals, and believe it or not; mushrooms might be able to help you achieve that."
Thanks to Tony from FreshCap Mushrooms for sharing his story.
If you've got a burning story you'd like to share with the world, email lynz@fomo.com.
If you're ready to harness the power of social proof for your store, visit Fomo's page here.