Our pledge to fix consumerism
each year in November, customers ask if we're doing a Black Friday sale.
the answer is always "no" for a couple reasons:
Fomo increases sales; why charge less to sell more?
Fomo improves daily; why charge less if we're more valuable tomorrow?
this year we added a 3rd reason:
too many businesses sell people things they don't need.
the more you spend, the more you save
in 2008 Groupon gave birth to "deal culture."
as a college kid at the time, i felt guilty going places unless they were half-off. saving money is great, but sometimes i patronized businesses because they were half-off.
this mistake is recognized as letting function follow form – "the coupon dictates the restaurant" – and it bears consequences.
for one, we lose the many benefits of brand loyalty. i wrote about this 5 years ago on WeWork's blog and in sum we become loyal to the deal itself, putting tastes last.
next, we waste time rationalizing impulsive behaviors; we experience buyer's remorse more frequently as our purchases are less intentional.
according to The Balance, this phenomenon isn't going away: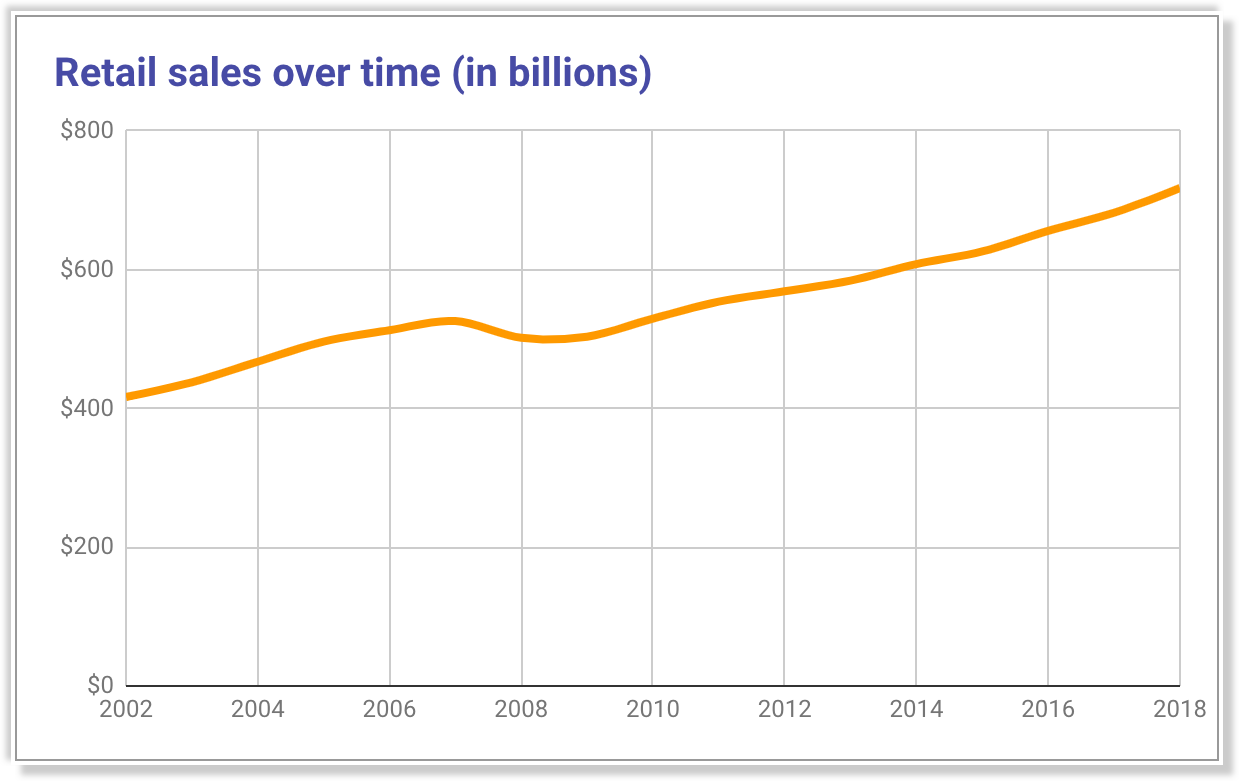 phenomenon: every year we have more stuff, but every year we buy [even] more stuff.
we've relegated ourselves to The Deal.
meanwhile, the average American doesn't have enough savings to live 2 weeks if they got fired.
another way
Fomo is kind of a troll organization. we make the world a better place and all that but we put impact first, fun second, and business third.
for example, one time we increased prices 30% on Black Friday and thanks to Shopify naming us the #1 Black Friday app we still enjoyed an install spike.
we designed badges for account milestones and one said "you're like Christopher Columbus, minus the rapin' and stuff.' lost exactly 1 customer, a real "colonist" if you know what i mean.
our homepage still says Sausage Fest yet 54 million people see Fomo every month.
so it was only fitting that this year we launched a pledge to fix consumerism: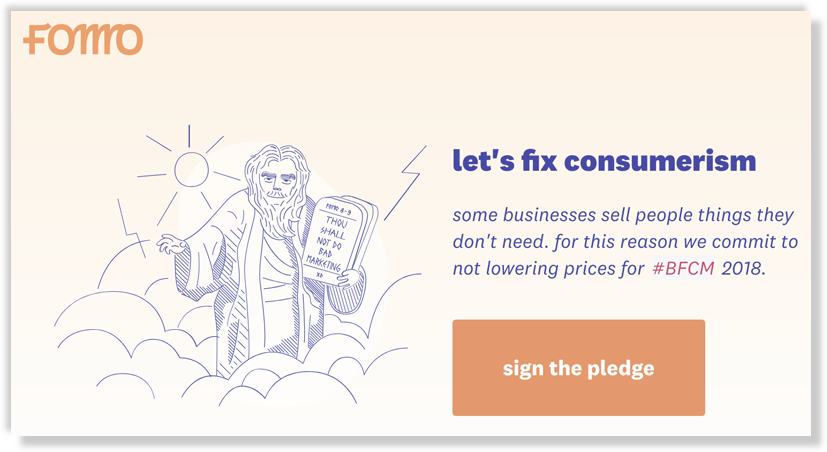 it's a simple way to let customers know we won't abuse persuasion to increase sales.
our product does that for us, not fancy copywriting or $99 $19 pricing. charging less than you're worth is also bad for businesses and consumers:
chargebacks by regretful customers
reduced brand reputation
congested support from sudden customer influx
luckily, many customers agreed with us:
"Thanks for the value add. impressed with you taking the stand on not doing any BFCM deal."
"Man... Love your vision. True inspiration."
"perfect approach."
and some of them didn't.

finding a win-win
you might argue: consumers are adults, they can make their own purchase decisions.
this is true, but if your spouse is trying to lose weight and you continue stuffing ice cream in the freezer, you're not helping. where's the balance?
Fomo's mission states we want to help consumers make better buying decisions online. well, sometimes the best decision is to not buy.
here are a few of the businesses who signed our pledge:
this will likely become a Fomo tradition, right next to indie filmmaking and hackathons.
your turn
if your company launched a pledge, what would it say?